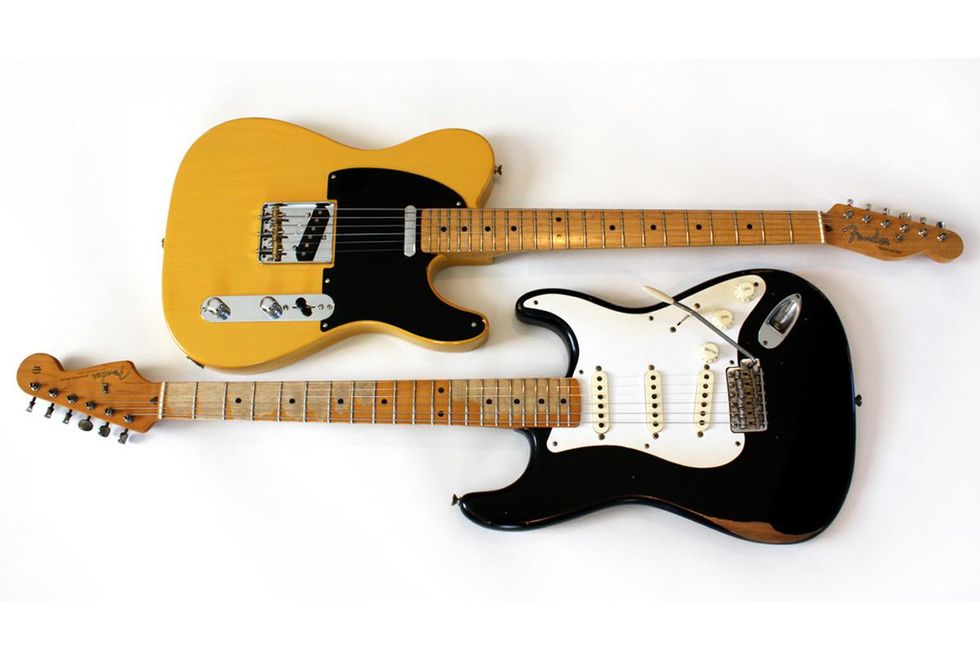 Adjusting pickup height sounds simple, but pickups that aren't adjusted properly can cause problems.
Guitars with two or three pickups offer lots of sonic variety, but they also introduce a particular problem that single-pickup instruments—such as Fender Esquires and some Les Paul Juniors—don't have. When you switch pickups on a multi-pickup guitar, you can experience volume differences between one position and another. This can be rather annoying when you're in the studio or playing a gig. Just as frustrating is when your treble strings sound weak, but the bass strings are ridiculously loud. In both cases, the fix can be as simple as adjusting your pickups.
---
Guitarists often overlook this tweak, either after a setup or replacing pickups. Adjusting pickup height sounds simple, but pickups that aren't adjusted properly can cause problems, which I'll describe in detail below. Fortunately, all these problems are correctable.
To show you how to adjust pickups yourself, we'll look at two guitars—a Stratocaster and a Telecaster. Both of these project guitars sport single-coil pickups and both are terribly out of adjustment.

1. This Strat needs the height of its three single-coil pickups adjusted for optimum sound. 2. Our project Tele's two single-coils also need to be adjusted for proper height.
Step 1: Gather your tools and prepare your workspace.
You only need two tools for this project, but it's important to use the correct ones. Here's what I use when adjusting pickups:
6" precision machinist ruler
Phillips head screwdriver
We'll be taking very small measurements, so to read them you'll need a ruler with clear markings and good lighting in your work area.
Step 2: Measure current pickup height.
First tune the guitar to pitch and then start taking its current measurements. These baseline measurements are very important because you need to know where the pickups are now in relation to where they should be.
Here's how to measure a pickup's height:
Press the 1st string onto the last fret and hold it down.
Using the 6" machinist ruler, measure the distance from the top of the pole piece to the bottom of the 1st string. Write down the measurement.
Repeat this process with the 6th string, again holding it against the last fret and writing down the measurement.
Now repeat the process with the remaining pickup(s).
At this point you'll have measurements for both the treble and bass sides of each pickup.
How did our project guitars measure up?
The Strat's bridge pickup was 6/64" on the treble side and 8/64" on the bass side. The middle pickup measured 8/64" on both treble and bass sides, and the neck pickup measured 2/64" and 4/64", respectively, for the treble and bass sides. As we'll see in a moment, these distances are way off. The project Tele was also out of whack, with its bridge pickup measuring 4/64" and 2/64" (treble and bass) and neck measuring 2/64" and 4/64".
Not only were the heights of these pickups all over the map, the Tele's neck pickup was loose and wobbly. That's a tell-tale sign that the rubber compression tubing (which acts like a spring) over the pickup screws had either shrunk or was too short to begin with. To correct it, I had to remove the strings and pickguard, and then separate the pickup from the guard. After installing new tubing, I was able to adjust the pickup without it bobbing inside the guitar.
When you finish recording the baseline measurements on both the treble and bass side of each pickup, you're ready to adjust them to their ideal specs.

3. Using a machinist ruler to measure the distance between the top of the pole piece and the bottom of the 6th string on our project Stratocaster's bridge pickup. This pickup is too low. 4. The bridge pickup is set too high on our project Telecaster. 5. Adjusting a Telecaster bridge pickup. In addition to setting its overall height, the three adjustment screws let you control the pickup's fore and aft tilt. For maximum sustain and power, make sure the top of the bridge pickup's pole pieces sit parallel to the strings.
Step 3: Correct the pickup height.
There's a lot of debate about what constitutes "correct" pickup height, but conceptually the goal is simple: Set the pickup height to give your guitar optimum volume, clarity, sustain, and treble-to-bass balance.
Setting the pickups too high doesn't further this cause. In fact, when Fender-style single-coil pickups are too close to the strings, the pole pieces—which are cylindrical magnets—will pull the strings out of tune, causing intonation problems and reducing sustain. If the pole pieces are high enough, they can actually collide with the strings, especially when you play open chords. When a pickup is too close to the strings, its output signal can be too hot and overload the preamp stage in your amplifier.
Yet when the pickups are set too far away from the strings, the result is a weak signal. This will cause the guitar to sound thinner and brighter than normal.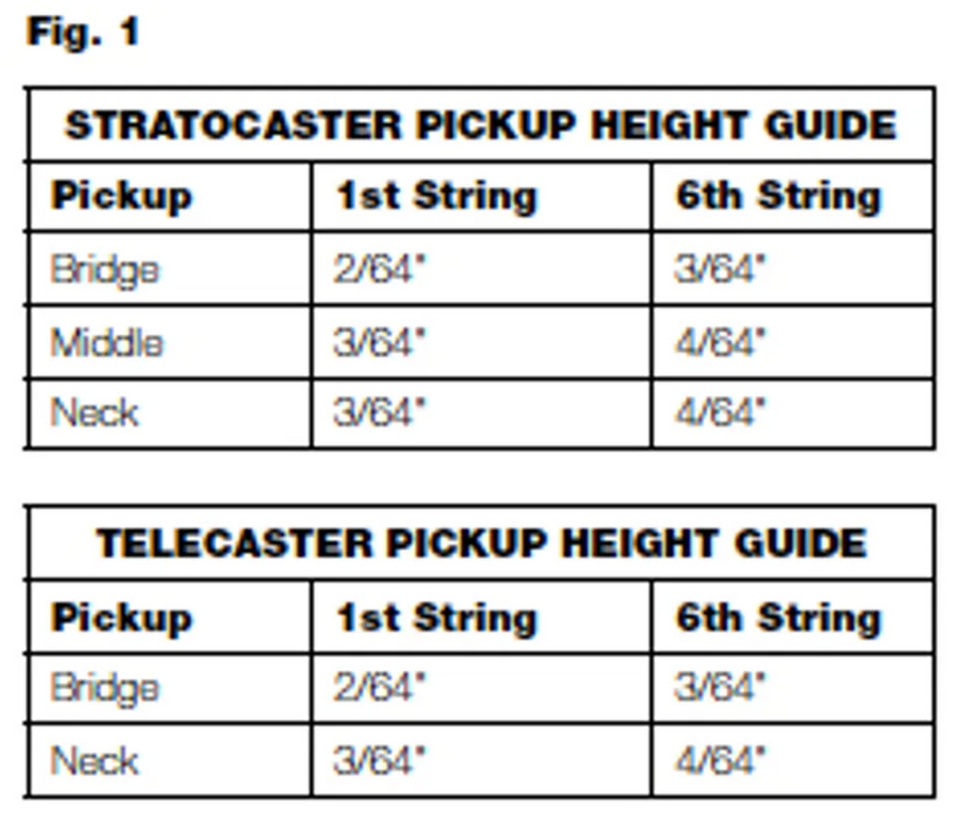 Furthermore, when the pickups aren't balanced correctly from the 1st to the 6th string, the result is uneven volume as you move from the treble to the bass strings. Fortunately, we can prevent all these problems. The tables in Fig. 1 show the measurements I use for each pickup on a Strat and Tele.
Using a Phillips head screwdriver, raise or lower the pickup by turning the adjustment screws located on either side of the pickup. (Some single-coils use slot-head screws, in which case you'll need a straight screwdriver.) Make small adjustments and go slowly. After each adjustment, again hold down the 1st and 6th strings at the last fret and take new measurements. Repeat this process for each pickup until it matches the corresponding specs in the tables.
Tip: Running out of screw length before you're done adjusting the pickups is one of the "little surprises" that can occur when altering pickup height. If this happens, remove the pickguard and replace the screws with longer ones.
Step 4: Testing—1, 2.
After you adjust the pickups to spec, it's time for the final test, which is to plug into your amp and play. So you can hear the full range of your pickups, don't stand too close to your amp. Instead, move back a good 10 feet or more.
Be sure to test the pickups with the guitar's volume wide open. Listen carefully to the balance between bass and treble strings, and switch between all the positions on your pickup selector. The goal is to hear equal volume from each pickup, even though the tone will change dramatically from pickup to pickup.
These measurements are a base point to start from, though I wouldn't recommend adjusting the pickups any higher. If the pickups sound unbalanced after you've set them to these specs, lower the louder pickup to reduce its output instead of raising the quieter one. A quarter turn can make an audible difference, so listen carefully, and be patient.
Wrap.
By following this relatively simple procedure, you'll probably discover that the dynamics, sustain, clarity, and stringto- string balance will have improved on your Strat or Tele. Next month, we'll tackle another DIY project, so stay tuned.
[Updated 8/27/21]
Rhett and Zach unpack the big news for secondhand guitar sellers and buyers: Sweetwater has launched their new Gear Exchange. How does it compare to Reverb, Craigslist, and Marketplace? To find out, Zach takes the site for a spin and buys a pedal. He calls the process both "very easy" and "normal." They discuss the pros and cons of the various used-gear outlets and share tips for not getting got when buying gear. Plus, Zach grew a mustache, Mythos Pedals is moving, and he talks about his forthcoming line of Strat pickups inspired by Hendrix's reverse-stagger setup.
Sweetwater vs. Reverb

Expanding on the innovations of Cort's original 8-string multiscale, the KX508 Multi-Scale II features an updated okoume body and a specially designed Fishman Fluence Modern Humbucker.
The KX508 Multi-Scale II is the second iteration of the eight-string KX508, Cort's first multi-scale 8-string guitar introduced in 2020. Like its predecessor, the KX508 Multi-Scale II has a visually stunning poplar burl top in a Mariana Blue Burst finish. Beyond its visual appeal, the poplar burl is an ideal tonal complement to Cort's newly introduced okoume body. Okoume is known for its light weight and ability to improve tonal clarity. It has a tight low-end and highly articulate high-end, which matches the overall sonic characteristics of the KX508 Multi-Scale II. The multi-scale, measuring 26.5 to 28 inches, offers a punchy low end while maintaining a familiar feel and tension on the treble strings, which allows for speedy runs and string-bending. Players have unhindered access to the high frets thanks to the low-scooped heel.

The 5-piece maple and purple heart neck not only provides strength and stability, aided by a spoke nut hotrod truss rod, but a strong and focused sound. The Macassar ebony fingerboard (15.75-inch radius) offers smooth playability along the 24 frets with teardrop inlays. Macassar is an ideal tonewood for high-gain applications because of its ability to cut through a dense mix. At the top of the neck, the 2 7/32-inch nut width (56.5 mm) is surprisingly comfortable for an 8-string guitar and is even suitable for players with smaller hands. The individual hardtail bridge with string-thru-body design results in greatly improved sustain, superb string separation for enhanced articulation, and precise intonation. Deluxe locking machine heads offer reliable tuning as well as easier and quicker string changes.

The Cort Sessions | KX508 Multi Scale II Electric Guitar
MSRP $1699.99 USD

MAP $1199.99 USD
For more information, please visit cortguitars.com.
The Tour Collection is defined by a minimalistic, vintage-inspired aesthetic, top-of-the-line components, and a simplified electronics configuration featuring new, custom pickups by Supro.
Available in the collection is the 16-inch-wide double-cutaway DC, the 15-inch-wide single-cutaway SS, and a 14-inch-wide Mini DC. Each model comes in three finishes: Slate Blue, Solid Wine, and Solid Black.

Every detail of the Tour Collection was chosen to achieve retro minimalism. Small diamond fingerboard inlays match 1930s-style diamond f-holes, and an undersized Throwback Scroll-style headstock achieves excellent head-to-body balance. The collection also features satin nickel hardware and custom Vintage Deluxe Grover tuners with a 15:1 gear ratio. Each model also features a simplified two-knob electronics configuration with 50s-style wiring to retain top-end clarity upon rolling off the volume knob. The neck shape in the Tour Collection is similar to the slim C-shape found throughout the D'Angelico line, but with more thickness in the shoulder to allow for snug hand fit as well as extra sustain. Medium Jumbo fret wire and a 12-inch fingerboard radius allow for quick navigation of the fingerboard while also prioritizing comfort for both rhythm and lead playing.
In 2020, Supro and D'Angelico became part of the same family of brands under Bond Audio. At that time, EVP of Product Ryan Kershaw and CTO Dave Koltai began designing custom pickups under the Supro name for the Tour Collection project.
"Supro Bolt Bucker pickups were designed to offer the tone of the most sought-after vintage "PAF" pickups from the late 1950's. Scatter wound, just like the originals, Supro Bolt Buckers utilize 42-gauge enamel wire along with a mixture of Alnico II (neck) and Alnico V (bridge) magnets to provide the perfect balance of warmth and clarity with unrivaled articulation and note bloom." - Dave Koltai, Chief Technology Officer at Bond Audio.
Introducing the Excel Series Tour Collection | D'Angelico Guitars
All models are available for pre-order and will be in stock this holiday season. US MAP $1499. For more information, please visit dangelicoguitars.com.
The Cream Amp is a handmade low-gain overdrive pedal based on the Electra Distortion circuit.
The Cream Amp was designed to deliver full dynamics amp-like dirt to your clean and crunch amp or to another pedal in the chain without altering your tone too much. To add some grit at low volume or to make your amp sound more full, use the Drive control to set the gain and the Level control to match with your amp.
​Two knobs to control Volume and Drive
Shielded inputs/outputs to avoid RF
Filtered and protected 9VDC input
Daisy-chain friendly
Current draw: 7.5mA
The Cream Amp pedal is hand-made in Barcelona with carefully selected components and has a price of 100.00€. The pedals are available and can be purchased directly from the Ananasheadonline store.
For more information, please visit ananashead.com.