Take a cruise through the Gibson- and Marshall-heavy world of this Grammy-winning, hard-rocking duo.
Lzzy Hale and Joe Hottinger of the Grammy-winning rock band Halestorm recently took a break from rehearsals for their 2021 tour to talk rigs with Premier Guitar's John Bohlinger.
---
Shortly before this interview, Hale had become the first woman to be named a brand ambassador by Gibson. With several signature models under her name, and Hottinger's apparent obsession with SGs, it's not surprising this rundown features some primo Gibsons.
[Brought to you by D'Addario XPND Pedalboard: https://ddar.io/xpnd.rr]
Lzzy's No. 1
The Halestorm frontwoman's top dog is her Lzzy Hale Explorer in alpine white with gold hardware, featuring '57 Classic humbuckers, a mahogany body/neck, a rosewood bound fretboard, three control knobs (independent volumes and a master tone), and a 3-way pickup switch.
Black Dog
A study in contrast to her No. 1, this Lzzy Hale Dark Explorer in black and gold has '57 Classic humbuckers, an ebony finish, block inlays, and a solid mahogany body.
Head's Up
And here's the distinctive Explorer headstock.
Up on the Low-Down
When Lzzy wants to go low and rumbly, she plays her Custom Baritone Gibson Explorer gold top. It's got a 28" scale neck and her preferred two-tone-one-volume control setup.
Lzzy Bird
For something truly different, Hale plays her custom Explorer with a Firebird headstock, decked in black and red, with gold hardware and a pair of humbuckers from the 1970s.
Rock x 2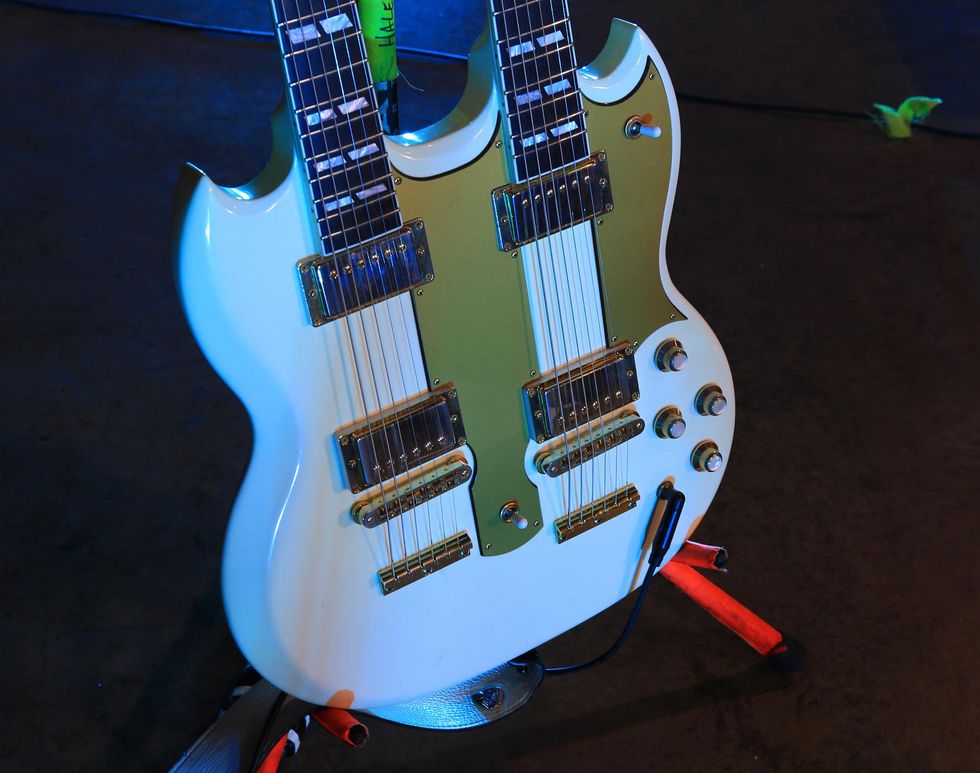 This EDS-1275 is literally the heaviest guitar in the Halestorm arsenal, with a standard top and baritone bottom, in SG white. It's strung with Ernie Ball paradigms (.10–.52) on top and the company's Not Even Slinky .12s for the bari half. The pickups are her preferred '57 classics.
Anyone for Chess?
If amplification were a match game, Hale would be ready. She tours with two custom Marshall custom JCM800s—one white, one black.
White On
Here's one of her 4x12 cabinets—geared up in a finish to match the head that drives it.
Lzzy's Pedalstorm
The signal runs from Hale's guitars into a Jerry Cantrell JC95 Dunlop Cry Baby wah. Then it hits a Boss TU-3, an EHX POG2, an MXR/CAE Boost/Line Driver, a vintage Klon Centaur, and a Way Huge Aqua-Puss Analog Delay Pedal. The power supply is a Strymon Zuma.
You Want SGs?
Joe Hottinger's got SGs—a fat roadcase full when he tours. He bought this 2003 SG Standard new when he joined the band that year. The pickups were changed to Burstbuckers when the originals died while on tour in Europe.
The Green Monster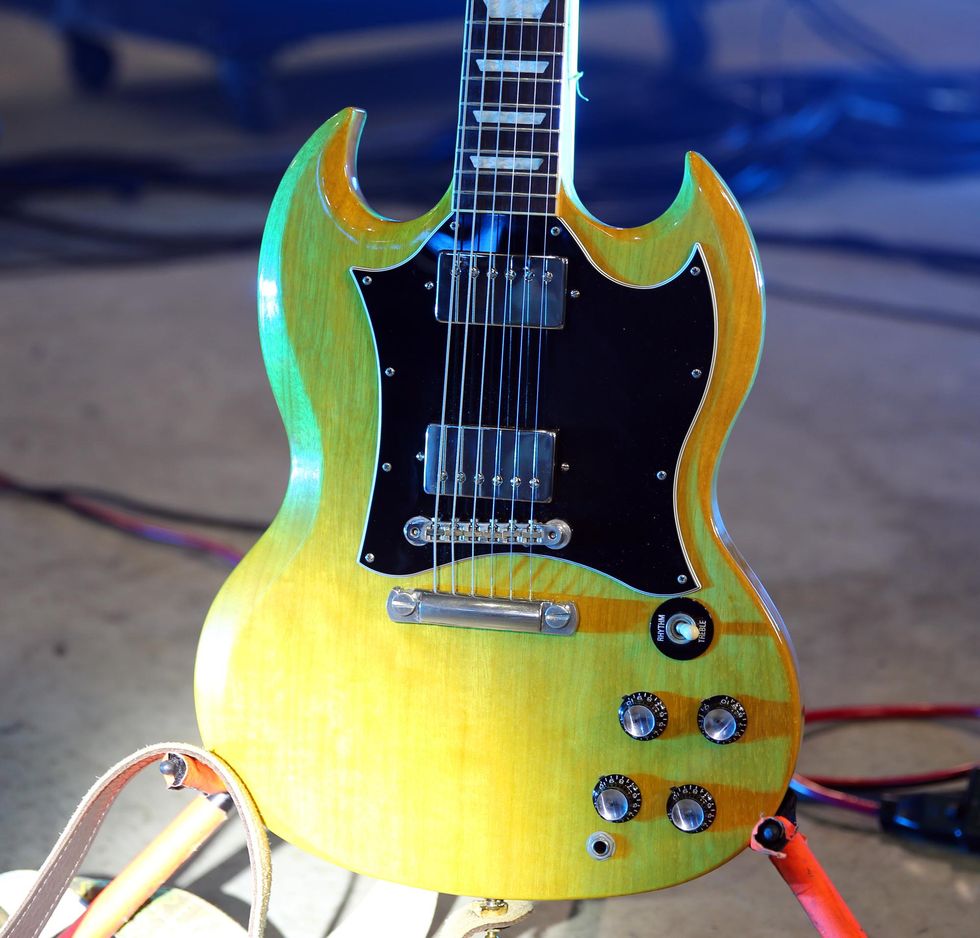 This is a great shade of green, allowing the character on the wood in this kornia-body SG to emerge. It's a 2001 Gibson Custom Shop creature with custom '57 Classic humbuckers.
Double ... or Something
Not to be outshined, Joe's EDS-1275 is in super-shiny Brunswick blue sparkle. The pickups on the 6-string side are a Burstbucker 1 and 2 set. On the 12-string side, they're a 2 and 3 set. Burstbuckers 1s are low output, 2s are medium output, and 3s are overwound and hot.
Give It Up for Lester
This white silverburst '61 reissue has a Maestro tailpiece and its design comes from the era when it was called the Les Paul SG. It is stock and was built in 2010.
It's Not Easy Being Green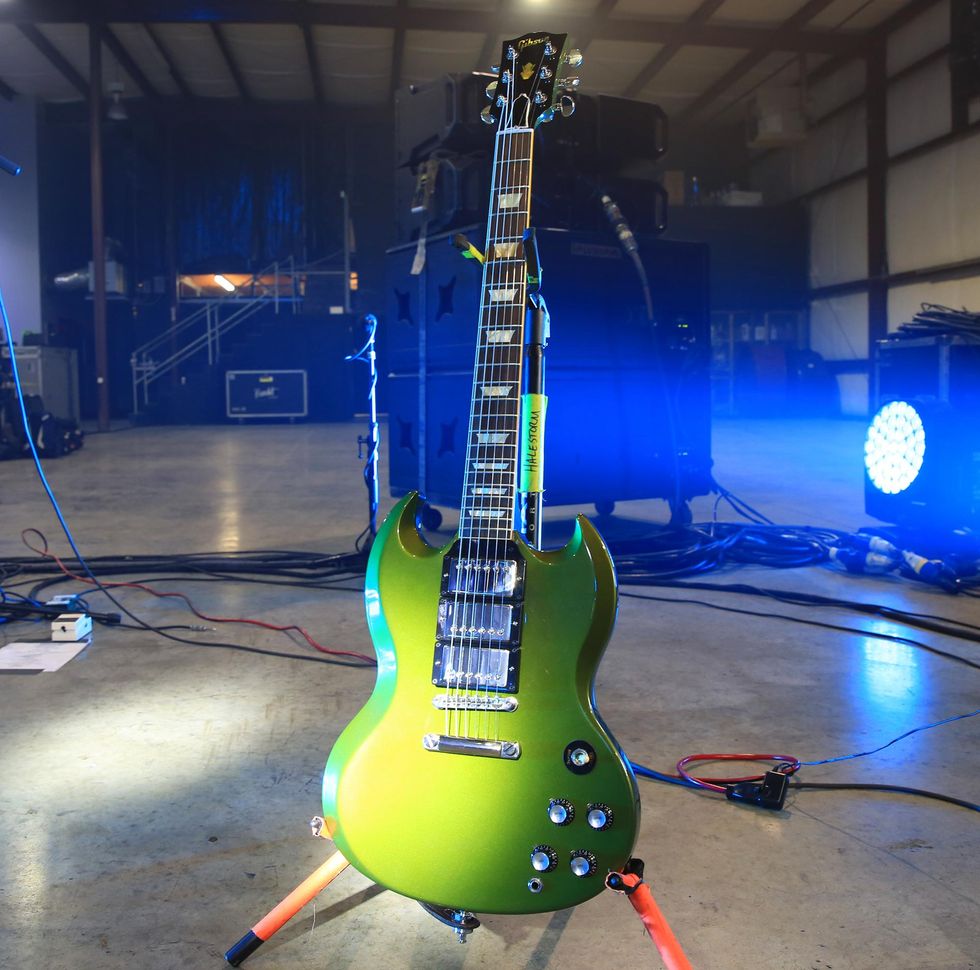 But it rocks—at least on this 2020 Custom Shop '61/'59 Fat Neck SG Limited Edition with three humbuckers, just like Jimi's famed white "Dick Cavett" model.
Single-Coils Going Steady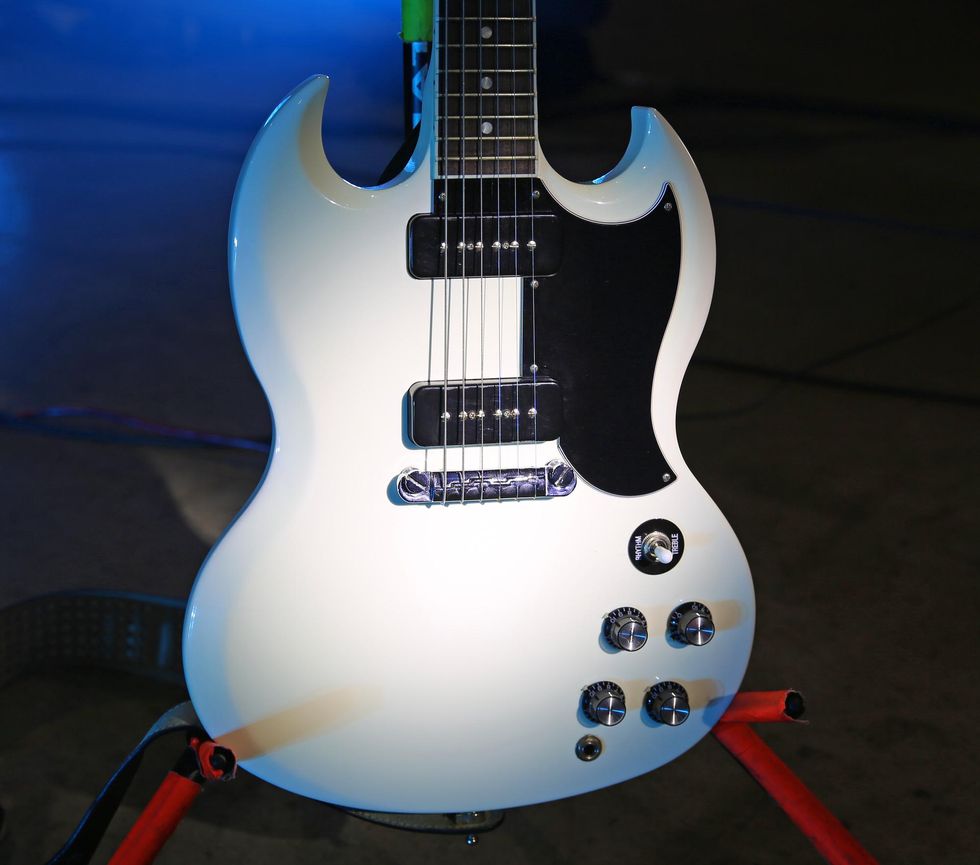 When it's time for that P-90 sound, Hottinger reaches for his 2011 50th Anniversary Pete Townshend alpine white SG. Windmilling lessons not included!
Bari or Bust
This limited edition 2013 Gibson SG Baritone has a 27"-scale neck, a Richlite fretboard, 496R and 500T humbuckers, and push-pull volume pots.
Chet's Mix
Yes, this is also a Gibson—a 1999 Custom Shop Chet Atkins SST. It has a solid top and a mahogany body, and a bridge transducer with an active preamp. Strings: Ernie Ball Acoustic Paradigm .12 sets. His electric guitars have Paradigm .10–.52 sets, mostly, and the company's Not Even Slinky .12s are on the baritone.
Amps? You Betcha
These two 2020 Marshall SV20H Studio Vintage plexi-style heads are just the tip of the iceberg of Joe's amplification setup.
Blasting from the Past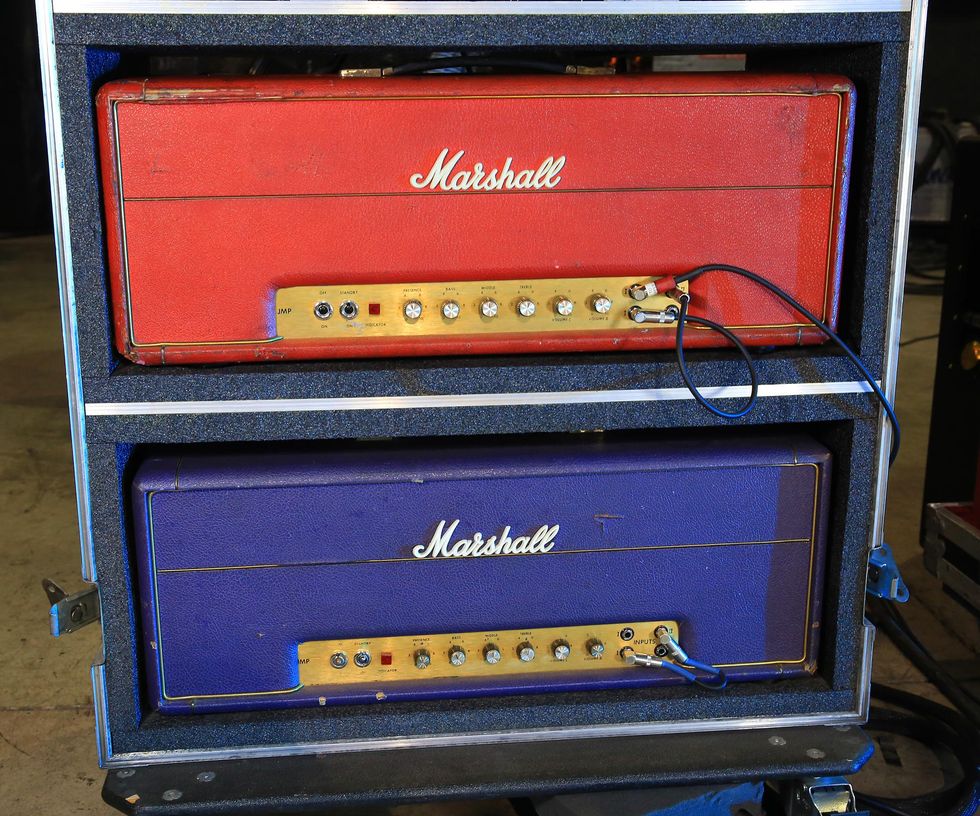 These two Marshall Super Leads are also in the game. The red one is from 1971 and the purple head is from 1973. Note the jumped inputs.
Big, Bad Bogner
This Bogner 4x12—one of two in Joe's rig—features Beyma Liberty 8-ohm speakers, which are super versatile, sonically.
Clean Stomp Space
Hottinger keeps a neat pedalboard, running cable into an Xotic XW1 wah to a Xotic XVP 250K High Impedance Volume Pedal. From there, it's a Tru-Fi Octavia Fuzz, Bogner La Grange, overdrive, Tru-Fi Colordriver 18V, Keely 30 ms Automatic Double Tracker, Electro-Harmonix POG2, Earthquaker Devices Afterneath, and Strymon TimeLine. It's all juiced by a Strymon Zuma power box.
The VegaTrem VT2 Teletrem was designed to grant the T-style guitar a new sound.
The VegaTrem VT2 Teletrem is a tremolo designed to grant the T-style guitar a new sound, without the need of modifying a single millimeter of Fenders original design. This new tremolo/vibrato with its very own VegaTrem tuning stability, expands the future musical possibilities of this legendary guitar.
The T-Style electric guitars were not originally designed to receive a tremolo/vibrato. But VegaTrem's solution combined with the use of quality materials such as marine grade stainless steel and brass saddles (like the classic design), enhances the tonal qualities of your TL-type guitar, regardless using the vibrato or not. Without a doubt, the possibilities of "pulling up" to up to half a tone, or "dive bombing", as well as the expression, the new sound and musical life a vibrato can give to these legendary guitars.
The Teletrem is available on 2 versions:
VT2 Teletrem classic:

For T-style guitars that use classic dimensions bridge (71mm between the string holes to the top screw of the bridge pickup).
VT2 Teletrem modern:
For T-style guitars that use modern dimensions bridge (69mm between the string holes to the top screw of the bridge pickup).
LEHLE launches two new products, the LEHLE P-ISO TRS XLR and LEHLE P-ISO XLR TRS. XLR sockets found their way in and that's why these products were designed into many environments – without the annoying search for the matching adapter cable.

By means of the LEHLE TRANSFORMER HZ, the focus is on isolating two devices, so that existing ground loops can be effectively suppressed and background noise eliminated. Additionally, there are applications for (un-)balancing signals in live situations or recording environments, e.g. as a reamplification box.

Features
Isolator, Reamplification box and problem solver
Absolutely no signal loss or hum
High-impedance LEHLE TRANSFORMER HZ
Suitable for balanced or unbalanced signals
Passive – no need for a power supply
And just in case you are looking for a power connection: even these tools of the LEHLE P-ISO series perform all their functions without any need for a power supply. And due to their optimized size and low weight, they fit easily below your pedalboard or in any pocket.
For more information, please visit lehle.com.
Designed for the gigging guitarist, the Amulet offers 15 watts, 5 watts or 1 watt of all-tube tone through a UK-made Celestion Creamback 10" speaker.
The Supro Amulet is a vintage-voiced 1x10 combo loaded with all-tube reverb and tremolo along with a new, three-way switchable power attenuator. Designed for the gigging guitarist, the Amulet offers 15 watts, 5 watts, or 1 watt of all-tube tone through a UK-made Celestion Creamback 10" speaker.

​Another legendary offering from Celestion, the G10 Creamback speaker offers vintage, woody tone while still providing major power. Its rich low-end complements the Amulet's singing voice, while crunchy upper-mids and sweet highs aid in undeniably articulate tone.
The preamp found in the Amulet delivers warm, blooming clean sounds up to 'noon' on its volume knob. Past noon, its voice rolls into classic Supro crunch, giving way to a singing, violin-like overdrive at full volume. The Amulet is remarkably high-gain for a vintage-inspired amp but offers a sweet spot that is not overwhelmingly loud.
Amulet Demo with Sara L'Abriola | Supro
The power amp found in the Amulet uses a single 6L6 tube with switchable power soak to achieve bedroom level 1-watt, studio-friendly 5-watt or a more robust 15-watt output for stage use. The overdrive in the Amulet's "single-ended," Class-A output stage is rich in even-order harmonics and soaked in natural tube compression. True to the legacy of original Supro combos, the Amulet's exceptional dynamics, ultra-low noise performance, and three-way power attenuator make it an ideal amplifier for club gigs, studio recording, and bedroom practice.
Available for pre-order at select dealers worldwide. MSRP $1199.
For more information, please visit suprousa.com.
The limited-edition Exploding Head Triple Delay celebrates the 13th anniversary of the album Exploding Head by A Place to Bury Strangers.

"This pedal improves on the sound I used around the time I was writing and recording Exploding Head," says Death By Audio founder Oliver Ackermann. Ackermann is also the vocalist/guitarist/producer of A Place to Bury Strangers.

The Exploding Head remakes itself in the image of the elusive (and unobtainable) Ghost Delay pedal with an improved knob-per-feature layout and the brand-new Infinity Switch. Step on the Infinity Switch for dynamic swells, bursts of noise, or to build massive walls of sound. With a regular TS instrument cable, the Exploding Head's three delays all output in mono. However, using a TRS cable splits the output into stereo. The first two delays (Black and Grey) are tapped to the Ring connection and the third delay (Red) is wired to the Tip connection.

Limited to 500 units worldwide, the EXPLODING HEAD BUNDLE contains:
2xLP Transparent Double Vinyl edition of Exploding Head Limited Edition Reissue by A Place to Bury Strangers
Exclusive Death By Audio EXPLODING HEAD Triple Delay Pedal
"Ego Death" Enamel Pin
"Deadbeat" Iron-on Patch
"Exploding Head' Guitar Pick
18"x24" foldout lyric poster w/artwork
Glow-in-the-dark-sticker