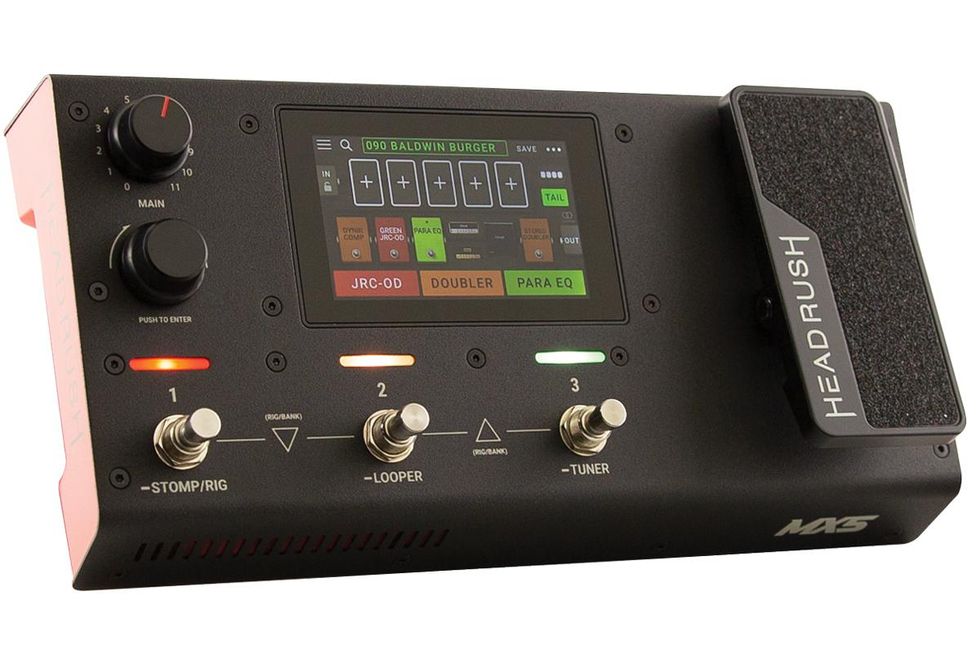 Can an entry-level modeler hang with the big dogs?
Excellent interface. Very portable. Nice modulation tones.
Some subpar low-gain dirt sounds. Could be a little more rugged.
3.5
4
4
4.5
The allure of portability and sonic consistency has become too much to ignore for some guitarists, making smaller digital modelers more appealing than ever.
---
Since 2017, HeadRush primarily built super-versatile floor units aimed at players that like large-format, feature-packed boards. The new MX5 is a clear downsizing move. It's considerably smaller than the company's Looperboard and Gigboard models, but it also includes features not typically seen on setups in this price range.

The Power of Touch
At about 3.5 pounds, the MX5 is made for players who don't like a complicated or back-breaking load in. On the back side of the unit, you'll find an input, stereo outputs, an effects loop, an additional expression pedal input, headphone output, aux input, and MIDI, and USB ports. These options are standard on most modeling units, but kudos are due to HeadRush for retaining these features while keeping the price low and the size so small.
All of HeadRush's boards feature a full-color LCD display, and the MX5's 4" display is just big enough to be readable and effective. Naturally, larger displays make it easier to tweak rig and effect settings on the fly. But given the small size and price of the MX5, they've accomplished a lot with a little. Using other modelers, I tend to default to programming presets via a standalone editor. But the gurus at HeadRush made the MX5's interface very intuitive and maintained a balance between function and complexity. There are just enough parameters to give you plenty of control without falling into option paralysis.
The amp emulations ranged from good to near perfect.
When you open a blank preset, you're able to load up to 11 different elements to your virtual signal path. With a single touch of the signal path button, you can call up one of three templates. Two of these offer parallel paths for more complex setups. Because the MX5 has just three footswitches, I wanted to start with a straight-ahead setup that would cover clean, crunch, and high-gain. My rig started with a JTM45-style head feeding a 4x12 cab simulation and miked with a virtual SM57. From there, I added a "green" distortion, a full-range boost, '80s-style delay, and a plate reverb.
Sounds To Start With
Headrush's core technology is derived from a significantly enhanced, evolved, and reconstructed Avid Eleven Rack processor.. The delays and reverbs in the Avid system were excellent, and they've carried over nicely to the MX5. As with many modelers, distortion can be the toughest nut to crack, and in the MX5, the low- and mid-gain dirt emulations lack a little nuance and depth. High-gain distortions, however, were much more convincing.
Many modelers come with effect presets that may not immediately match your needs. But the MX5 does something that I haven't seen before: It loads up several presets for each effect. So, when I dropped a reverb in my signal chain, the screen provided the means to edit specific parameters as well as alternative presets that were ideal jumping-off points. This feature adds a lot of flexibility on the fly. Preset switching, by the way, is gapless and you have the option to program in delay and reverb tails and spillover.

With 46 amps and 63 effects—not to mention all the cab and mic options—it would take a novel to describe every sound available in the MX5. But generally speaking, the amp emulations ranged from good to near perfect (particularly the classic rock half stacks). Many modulation effects were standouts as well. And if there's an analog pedal in your collection that isn't represented in the HeadRush's library, the effects loop makes it easy to work the real deal into the mix.
Hit Record!
Most modelers have robust recording features these days. The MX5 is no different. You can record directly to your DAW of choice with a single USB cable. (The USB connection is also used for firmware upgrades, backing up presets, and loading loops and IRs.) All the clips you hear with the online version of this review were recorded direct into Logic Pro X without any additional sweetening. While not essential, a good audio interface is a good thing to have if you want to get the most value from the HeadRush—enabling you to easily move from re-amping duties to fine tuning tones within a mix, or jamming along with a backing track.
The Verdict
At just a hair under $400, the MX5 sits comfortably on the affordable side of the contemporary all-in-one floor processor price spectrum. It's an even better value when you consider the built-in expression pedal. The unit is powerful and stable, and I never had to worry about DSP power when using processing-intensive effects. Although the distortion and overdrive emulations weren't head spinning, there were plenty of amps and effects that authentically copped the sound and feel of their analog counterparts. The MX5 might not have the sonic depth of more expensive units, but pound-for-pound—and at this price—it more than holds its own while offering the very valuable convenience that comes from a small package.