This heavyweight digital solution packs a mighty punch. How does it stand up to the competition?
Excellent amp models. Neural Captures are really cool. Smartly designed footswitch knobs. Excellent mobile app.
Unable to run Neural's native plug-ins at press time. Some lackluster effects.
4.5
5
4
4.5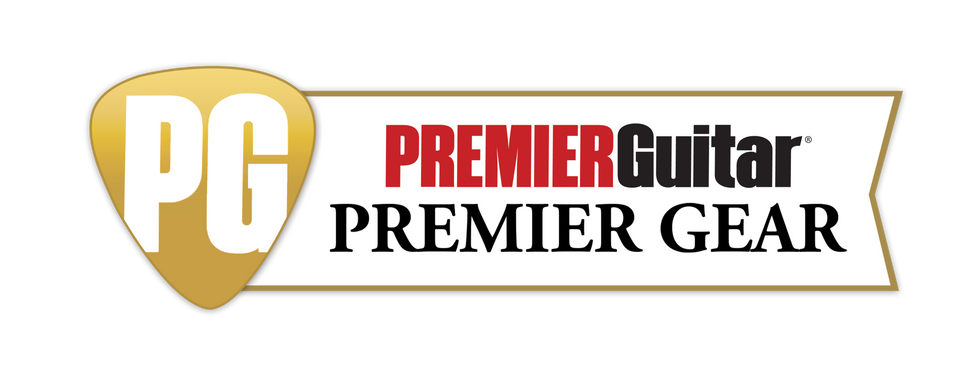 Neural DSP built its reputation on producing high-quality plug-ins. But packing great sounds into an all-in-one floor unit is a very different design challenge than creating a plug-in. In the form of the Quad Cortex, however, Neural succeeds at creating an intuitive interface and adding interesting features that even seasoned fans of digital setups will find intriguing.
---
Like a Rock
The Quad Cortex feels solid. Eleven dual-purpose foot switches and an oversized master volume control are situated around a 7-inch full-color touch display. Around back are a wealth of different I/O options including multiple XLR and 1/4" inputs, independent XLR and 1/4" outputs, headphone jack, dedicated Neural Capture output, MIDI, two effects loops, and support for 8-in/8-out USB audio. You'd be hard pressed to find morerouting options on a comparable unit.
Recorded with a Fender Stratocaster directly into Logic Pro X from the Quad Cortex.

The foot switches not only feel sturdy, but double as rotary knobs that adjust various parameters depending on the function you have selected. For those hesitant to go digital because they miss manual level adjustments, this might be a game changer.
On the Grid
Whether you pull up a preset or start from scratch, the Quad Cortex displays a grid that illustrates almost any signal flow you can imagine. I started simple and loaded up a Fender-style amp impulse response from a Bassman 4x10 with Jensens, and a Myth Drive (Neural's Klon emulation). I monitored through a set of headphones and a powered Electro-Voice EKX 12-" speaker. The warmth and presence in the amp models is easy to hear, and the midrange and low end have a particularly authentic feel. Just to confirm what my ears were hearing, I tried similar patches on an HX Stomp and Kemper Stage. The Quad Cortex easily held its own.
Within about 20 minutes I had a fully functioning stereo setup that sounded great and was easy to tweak.
My next rig was more complicated: Two amps, effects in pre- and post-amp positions, plus an expression pedal. Using Vox-and Hiwatt-style emulations together allowed me to test the unit's wide-ranging "gig" functionality. Here you can use one of three different modes: scenes, presets, or stomps. These functions allow you to assign effects blocks to foot switches (stomp), move between different settings in a single rig (scene), or change rigs entirely (preset). Depending on how you set them up, these three modes offer nearly limitless options. I was able to move between amps, high- and low-dwell reverb settings, and a wacky Whammy-style effect that I operated via an expression pedal (not included). The programming wasn't without a bit of trial and error, but within about 20 minutes I had a fully functioning stereo setup that sounded great and was easy to tweak. With units like these I find that ease of use is nearly as important as sound quality. The Neural excels on this count.
With over 70 effects, Quad Cortex hits all the bases. There are faithful emulations of classic overdrives, compressors, filters, and pitch shifters alongside Neural's proprietary effects. I hope for more modulation effects in future updates, though. Having just one type of chorus, flanger, and phaser underutilizes the Neural's impressive power.
The Neural Cloud system definitely merits mention. It's the most streamlined method for sharing and discovering presets I've encountered. Once you connect your Quad Cortex to wi-fi and download the free mobile app, you can access thousands of user- and artist-sourced presets, captures, and IRs. In minutes I had the exact setup that Rabea Massaad used with Stormzy. Wild! It's a great way to reverse-engineer your own presets, too.

Capture It!
Neural Capture enables you to create a snapshot of an amp or pedal at a specific setting. The function works for amps, cabs, and overdrive pedals. (At press time, Neural mentions that higher-gain drives like fuzz pedals aren't compatible). I hooked up a Wampler Brent Mason Hot Wired following the instructions in the handy on-screen guide. (When capturing a pedal, you don't need to hook it up through an amp and speaker.) The Quad Cortex went through its process and out popped a fresh capture. Neural includes a handy preset template that allows you to A/B the capture and the original pedal. After a few tweaks I was able to mimic the sound without much discernible difference in tone.
Capturing an amp means capturing the properties of the entire signal chain including the speaker and mic. I set up my Revv D20 with an Avatar 1x12 cab and miked it up with a Shure SM57. The capture process is similar to a pedal, except there are more audible artifacts from the analog chain. After a few stops and starts I ended up with a fairly accurate capture of the amp. To my ears, the pedal capture was a bit more accurate. However, you can visit the online version of this review to hear the results for yourself.
The Verdict
The Quad Cortex is an immensely powerful unit. The complete array of features, tones, and expandability via Neural Capture make it a worthy peer to similar units. The grid system is a great way to organize complex routing options. It isn't perfect, and you'll want to consult the manual to optimize the deep functionality. But if you're interested in a more open digital ecosystem and recreating rigs that would occupy a whole rehearsal room in the analog world, the Quad Cortex is a truly impressive way to achieve those aims.
Neural Quad Cortex Demo - First Look
Looking for more great gear for the guitar player in your life (yourself included!)? Check out this year's Holiday Gear Finds!
Created in collaboration with legendary guitarist George Lynch of Dokken and Lynch Mob fame, the Mr.Scary Mod adds an adjustable tube gain stage and an onboard Deep control, which together are designed to enable an amp to have increased sustain while still retaining note definition and dynamics.
LegendaryTones, LLC today announced production availability of its new Mr. Scary Mod, a 100% pure tube module designed to instantly and easily expand the capabilities of many classic amplifiers with additional gain and tone shaping. Created in collaboration with legendary guitarist George Lynch of Dokken and Lynch Mob fame, the Mr.Scary Mod adds an adjustable tube gain stage and an onboard Deep control, which together are designed to enable an amp to have increased sustain while still retaining note definition and dynamics.
Originally released as the Lynch Mod in February 2021, the updated Mr. Scary Mod features the same core circuit as the Lynch Mod but is now equipped with a revised tube mix combo per George's preference as well as a facelift in a newly redesigned electro-galvanized steel enclosure. As with the Lynch Mod, each run will be limited and the first run in Pumpkin Orange with Black hardware is limited to just 150 pieces worldwide.
​The Mr. Scary Mod adds an adjustable tube gain stage on top of the cathode follower position, keeping note definition and articulation while further increasing sustain. Each Mr. Scary mod is meticulously built by hand in the USA, one at a time, and tuned using high-grade components. Equipped with a single ECC81 (12AT7) in the first position and ECC83 (12AX7) in the second, the Mr. Scary Mod can clean up beautifully when rolling down your guitar's volume, and still adds scorching gain when you roll it back up. This is a gain stage that's been tuned and approved by the ears of the maestro George Lynch himself.
"The Mr. Scary Mod excels with dynamics and is incredibly touch-responsive, allowing me to shift from playing clear, lightly compressed cleans to full-out aggressive sustain and distortion –and control it all simply by varying my guitar's volume control and picking," said GeorgeLynch. "In many ways, it's an old-school approach, but it's also so much more natural and expressive in addition to being musically fulfilling when you can play both the guitar and amp dynamically together this way."
The Mr. Scary Mod installs in minutes, is safe and effective to use, and requires no special tools or re-biasing of the amplifier. Simply insert the module into the cathode follower preamp position of compatible amplifiers (includes Marshall 2203/2204/1959/1987 circuits) and

immediately get the benefit of enjoying a hot-rodded amp that delivers all the pure harmonic character that comes with an added pure tube gain stage. The handmade in the USA Mr. Scary Mod is now available to order for $319.
For more information, please visit legendarytones.com.
October Audio has miniaturized their NVMBR Gain pedal to create two mini versions of this beautifully organic-sounding circuit – including an always-on gain device.
The NVMBR Gain is a nonlinear amp that transitions gracefully from clean boost to overdriven tones. Volume increases from just over unity to about 10db before soft-clipping drive appears for another 5db of boost. Its extraordinary ease of use is matched by outstanding versatility: you can use it as a clean boost, push a stubborn amp into overdrive or create a just-breaking-up sound at any amp volume.

October Audio's new family of mini NVMBR Gain pedals includes a switchable version that allows you to bypass the effect: one option features brand logo pedal graphics, while the other sports a fun "Witch Finger" graphic with a Davies knob as the"fingernail".
The second version in the new lineup is an always-on device featuring the Witch Finger graphic and Davies knob, with the same NVMBR Gain circuit that lies at the core of the switchable version.
Features:
Knob controls gain and clipping simultaneously
Stunning silver hammertone finish
Switchable versions are true-bypass, available with classic or witch finger graphics
Authentic Davies knobs, including the "fingernail"
9V center negative power supply required
Dimensions: 3.63 x 1.50 x 1.88 in​
Witch Finger (always on NVMBR Gain) demo
​All October Audio pedals are assembled in Richmond, VA, and available for purchase directly through the online shop. Street price is $109 for NVMBR Gain footswitch versions and $89 for the always-on device.
For more information, please visit octoberaudio.com.