Converge's 6-string steamroller—who also happens to be a famously heavy and in-demand producer (and gear designer)—takes PG inside his GodCity Studio to talk mics, tracking, instrument building, and more.
If you've thought to yourself, "this is the most vicious-sounding record I've heard," chances are Kurt Ballou's fingerprints are on it. Since officially starting in 1995 inside his parents' garage and eventually opening GodCity Studio's doors in 2003 (in "Witch City" Salem, MA, no less), Ballou has chiseled out granite tones for bands like Every Time I Die, High on Fire, Torche, Cave In, Old Man Gloom, American Nightmare, and Kvelertak. ("He brings a lot to the table, and he's been pretty important in terms of how our sound got formed," Kverlertak's Vidar Landa in a PG interview on working with Ballou.) Oh, and we can forget his genre-shaping band Converge, that he's played guitar in since 1990, co-produced since 2001's hardcore pillar Jane Doe and been the console captain since 2006's No Heroes.
---
As you'll soon find out in this hour-plus episode, the dude is fascinated with every component of guitar tone. In between recording projects and creating new instruments and pedals, Ballou virtually welcome PG's Chris Kies into GodCity Studio. In this Rig Rundown, Ballou details his own GodCity InstrumentsCraftsman Series 1 (something he calls a "simple rock 'n' roll machine"), provides a crash course on mics (types and techniques), and shows off additional GCI pedal wares—and a few foreign specimens—that contort, mangle, and destroy any (in the prettiest way possible) guitar's native tongue.
D'Addario Auto Lock Strap:https://ddar.io/AutoLockStrap
[Facing a mandatory shelter-in-place ordinance to limit the spread of COVID-19, PG enacted a hybrid approach to filming and producing Rig Rundowns. This is the 38th video in that format.]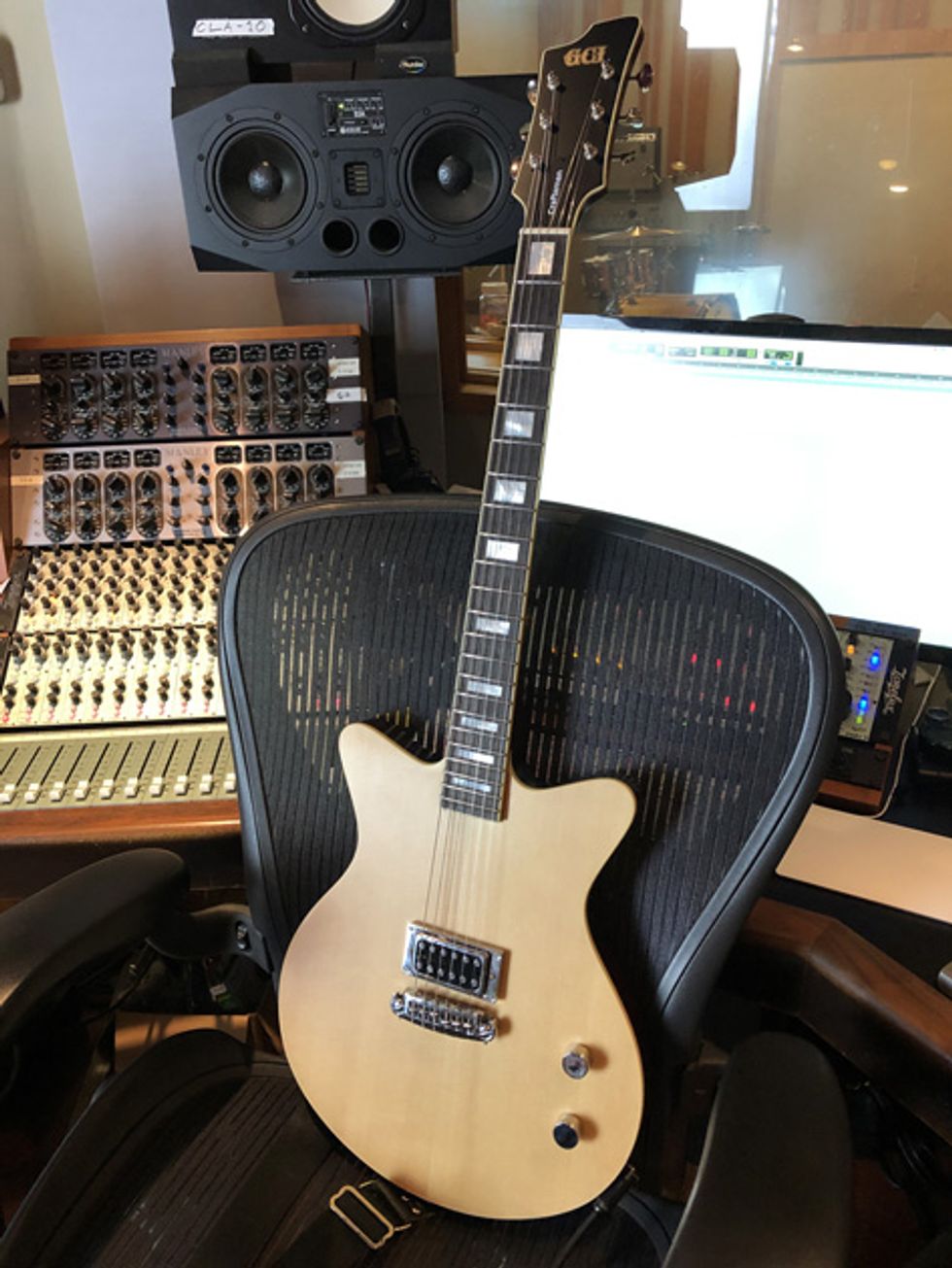 As you'll quickly find out, if Kurt can't find exactly what he's after, he'll design something that will get the job done. Above is his first guitar—built under the God City Instruments brand—called the Craftsman Series 1. This one features a chambered mahogany body with a spruce top ("it's incredibly resonant, snappy, and lively"), set-neck construction (maple neck/wenge fretboard), 25.5" scale, Graph Tech nut and bridge, and a custom-wound, hot Slugjammer humbucker (13k output, 44 AWG). He prefers D'Addario NYXL strings (.011–.052), hammers away with Planet Waves Duralin picks .70 mm (yellow), and Ballou uses a bunch of tunings for Converge, but two of his favorites are "a little out of tune" D standard and one he calls "open Slayer" (C–F#–C–F#–C–F#).
(This isn't the first time we've seen a God City Instruments' Craftsman Series 1 on a Rig Rundown. For those that missed it, Djunah's Donna Diane rocked out a wenge-top Craftsman Series 1 in her Rundown in late 2020.)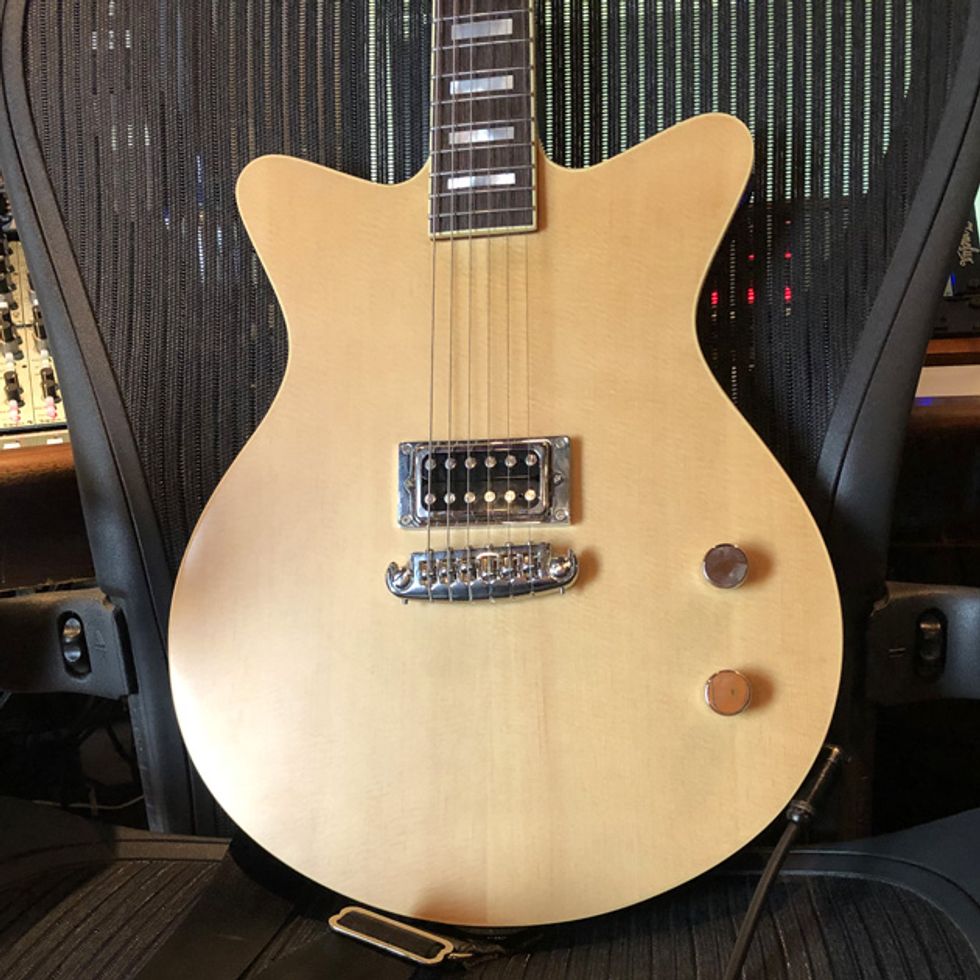 A close-up of his Malcolm Young-inspired Craftsman Series 1 body.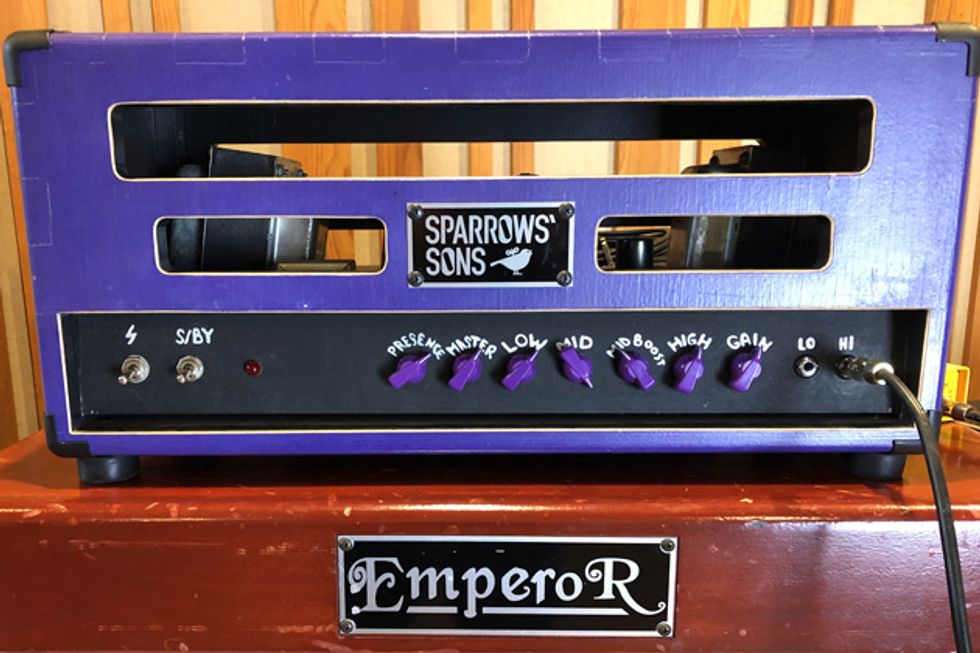 Need proof that Converge have diehard fans all over the world? Look no further than this Sparrows' Sons head that was built for (and sent over to) Kurt from their Belarus guitar shop. He doesn't know much about the circuit, but he notes in the Rundown that early in the signal path sits an active inductor-based midrange boost that sort of acts like a Neve preamp. Another think he mentions is that its gain knob is a dual pot that controls two tube stages at the same time giving the amp a wide range of crunch. (Ballou admits that he doesn't use it for clean and rather make it a blast furnace of rock.)
The handmade beast (even has handwound inductors) floored Ballou enough that he ordered a second head for his European setup (but has since brought it home). He believes he owns are two of four or five in existence.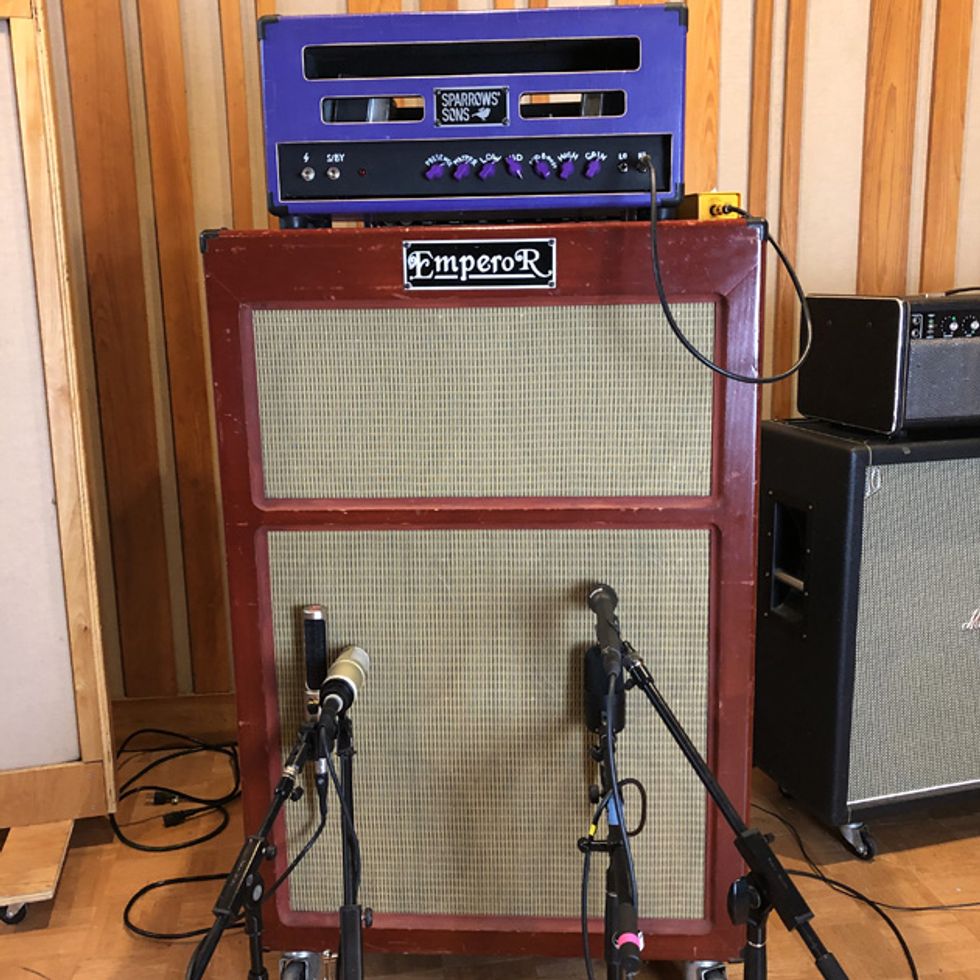 The Sparrows' Sons custom jobber runs into a massive Emperor 6x12 that is loaded with various speakers, but what was mic'd and recorded for the Rundown were a pair of Eminence Texas Heats.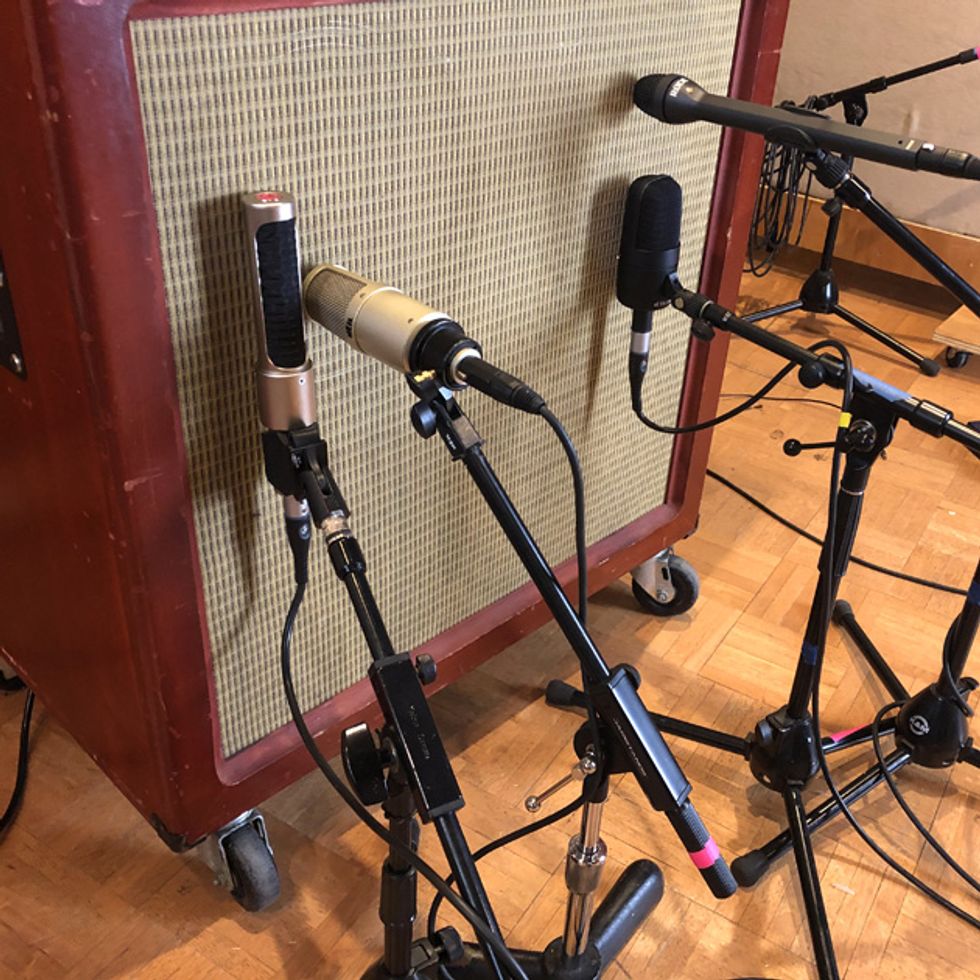 Because he's Kurt and he's awesome, not only did he treat this like a recording session, but he used four mics, in four different positions, to show how each works independently and how they work in unison to create a monolithic sledgehammer. The lineup starts (left to right) with an AEA N22 active ribbon mic, Heil Sound PR 30 large diaphragm dynamic supercardioid mic, a Rode (top) Reporter omnidirectional dynamic mic, and an sE Electronics X1 D large diaphragm unidirectional condenser mic.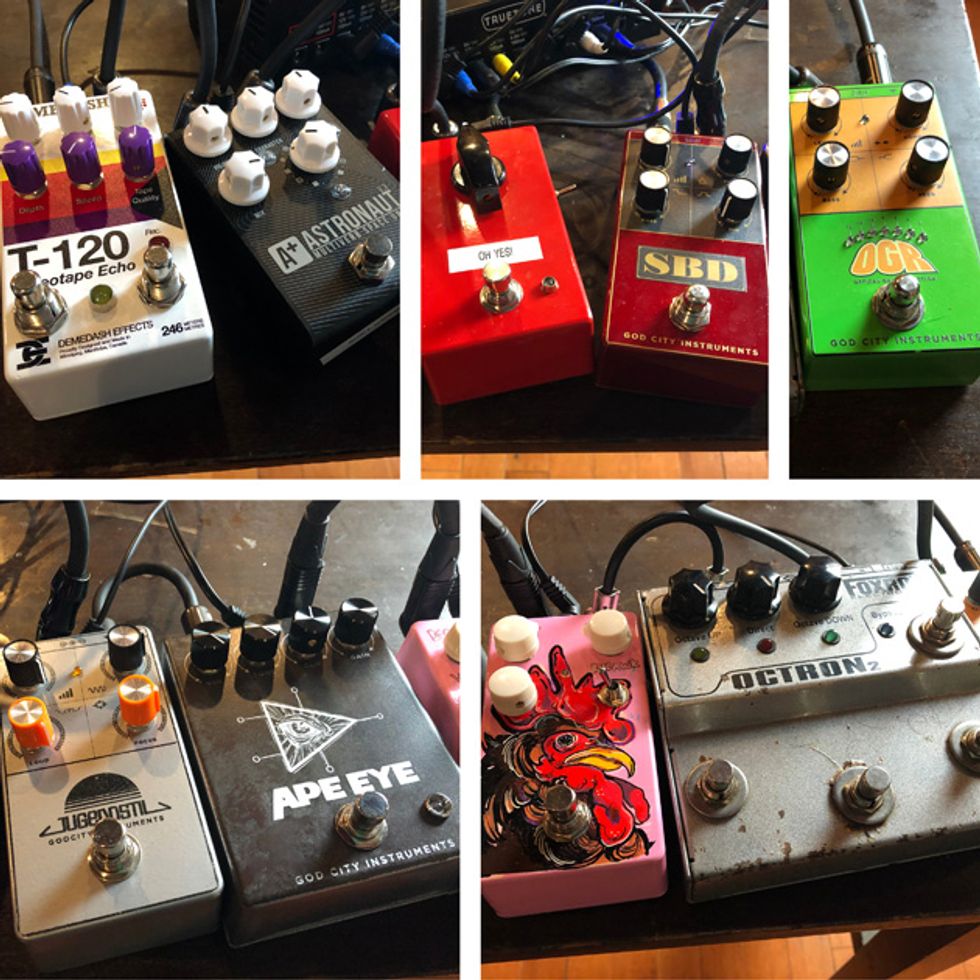 "One of the nicest things about owning a studio and designing pedals is that I can figure out what do I have a need for," admits Ballou. And as you'll soon find out, his biggest (and constant) need is angry, violent, metallic distortion. Starting at the top left (and then going clockwise), we have the Demedash Effects T-120 Videotape Echo. "This is one of the coolest analog delay pedals," giddily asserts Ballou. He loves the overall functionality of the pedal and its feature set, but the icing on the cake is that when bypassed you can hold down the left footswitch and it will act as a momentary freeze/shimmer/oscillator. Next you have the Shift Line A+ Astronaut III Multiverb Space Unit. Kurt got hip to this pedal when Converge was touring Russia and ventured into a guitar store in St. Petersburg. For this pedal, Kurt's go-to setting is the reverse shimmer.
The single-knob red GCI design (Oh Yes!) is Kurt's latest creation (mentions tentatively it may be called Onslaught) that is a "mid-forward, ultimate thrashy, djenty, clanky, articulate, heavy guitar pedal." The red pedal on the right is Kurt's first original codesign—the SBD or Super Beatle Distortion—that was inspired by a circuit from Fu Manchu bassist Brad Davis' Creepy Little Fingers. Taking it up a notch, Ballou added in an active mid boost in front of the fuzz circuit. Additionally, he boosts the bass level after the fuzz circuit so it sounds huge.
Next up in green is the God City Instruments OGR (a collaboration with Electronic Audio Experiments' John Snyder). The Optical Gain Reduction is a compressor that Ballou uses on every bass-recorded track in God City Studio.
Then there is the Foxrox Electronics Octron2 (inspired by the guitar feedback lassoed by Mahogany Rush guitarist Frank Marino) that Ballou uses for thorny solos that bristle with weird overtones and elastic ghost notes. Following that is a newer GCI Crimson Cock (original codesigned with Rob Davis) that is a treble booster loosely based on the Rangemaster circuit with an added range control (a cap blend on the input) and the switch toggles in a Muff stage at the end of the circuit.
The penultimate stomp is the God City Instruments Ape Eye (collaborated with Soursound) that is dirt box centered around the API 2520 discrete op amp. Lastly, we have Kurt's Jugendstil silicon fuzz that is aptly described on their site: "If there were a Venn Diagram showing the overlap between '90s British shoegaze and '90s Swedish death metal, Jugendstil would feel right at home in the middle." And everything was powered by a Truetone 1 Spot PRO CS7.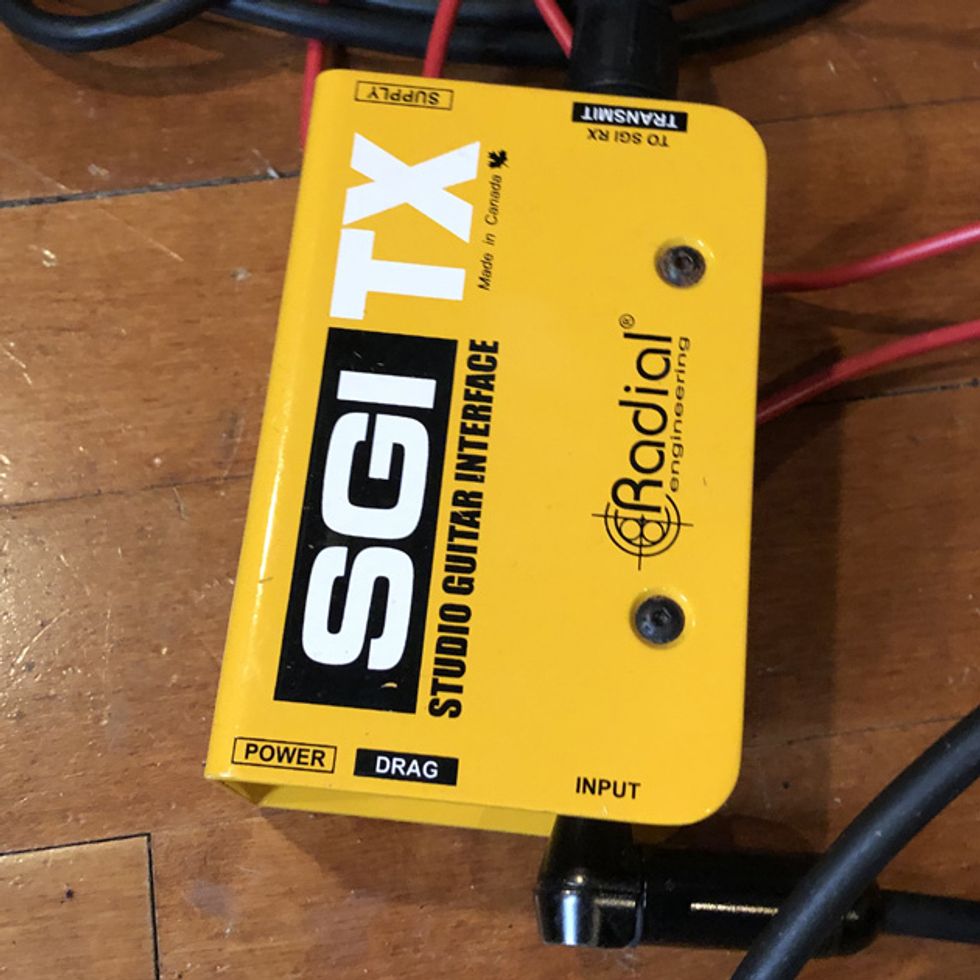 An unheralded but appreciated tool used by Ballou is this Radial Engineering SGI TX that is line driver system that takes an unbalanced instrument signal and allows you to drive it as far as 300' feet without noise.
Looking for more great gear for the guitar player in your life (yourself included!)? Check out this year's Holiday Gear Finds!
Outlaw Effects introduces their next generation of NOMAD rechargeable battery-powered pedal boards.
Available in two sizes, NOMAD ISO is a compact, versatile tool that offers the convenience of a fully powered board plus the additional freedom of not having to plug into an outlet. NOMAD ISO is ideal for stages with limited outlet availability, quick changeovers, busking outdoors, temporary rehearsal locations, and more!
NOMAD ISO builds upon the legacy of the ultra-convenient and reliable NOMAD rechargeable pedalboard line originally launched in 2018. The brand new NOMAD ISO editions feature eight isolated outputs (1 x 9V DC, and 1 switchable 9V/12V DC) for even more versatility and clean, quiet power. With an integrated lithium-ion battery pack boasting 12800mAh capacity, NOMAD ISO can fuel a wide array of pedals, and will last over 10 hours* on a single charge.
Each NOMAD ISO pedal board includes adhesive hook & loop pedal-mounting tape, eight (8) standard DC connector cables, and one (1) reverse polarity DC cable, giving you everything you need to build your ultimate "off-the-grid" rig. A rugged, road-ready padded gig bag with shoulder strap is also included, to safely protect your gear while you're on the move.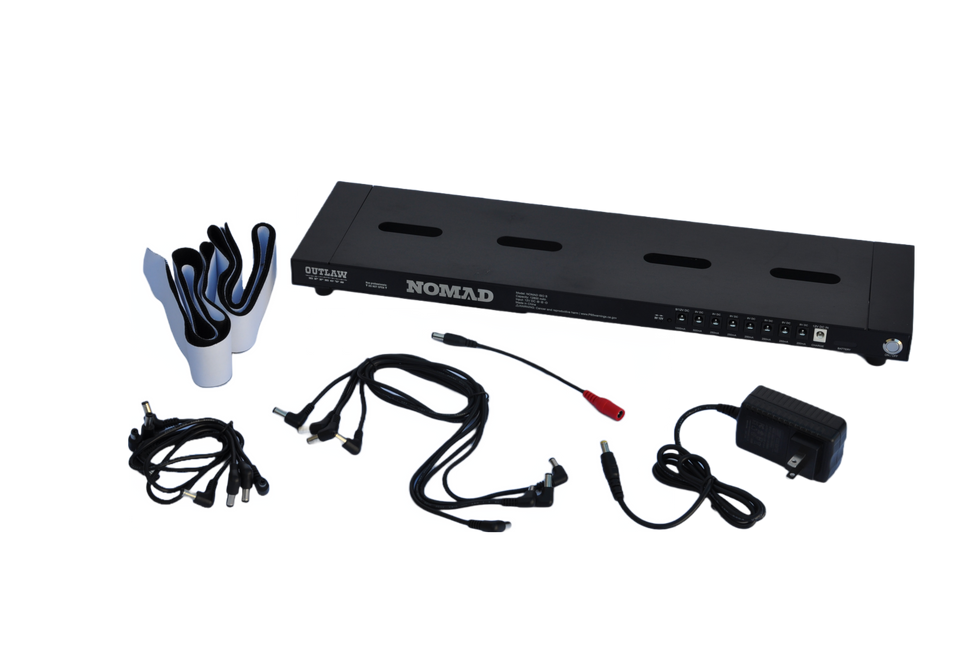 Dunable announce new Minotaur model featuring Grover Rotomatic Keystone tuners.
The Minotaur's DNA is rooted in their classic Moonflower model, which Dunable discontinued in 2017. However, they have long since wanted to create a fresh take on a carved top guitar design, and various attempts to rework the Moonflower led them to a brand new concept with the Minotuar.
Dunable's goal is to give the player a guitar that plays fast and smooth, sounds amazing, and gives maximum physical ergonomic comfort. The Minotaur's soft and meticulous contours, simple and effective control layout, and 25.5" scale length are designed to easily meet this criteria.

Dunable Minotaur!
Features
25.5" scale length
Dual Humbucker
one volume, one tone, push pull for coil splitting
Grover Rotomatic Keystone tuners
Grover Tune O Matic bridge with brass Kluson top-mount tailpiece
jumbo nickel frets
12" fretboard radius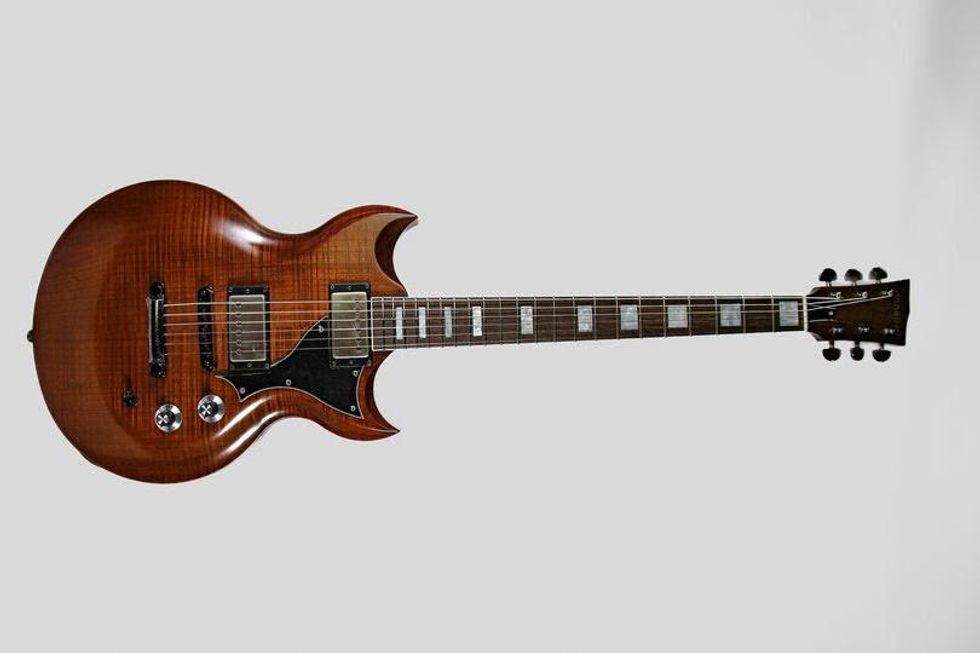 Dunable
This full-amp-stack-in-a-box pedal brings a new flavor to the Guitar Legend Tone Series of pedals, Missing Link Audio's flagship product line.
Adding to the company's line of premium-quality effects pedals, Missing Link Audio has unleashed the new AC/Overdrive pedal. This full-amp-stack-in-a-box pedal – the only Angus & Malcom all-in-one stompbox on the market – brings a new flavor to the Guitar Legend Tone Series of pedals, Missing Link Audio's flagship product line.
The AC/OD layout has three knobs to control Volume, Gain and Tone. That user-friendly format is perfect for quickly getting your ideal tone, and it also offers a ton of versatility. MLA's new AC/OD absolutely nails the Angus tone from the days of "High Voltage" to "Back in Black". You can also easily dial inMalcom with the turn of a knob. The pedal covers a broad range of sonic terrain, from boost to hot overdrive to complete tube-like saturation. The pedal is designed to leave on all the time and is very touch responsive. You can get everything from fat rhythm tones to a perfect lead tone just by using your guitar's volume knob and your right-hand attack.
Features 
Three knobs to control Volume, Gain and Tone
Die-cast aluminum cases for gig-worthy durability
Limited lifetime warranty
True bypass on/off switch
9-volt DC input
Made in the USA
MLA Pedals AC/OD - Music & Demo by A. Barrero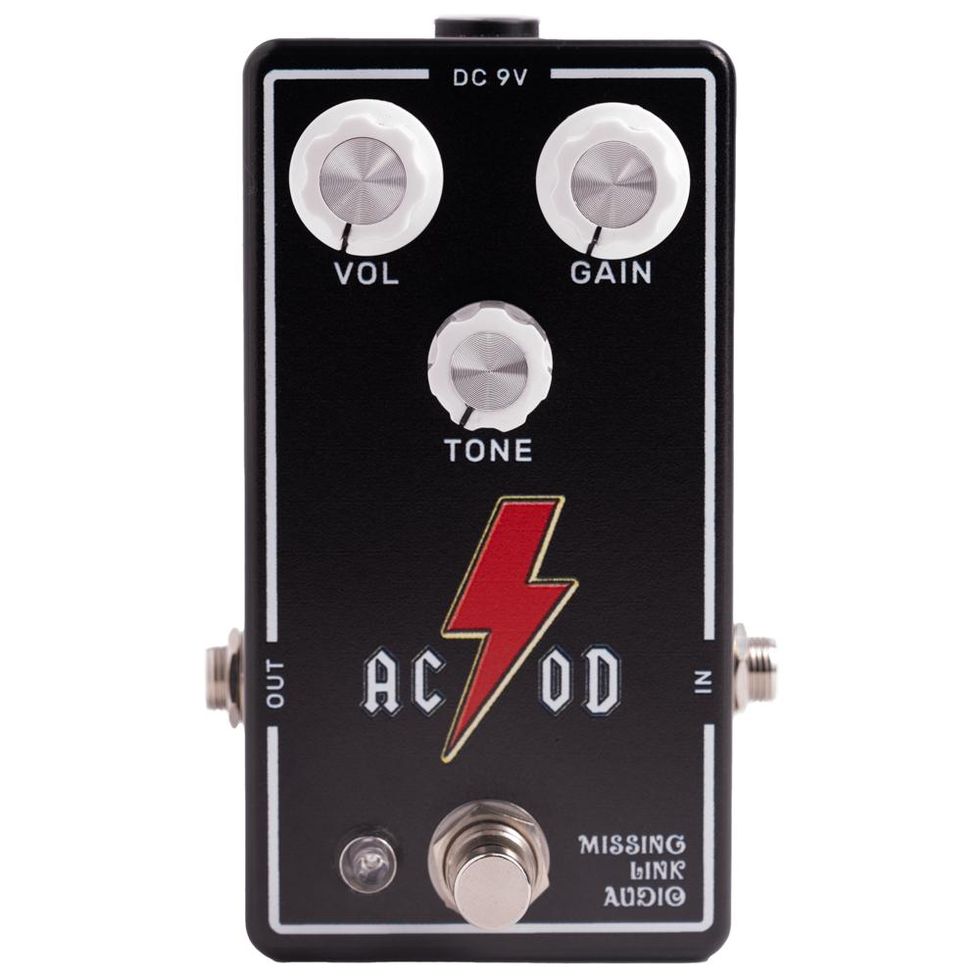 www.mlapedals.com.