Rig Rundown: Striking Matches
Grinding guitars + soaring vocals = stripped-down rock bliss.
The spark for Striking Matches flared in 2007, on the first day Sarah Zimmermann and Justin Davis met in a guitar class at Belmont University. They've been playing as a duo and leading other musicians under the band's banner, with an album and a handful of EPs to their credit, ever since.
---
Recently, Premier Guitar's John Bohlinger met with Zimmermann and Davis in their East Nashville studio while they took a break from recording their new album. Zimmermann and Davis did some show-and-tell, pulling a lot of Gibson, Fender, and Takamine out of their collective hats, and playing some killer music, too.
[Brought to you by D'Addario XS Strings: https://www.daddario.com/XSRR]
Two Humbuckers, No Waiting
Sarah Zimmermann got into SG's when she was tracking the first Striking Matches album, Nothing but the Silence, with producer T Bone Burnett. Her No. 1 is this much-played 2014 Gibson SG. The guitar is stock except for the tuners and its truss rod cover.
Match Cover
And here's that truss-rod cover—obviously custom. The SG stays strung with D'Addario EXL110s (.010–.046).
Road Warrior
Her main acoustic is this Takamine TAN45C—a model the company no longer produces. This high-mileage 6-string features Takamine's proprietary Cool Tube preamp and Palathetic pickup, and stays strung with D'Addario EJ16s (.011—.052). She uses a Dunlop Moonshine slide and Tortex 1.14 mm picks for acoustic, and Dunlop Jazz iii plectrums for electric.
A Rare Mando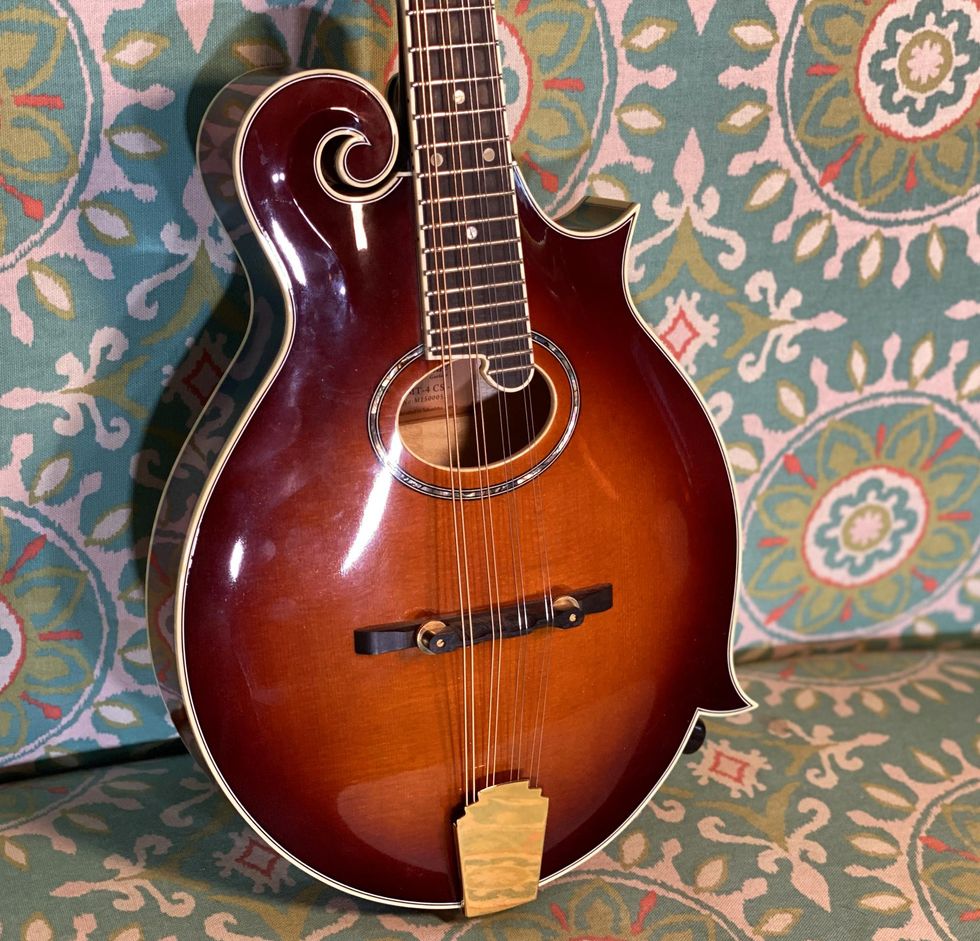 Zimmermann's Takamine mandolin appears to be a prototype that was never released. It resembles a Gibson F-style and sports a proprietary Takamine pickup.
Here's Junior
Zimmerman uses a Fender Blues Junior tricked out with a Patriot Swamp Thang speaker. Otherwise this 15-watt workhorse is all-stock.
On- And Off Board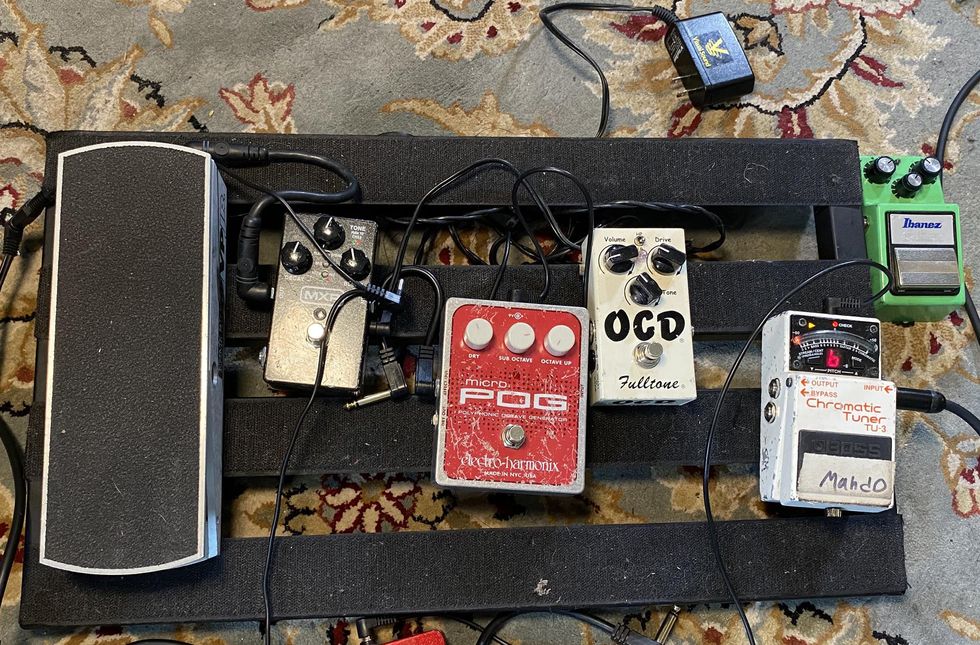 In the heat of recording, it's often tough to keep a neat pedalboard. Zimmermann' pedals include a Boss TU-3 tuner, a Fulltone OCD, an Electro-Harmonix POG, and MXR Reverb, and her power station: Voodoo Lab's Pedal Power 2.
Davis' Dirty Dog
Justin Davis' No. 1 is his 2018 Gibson ES-335. The all-stock guitar stays strung with D'Addario EXL110s, and smudged with a patina of sweat and road dirt.
Old Friend
Davis purchased this '90s Fender Strat when he was a kid, just learning to play. It's been modded with a DiMarzio Rail in the bridge and stays strung with D'Addario EXL110s.
Up Nex
Yet another Takamine joins the Striking Matches roster. Davis' acoustic is an all stock P5NC, with X-bracing and the company's NEX body style, and it's strung with D'Addario EJ16s. For the record, he mostly plays with his fingers.
The Nest
Again, keeping pedals at home on the board during tracking is over-rated. So Davis' are loose and ready to goose his tone in a flash. They are a Boss TU-3 tuner, a TS-9 Tube Screamer with a Keely mod, a Boss DD-3 Digital Delay, and a Voodoo Lab Pedal Power 2. In addition to Zimmermann's pedals in this shot, interlopers include an Empress Effects ParaEQ, a Big Ear NYC More More More OD and boost, an EHX Holier Grail Reverb, and a JHS Ruby Red OD, designed by Butch Walker.
Teasing the Sub
For gigs, Davis uses a Fender Hot Rod Deville, but on this day in the studio he was using a newish silver-panel Fender Vibrolux Reverb.
Ox Me!
And he was running the Vibrolux Reverb through a Universal Audio OX Amp Top Box.