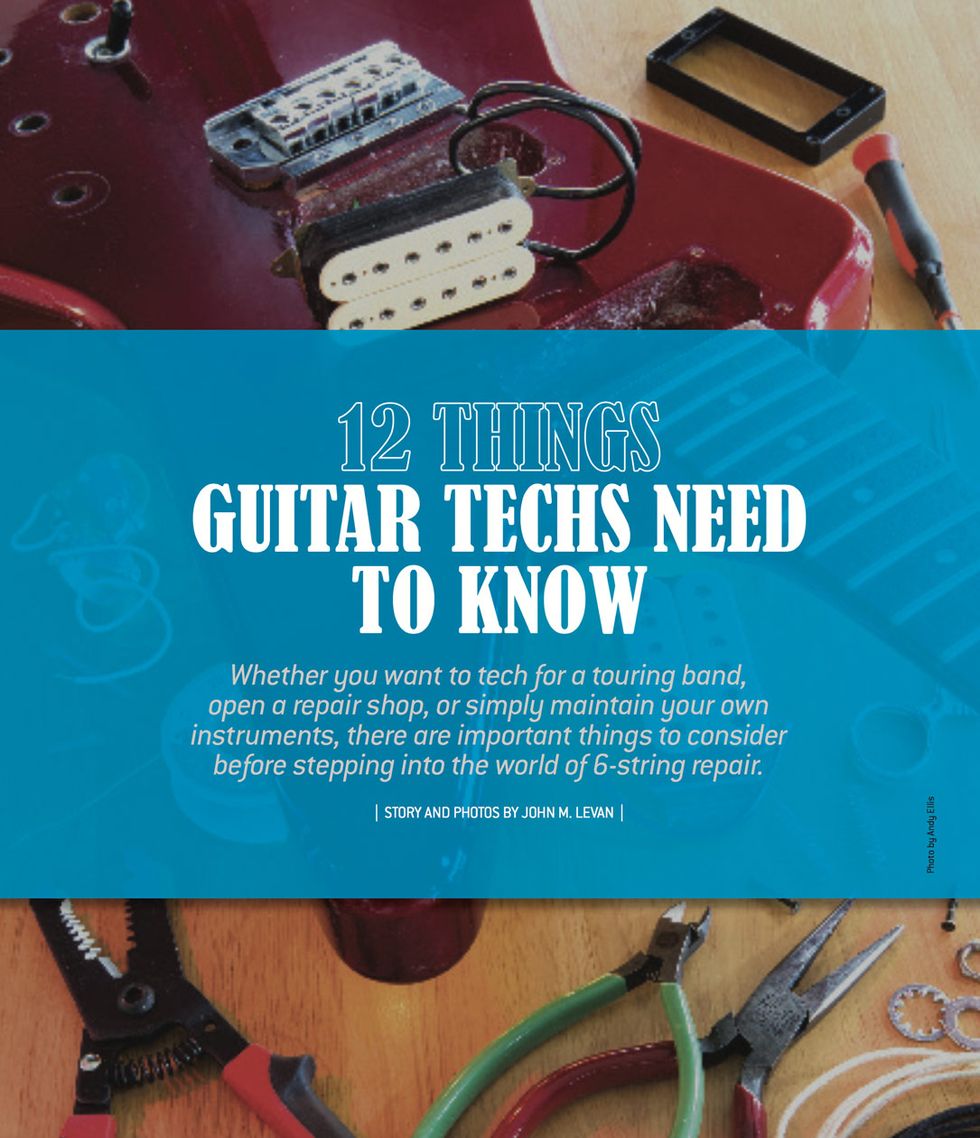 Photo by Andy Ellis
Okay, you love guitar ... some folks might claim you're obsessed with it. Maybe you're a weekend warrior or even play in a touring band. When you're not gigging, however, the big question arises: How do I parlay my passion for the instrument into an activity that can support me? Of course, one option is to teach guitar independently or through a local music store or institution. Or you can work in music retail. But for those with the requisite skills and determination, there is another path: become a professional guitar tech.
As with any serious undertaking, this takes study, patience, and a lot of experience and expertise. But if you consider how many millions of guitars are out there and the legions of owners who need their instruments set up, repaired, or restored, there's plenty of work for the qualified tech. Whether you hit the road to tech with a band or decide to open up your own shop, caring for guitars and basses can provide you with a way to stay involved with the world of music while making ends meet. And even if you don't want to turn pro, guitar repair can make a great hobby—a way to tend your own instruments and help out your friends.
If you consider how many millions of guitars are out there and the legions of owners who need their instruments set up, repaired, or restored, there's plenty of work for the qualified tech.

Is this right for you? Let's explore 12 things you'll need to understand and master as a guitar tech. After absorbing this overview, you'll be able to answer that question for yourself. I'll describe what to expect if you have a shop where customers come to you for everything from small jobs to major repairs. If you decide to tour as a tech, the basic principles remain the same, though your workbench and tools will have to be streamlined by necessity. On the road, you'd be primarily doing setups backstage before each show, rather than the repairs, mods, and restorations that are the bread-and-butter of a shop.
The Value of Training
Advancing your career as a professional guitar technician requires many different elements, but it begins with having the proper training. For many years, I've taught guitar repair and restoration classes at the Guitar Services Workshop near Nashville, with an emphasis on preparing students for the demands of professional customer service. Some technical two-year colleges offer degree and certificate programs in guitar repair, and there are a handful of private schools across the country—including the Galloup School of Guitar Building and Repair, run by PG's Acoustic Soundboard columnist Bryan Galloup—that provide valuable training. Working as a luthier's apprentice is another time-honored means of acquiring essential skills, but the shortest path to a guitar-tech career is to successfully complete a course offered by a school or workshop that focuses on repair, and in the process earn some type of recognized certification.

Keep in mind that developing your physical skills is just one part of the training: Guitar repair also requires strong analytical abilities. For example, it's critical to know what procedure to do first, based on the construction and physics of the guitar, and how this first step will affect each subsequent one. Correctly evaluating the condition of the guitar involves tuning it, taking measurements, and inspecting it for any damage or defects. For acoustic and hollowbody guitars, you must always examine the braces and other interior components, looking for cracks, separations, and other types of damage. If you find any structural problems, they must be repaired first. Again, understanding how to evaluate a guitar before you begin any work is a fundamental part of your training. A skilled instructor can show you how to do this based on decades of hands-on experience.
Essential Tools and Materials
I always encourage students to write out a "plan of action" before they begin any procedure. Once you've done this, it's time to gather the tools, materials, and supplies necessary to complete the project. Here's a list of what you'll need to have available before starting a repair:
As you can see, that's a lot of tools, supplies, and materials. One final word of advice: Always be sure you have what you need before jumping into a project. This gives you a much better chance of success than just winging it.
Customer Service is Crucial
Doing excellent repair work is only part of our job. Providing great customer service is one of the primary keys to success, and a top repair tech also has solid customer service skills. This requires honesty, diplomacy, and having "the heart of a teacher." It's not about scoring a sale just for the sake of a few dollars. Rather, it's about educating your customers and suggesting what is best for them and their instruments. For example, you need to explain the importance of temperature and humidity control to your clients, because they are two of the leading causes of damage to any guitar.
When medical professionals take the Hippocratic Oath, in part they swear: "First, do no harm." It's a philosophy that also applies to those of us in the guitar-repair field. Before you agree to do a modification or repair, ask yourself: How does this affect the value and playability of the instrument? Will the customer benefit from the repair? Is the project cost-effective? Did I educate the owner about how this will affect the guitar's value?
Whether you deal with the public or tour with a band, you need to be personable. No one wants to hand over their beloved instrument to a grouch. And—don't laugh—never underestimate the importance of good hygiene.
Run a Tight Ship
You don't need a big shop to do great work, but you need enough room to accommodate workbenches, equipment, storage, and your customers. Over the years, I've had shops sized from 80 up to 1,000 square feet, but 400 square feet is ample for a repair shop. It may sound small, but you can configure it to handle almost any project. A smaller space gives you the ability to easily control the temperature and humidity. I cannot emphasize enough how critical temperature and humidity control are to doing excellent repairs. If you ignore this in your shop, your work will suffer.
---