The Fascinating Peavey T-60 Tone Circuit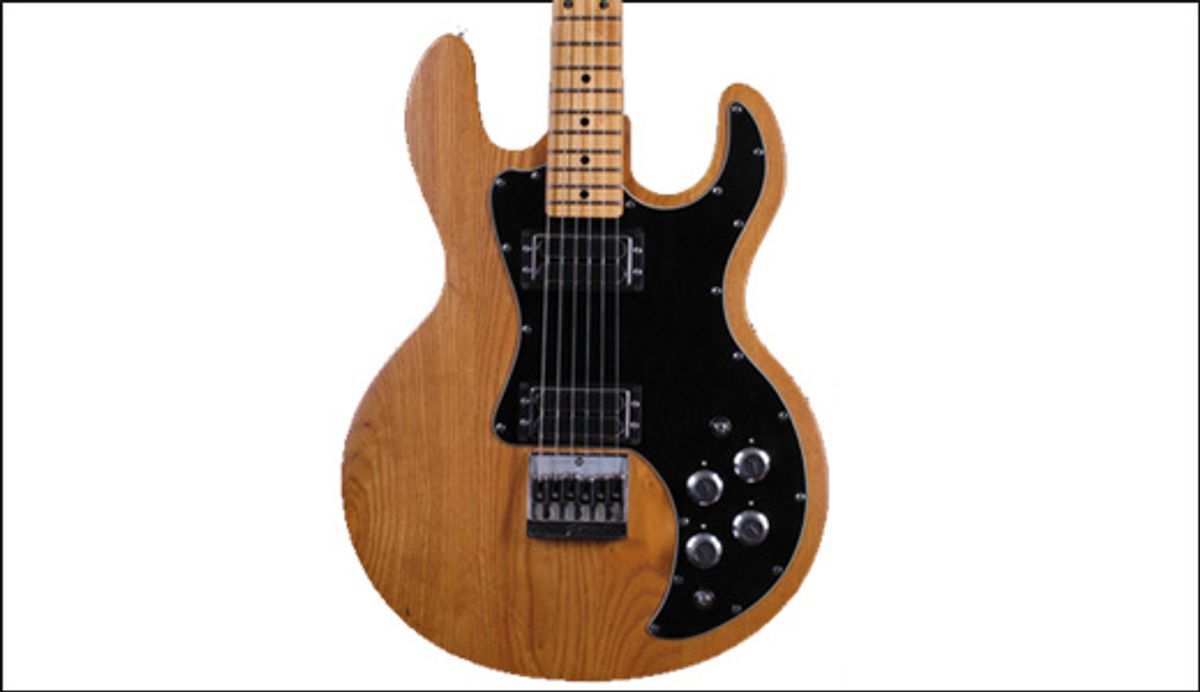 With out-of-phase and coil-switching options, a treble-bleed network, and individual volume and tone controls for each pickup, this dual-humbucker's wiring was ahead of its time when it came out in 1978.
Recently a customer asked me to translate something for him, and it turned out that it was a German description of an electric guitar that I had almost forgotten about: the Peavey T-60.
---
I must admit that I really like Peavey guitars, and the T-60 is no exception. The guitar and its wiring are so unique that I wanted to show you the circuit and how you can adopt it for your own guitar.
The Peavey T-60 was built from 1978 to 1988 and is a dual-humbucker guitar with a design that was ahead of its time—kind of "Burns meets Stratocaster." It's a polarizing shape: You will either love it or hate it. Personally, I think it's a spacey design and together with the arrow-shaped headstock, the silver retro control knobs with the inlayed "P" for Peavey, the toaster-style pickup covers, and the countless screws holding the pickguard, it looks super cool ... but judge yourself.
The guitar was loaded with two epoxy-potted four-conductor "full-range" humbuckers with a blade design, aka Super Ferrite pickups. They were covered with Rick-style toaster design pickup covers, had standard PAF dimensions, and were designed to sound good as humbuckers and single-coils when in split mode. The T-60 guitar also had a brother: the T-40 bass, with the same wiring but slightly different capacitor values for the treble-bleed network on the volume pots (more on this later).
I haven't seen such a circuit on any other guitar. You can adopt this wiring to any HH guitar as long as both humbuckers have four-conductor wiring and a Les Paul/SG/335-style control layout.
The wiring was really ahead of its time back in 1978, sporting out-of-phase and coil-split options, but in a very special way. Basically, the original wiring is using a 3-way pickup selector switch (in this case a DPDT on-on-on type) for a Les Paul-style switching with both pickups together in parallel in the middle position. Next there is a DPDT on-on switch, serving as an out-of-phase switch for the bridge pickup, and a 250k volume and tone control for each pickup, á la Les Paul but independent from the other pickup's circuit. The volume controls both have a "cap only" treble-bleed network to keep the high-end alive when rolling down the volume. The value for the T-60 guitar was 1000 pF and for the T-40 bass 0.01 uF. Besides this, the wirings are absolutely the same. The tone controls have a 0.033 uF tone cap for the bridge and a 0.022 uF tone cap for the neck pickup.
So far, this is nothing special in the year 2020, but let's take a closer look at the tone controls. Here we find a mixture of a tone blend and a coil blend feature. On one side a capacitor is blended to ground (tone blend) while on the other side one of the coils is blended to ground (coil blend). Since the out-of-phase switch is still in front of the coil blend feature, you can choose, depending on the position of the switch, which of the two coils is blended to ground. Here is the description of the circuit in Peavey's own words from the original manual of the guitar: "Our unique tone circuitry enables dual- or single-coil operation of each pickup independently through the rotation of the pickup tone controls. Rotating the tone controls fully clockwise (position #10) achieves the single-coil mode and produces a greater degree of "highs" from the instrument. Rotating the tone controls counterclockwise to approximately the #7 position brings the second coil into operation for full-range, humbucking tonalities. Further counterclockwise rotation of the tone controls (from position #7 to 0) yield conventional tone-contouring action."
Fig. 1
courtesy of singlecoil.com
As always, the out-of-phase switch only works when both pickups are engaged. Different from a Les Paul standard wiring, both volume and tone controls are working independent from the other pickup's circuit, so in the middle position with both pickups engaged in parallel, the volume and tone controls only affect their corresponding pickup and not both, interacting with each other.
All this together creates a very flexible circuit with a lot of tonal shades you can dial in. I haven't seen such a circuit on any other guitar. You can adopt this wiring to any HH guitar as long as both humbuckers have four-conductor wiring and a Les Paul/SG/335-style control layout. Before you dive in, here are some points to consider with this wiring and possible mods of this circuit:
Peavey chooses a "cap only" 1000 pF treble-bleed network for both volume controls. This will work with the original 250k controls and the special humbuckers, but may be adjusted when using other humbuckers and/or values for the controls. For more info about this, please have a look at my March 2019 Mod Garage column "Deep Diving into Treble-Bleed Networks."
The original wiring uses a 0.033 uF tone cap for the bridge and a 0.022 uF tone cap for the neck pickup. Naturally you can mod these values to your personal likings, e.g. 0.022 uF for the bridge and 0.01 uF for the neck pickup, which will work fine with any vintage PAF-style humbucker. Or maybe you want to convert to a warmth control, which is described in November 2018's "Mod Garage: Swap that Tone Knob for a Warmth Control."
The Rick-style toaster covers on the original humbuckers may look cool, but will dampen the high-end noticeably because, unlike the similar-looking covers from Gretsch, the metal between the two slits is uninterrupted. Removing the cover will bring back all the high-end. Alternatively, you can cut a piece out of this metal part, so it looks similar to the Gretsch covers, to solve the problem and retain the cool retro appearance. (Remember: breaking eddy currents!) For more info about this, read "Mod Garage: How to Shield Humbucking Pickup Covers" from January 2019. For the original pickups, Peavey recommends a pickup height adjustment of 1/32" (0.8 mm) for the bridge and 3/64" (1.2 mm) for the neck pickup. If you want to use the original pickups, chances are good that you'll find a used pair on eBay or maybe Peavey still has them in stock. The part number for the pickups is 95201100 (one model for bridge and neck).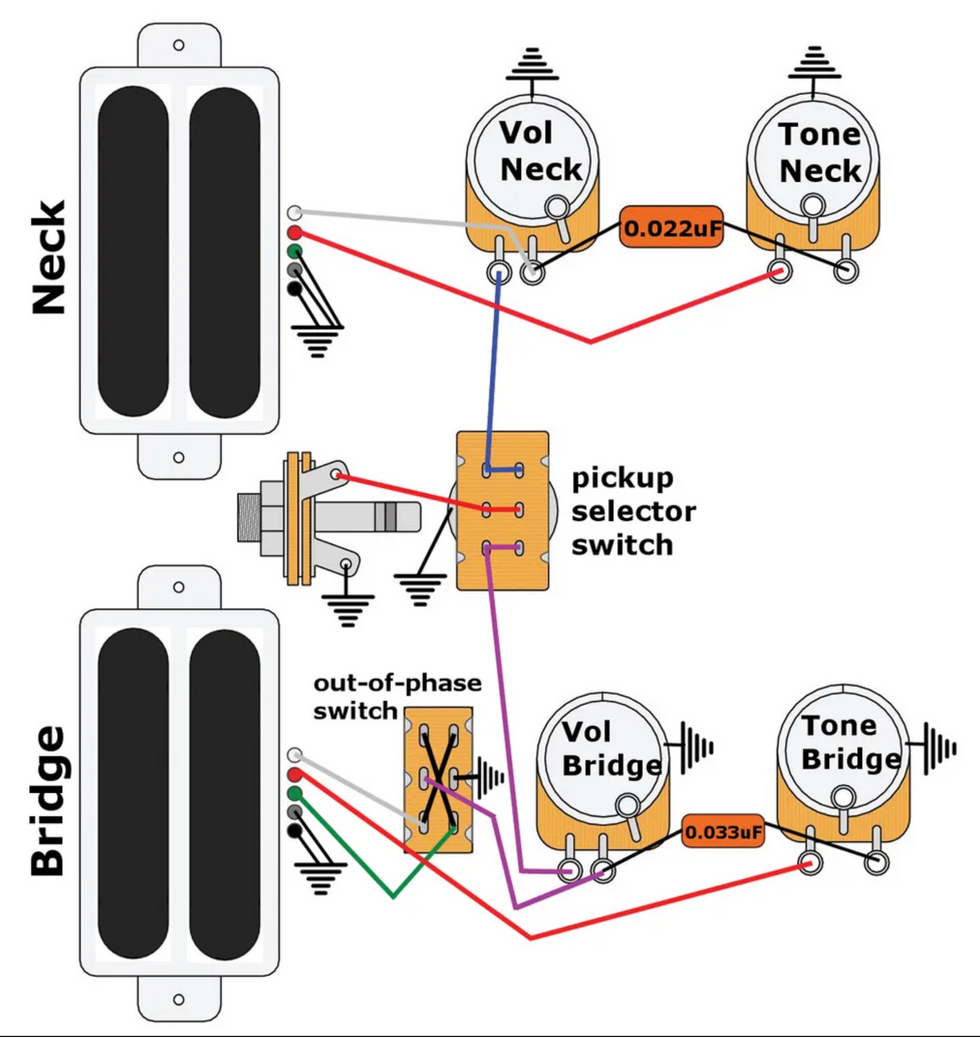 Fig. 2
courtesy of singlecoil.com
Peavey used 250k audio pots for the volume and 250k tone pots offering a special "S" curved taper. I'm pretty sure this was owed to the S-taper and the availability of such pots, because usually you would expect a 500k pot here together with humbuckers. Not the best choice, so it's worth using all 500k audio pots or a combination of 250k audio pots for the volume (60:40 audio taper in preference) and 500k for the tone controls, preferably with an S-taper. Standard audio-tapered pots will also work with this wiring, but the crossover point between tone blend and coil blend is more defined with an S-curved taper. Such S-tapered pots are available from Bourns or CTS. Maybe the original 250k pot is still available from Peavey as a spare part: the part number of this pot is 75065005.
Now let's look at the wiring. For visual clarity, we'll start with the volume pot's treble-bleed network shown in Fig 1. It's a single 1000 pF cap soldered between input and output of both volume pots. Silver mica caps do a very great job here.
The entire complex wiring of the Peavey T-60 is shown in Fig. 2. The wiring is shown with the original Peavey pickup color chart and needs to be transferred when using different pickups. You can use a lot of different online resources for this, such as the one on guitarelectronics.com.
That's it. Next month we'll continue with our relic'ing series (catch up now with part 1 and part 2) take care of the metal parts of the tuners. Until then, keep on modding!
[Updated 9/27/21]