The pandemic has brought guitarists lots more time to tinker with tone toys. Here's what players all over the world have been putting together in their bunkers.
Juan Mosqueda: Track Lighting
First, I just wanna say thank so much for Rig Rundowns. I've learned and applied so much into my own rig—that kind of info is priceless. Y'all provide so many musicians with so much love and knowledge, thank you! Attached are images of my rig, and here is my signal flow:
Boss TU-2 Chromatic Tuner (I bought this in 2001 and she still lives!)
DigiTech Whammy
Dunlop Cry Baby Wah
Xotic SP Compressor
Electro-Harmonix Freeze
Boss DD-7 (with Boss EV-30 Dual Expression)
Keeley Dark Side V.2 (mod before Fuzz)
Electro-Harmonix Metal Muff
Boss MS-3 (manual mode only, not used as a switcher/Boss EV-30 Dual Expression)
Boss RC-30 (with Boss FS-7 dual switch)
Fender Mustang GT 100 modeling amp (with MGT-4 footswitch)
Swan Flight custom flight case from the U.K.
I had my local shop (Grand Central Music in San Luis Obispo, California) wire it up and make me custom cables, etc. I'm running the MXR ISO-Brick with a power strip. Each pedal has its own power aside from the tuner and Electro-Harmonix Freeze—those are chained. The DigiTech Whammy has its own power with the stock power supply. I added some full RGB LEDs that can go with the beat of the music. (I'm a dork, I know haha.) I hope ya'll like my rig! It wouldn't be what it is without Premier Guitar. Thank you!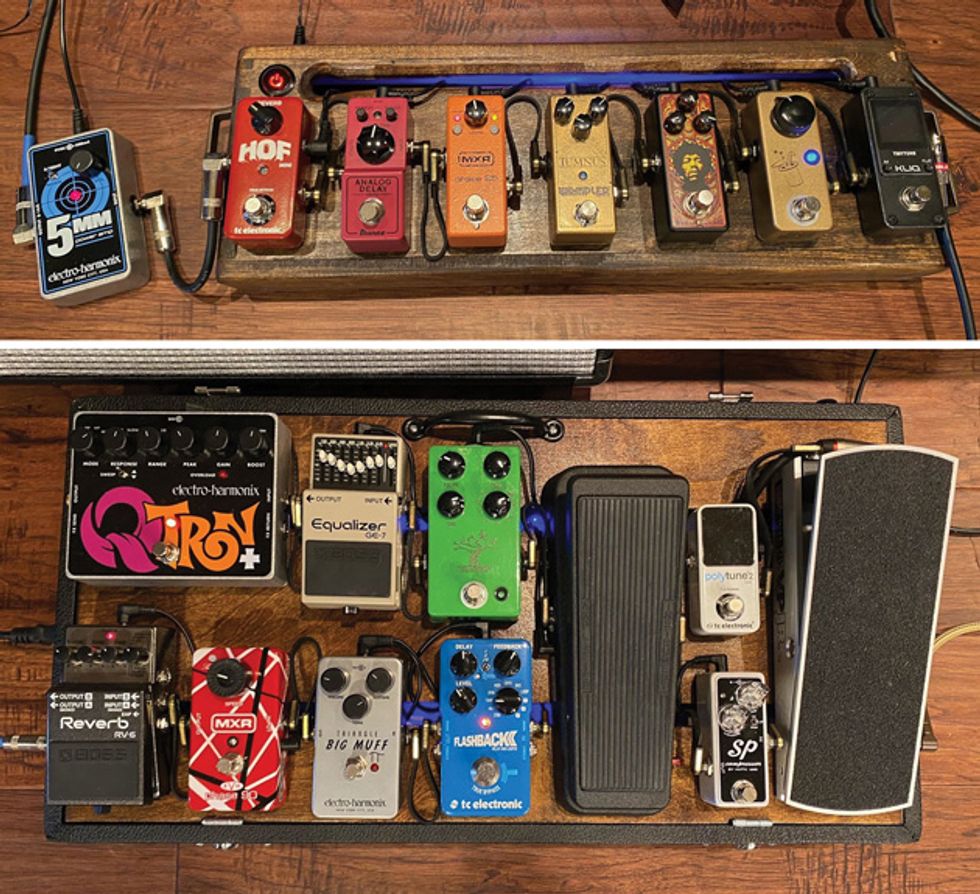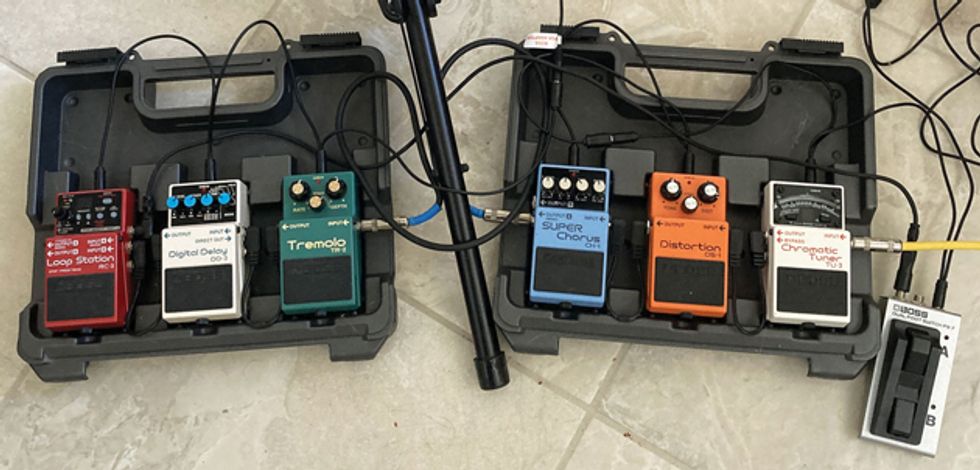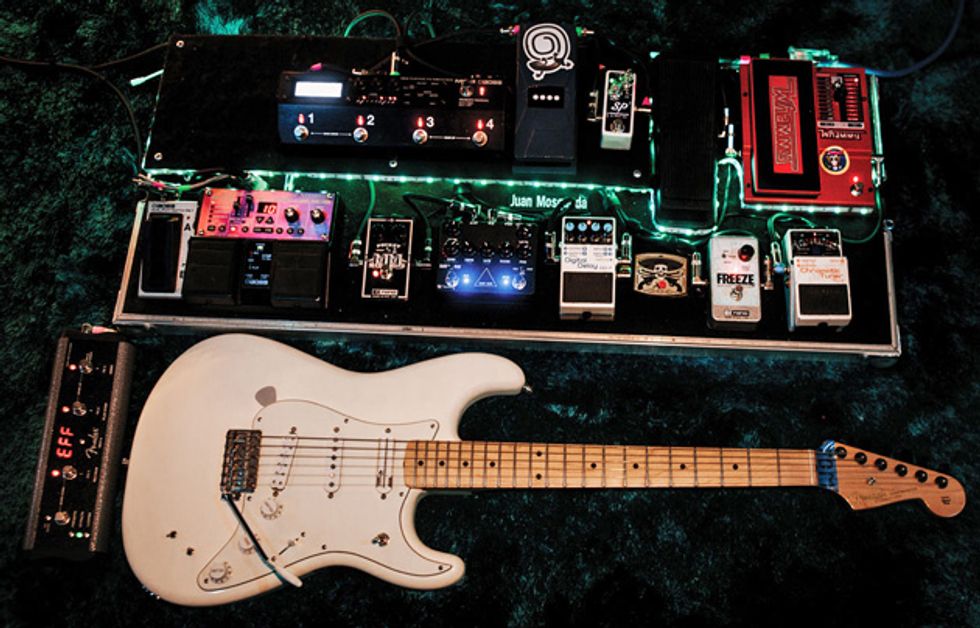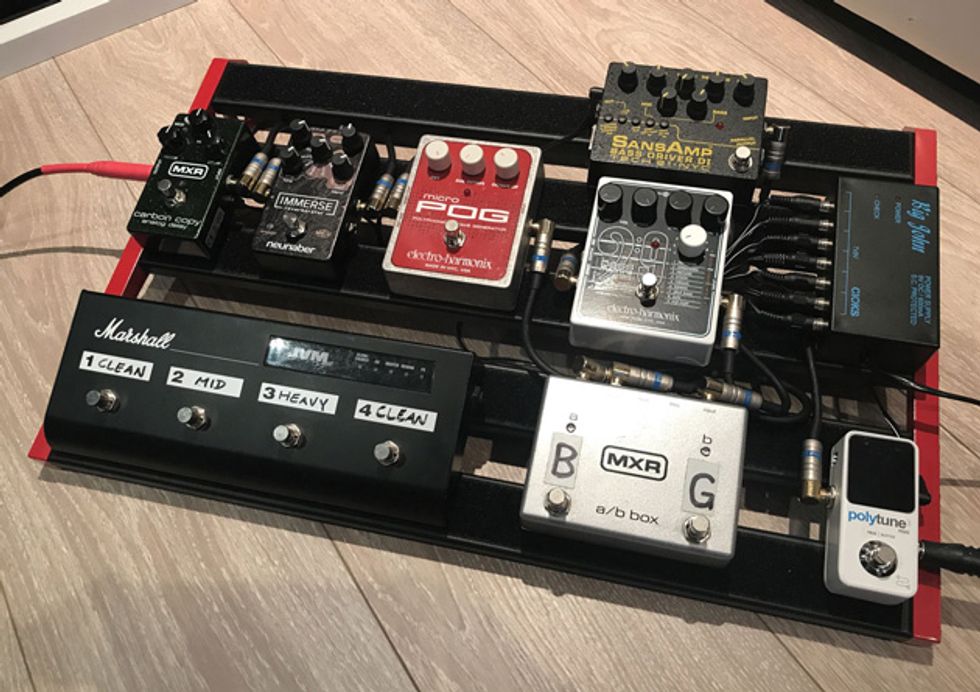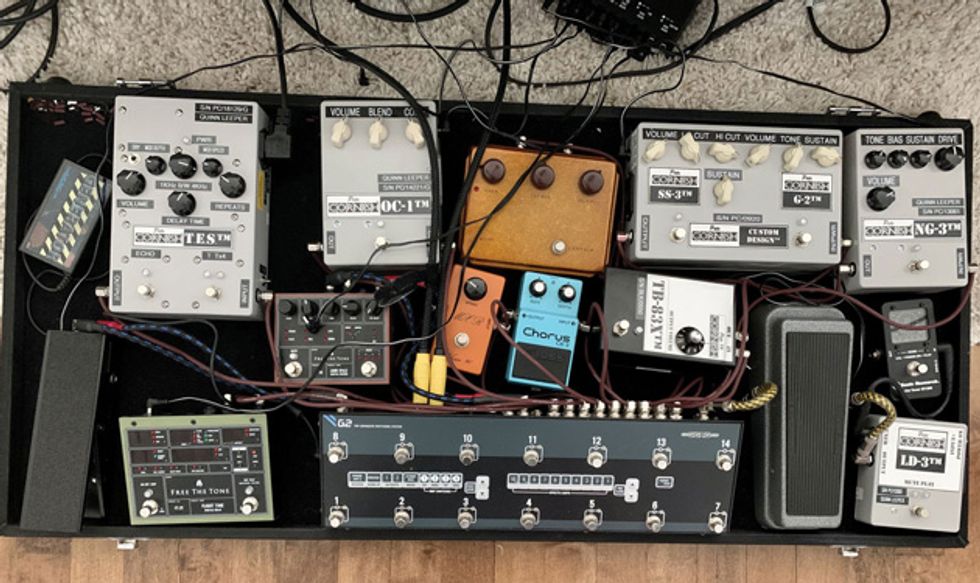 It's that time of year, when Premier Guitar readers get the chance to show their pedalboards, and how they use them to create worlds of sound. There's no wrong way to signal a stomp—the options are virtually endless. Read on to see what players have been cooking up in their COVID guitar bunkers. A few highlights include a completely white-washed mystery pedalboard, a retirement bucket list project from a 62-year-old beginner, an elaborate rackmounted setup made with a goal to streamline pedal-Tetris, and much more. Enjoy!