Tap-dancing, noise-rocking Donna Diane conjures lightning and thunder by layering her Kurt Ballou-designed Craftsman guitar over a Moog Minitaur bass synth.
Facing a mandatory shelter-in-place ordinance to limit the spread of COVID-19, PG enacted a hybrid approach to filming and producing Rig Rundowns. This is the 27th video in that format.
For two people, Djunah deals a lot of volume. The Chicago-based duo is abrasive, angular, visceral, and brash—making them a perfect candidate to carry the flag of '90s Windy City underground icons like Shellac, The Jesus Lizard, and Slint that all made a home at Chi-town's indie Touch and Go Records.
When previous projects for Donna Diane (Beat Drun Juel) and drummer Nick Smalkowski (Fake Limbs) crumbled, they combined their volcanic tendencies and formed Djunah. Smalkowski has the tireless duty of propelling the song forward while maintaining its backbone. Donna Diane handles all the rest—she sings, plays guitar, and stomps bass notes with her feet thanks to a Roland-and-Moog hybrid command center.
After honing their kerranging, kinetic combo through rehearsals and tours, the pair traveled to Salem, MA, to record their 2019 debut Ex Voto with Converge guitarist and GodCity Studio overlord Kurt Ballou. (Ex Voto was mastered by Shellac bassist Bob Weston.)
Carving out some rock time, Donna Diane virtually welcomed PG's Chris Kies into her jam room in Chicago. In this Rig Rundown, the ambitious, self-admitted neurotic musician opens up about crafting a singular sound with two instruments, how having a leg for a bass player is therapeutic, and extracting as much gear info from Kurt Ballou as possible. (Be sure to check out Donna's channel for videos from her series Can I Touch Your Gear? including this episode with Kurt Ballou.)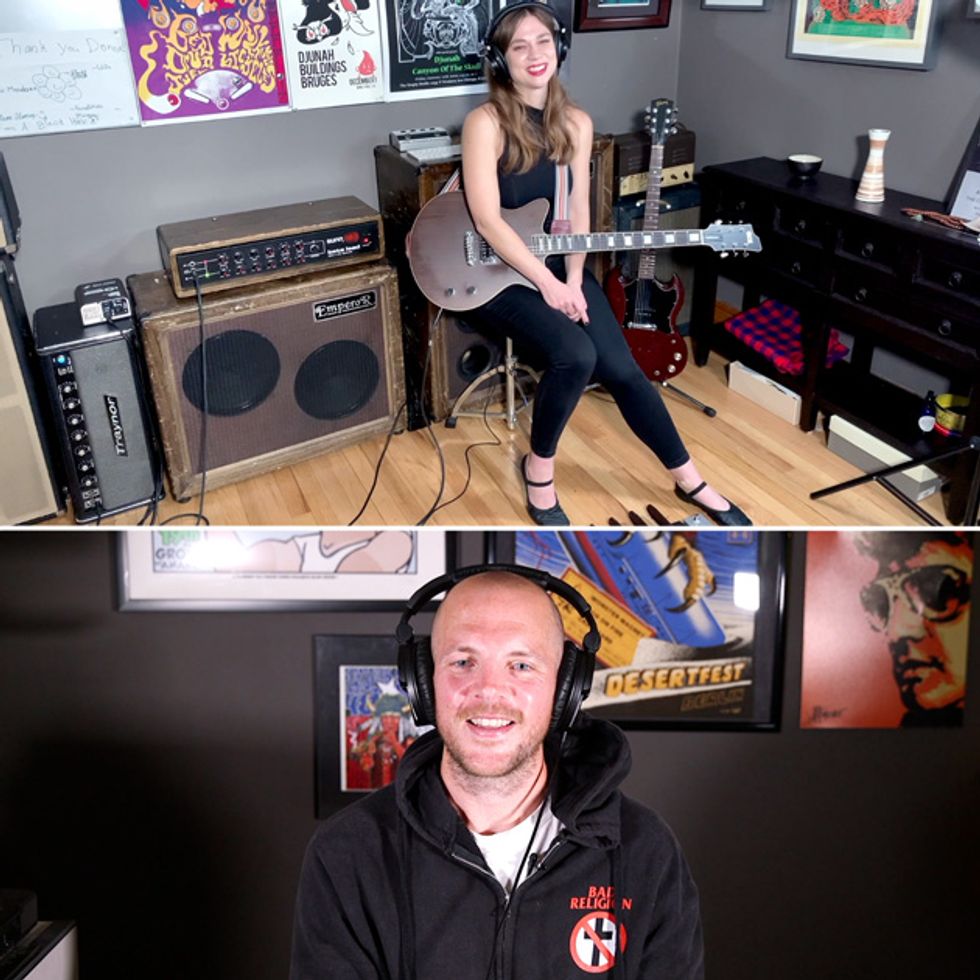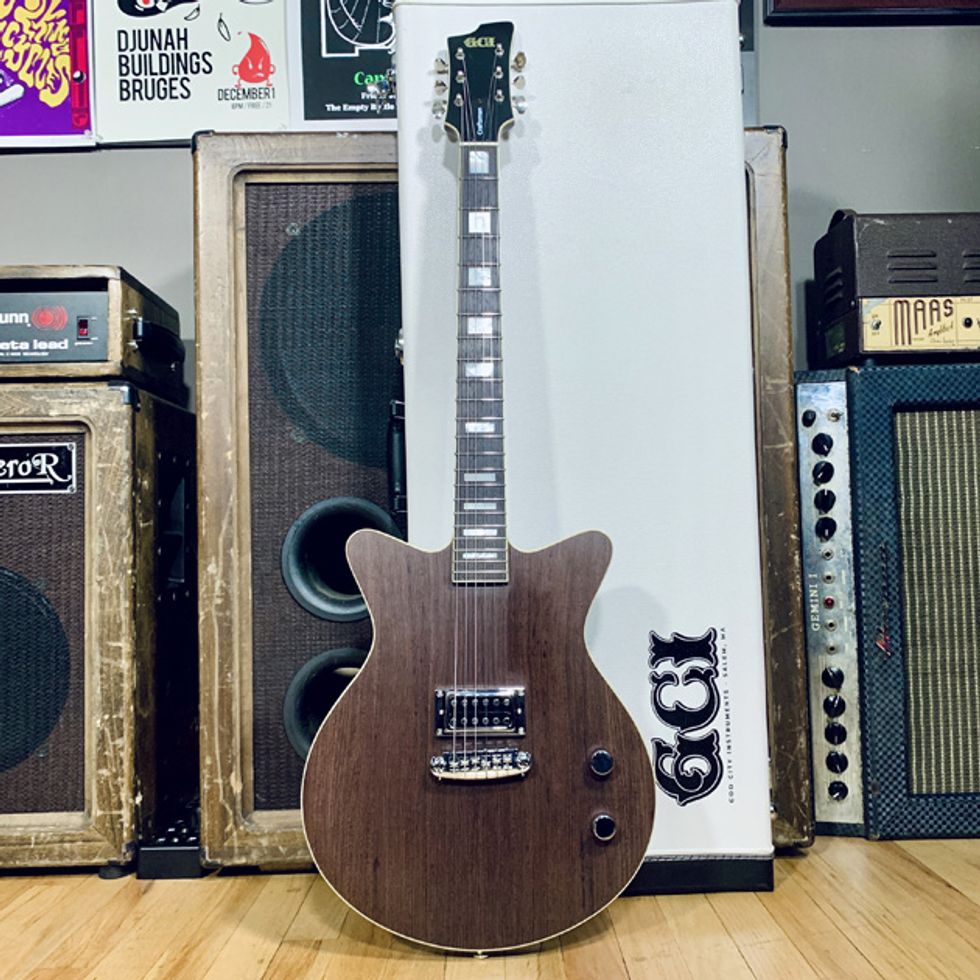 A few years ago Kurt's gear-tinkering lore started catching a buzz when he was handing out circuit-board business cards at NAMM. He's since developed several pedals (some assembled, some in PCB form) and he's now producing guitars all under God City Instruments. He's officially released two models and the one above is his first design—the Craftsman Series 1.
This result is Donna Diane's first "new" guitar she's gotten in a long time. She preordered it online and recently scored it during quarantine. The first guitar model Ballou designed features a chambered mahogany body (something Donna says gives it unending sustain at high volumes), wenge top, set maple neck, wenge fretboard, Graph Tech hardware, and a single GCI Slugjammer that's overwound to a spicy 13k.
During the Rundown, Donna admits to preferring single-coil tones, but has been enjoying the single humbucker as it provides her a moodier, cutting tone that isn't lost when her guitar-and-synth setup is raging. Both her guitars take D'Addario NYXL .010–.046 strings.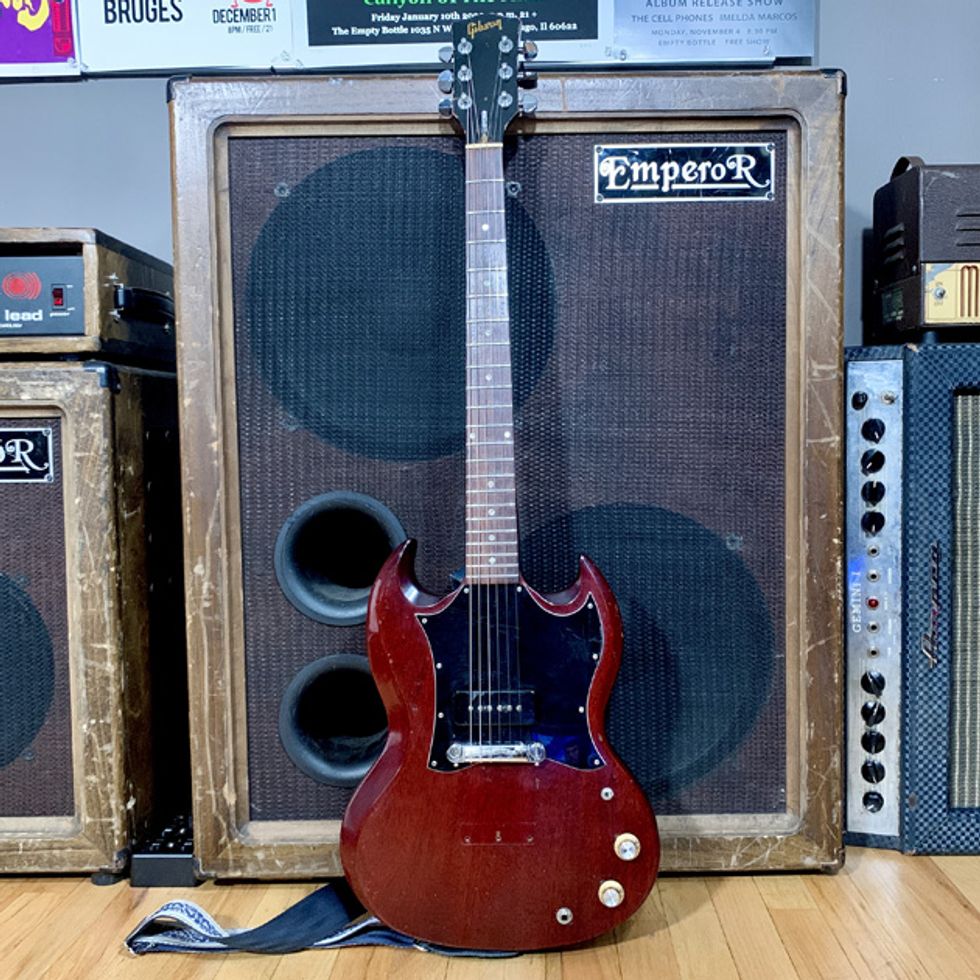 "I'm in love with this P-90," declares Diane. "It's superhot and hits my amp unlike any other pickup." Here is a 1967 Gibson SG that Donna first rocked in her previous band Beat Drun Juel. She found the '60s player-grade axe at Rock N Roll Vintage in Chicago.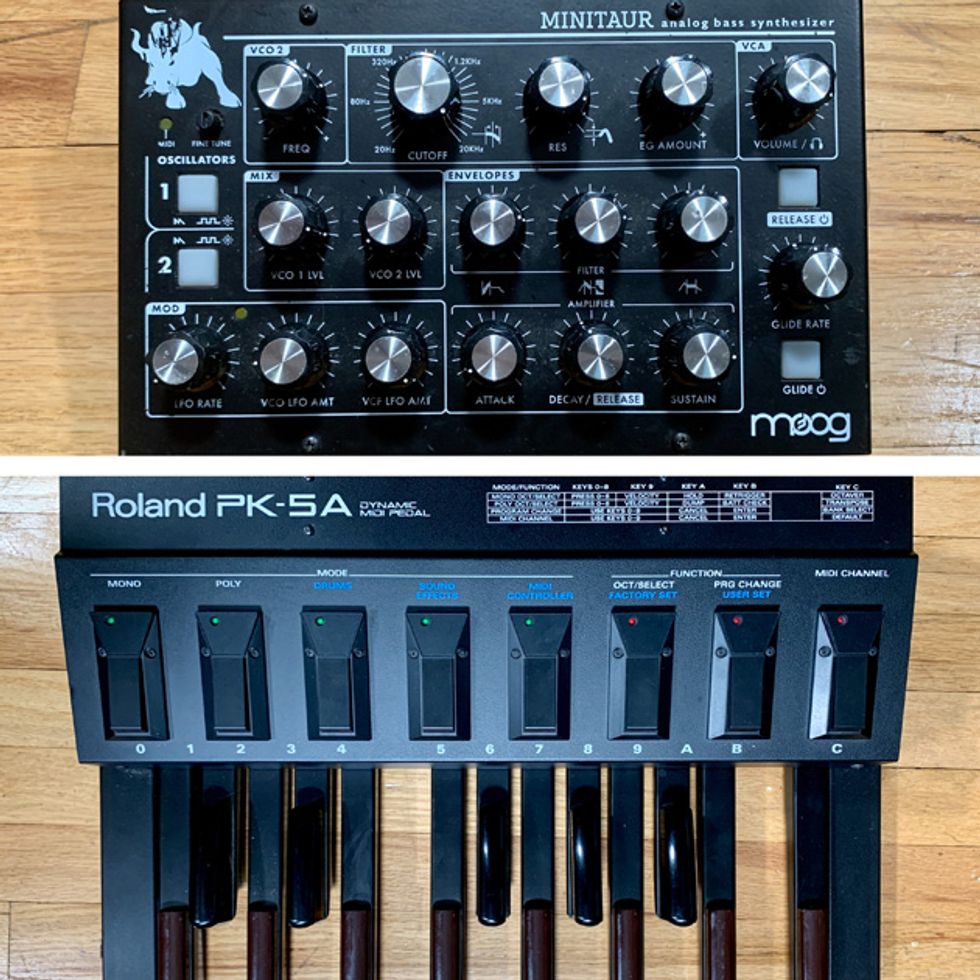 So why would someone already singing and playing guitar look to further complicate things by adding bass-guitar duties to one's feet? In short, when Donna Diane's previous band's demise was apparent, she started plotting how she could continue into greener pastures by performing solo while still representing full bass tones. The experiment went well enough that she recruited Smalkowski on drums.
The solution is in the above collage: Top photo is the brains of the operation—Moog Minitaur Analog Bass Synth—while the bottom photo shows the controller—Roland PK-5A MIDI Pedal—that is engaged by Diane tap dancing on the key levers. Some of the programming and modding she's done to the units are adding in an octave-up coating and slowing the filter sweep that provides a fuller, thicker, constant roar. (Not pictured: She also built an on/off switcher that brings in/out the sustain circuit on the Minitaur.)
And as for simultaneously pulling off singing, playing guitar, and tapping out bass notes, Diane says "I'm sometimes a person that is very over analytical that gets in my own head a lot and overthink things a lot," admits Diane. "This actually is good therapy for me because when you overload the system with so many tasks you have to let go and it becomes an out-of-body experience."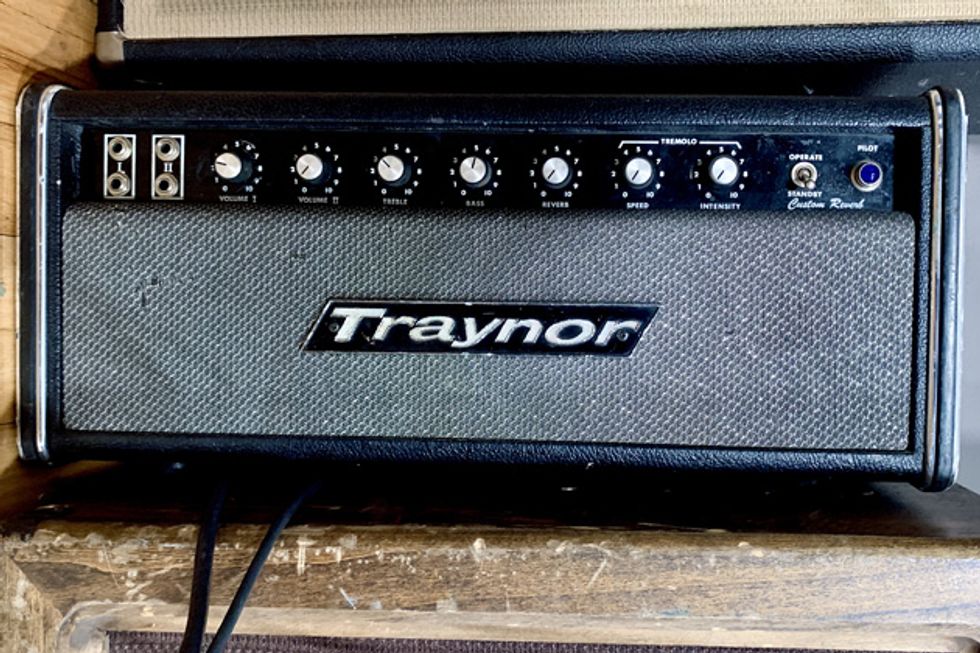 Her guitar signal runs into this 40-watt 1970s Traynor YSR-1 Custom Reverb that has a set of EL34s. In a live setting, she would blast that through an Emperor 2x12 loaded with Eminence Wizard speakers (underneath the Beta Lead head in the video), but for the Rundown she routed it through a Two Notes Torpedo Captor X Load Box/DI. (Here's another nugget pulled from Ballou who guided her in this direction when during quarantine she asked him advice on how to build an iso box.)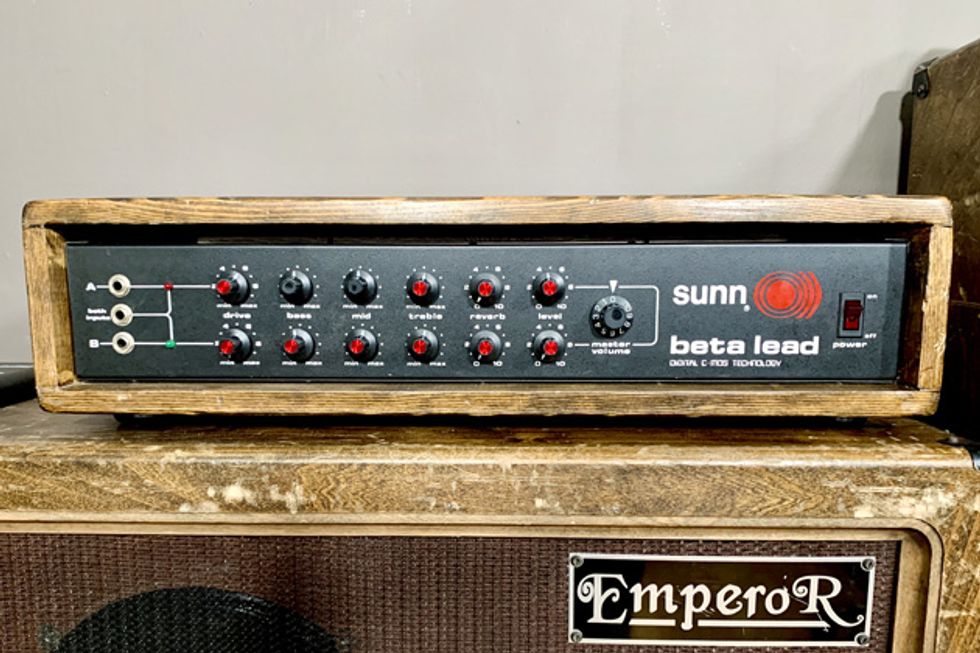 "I originally tried the Moog Minitaur through several tube heads, but it didn't sound good at all," says Diane. "The 100-watt solid-state Sunn Beta Lead really accentuates and adds texture to the growl."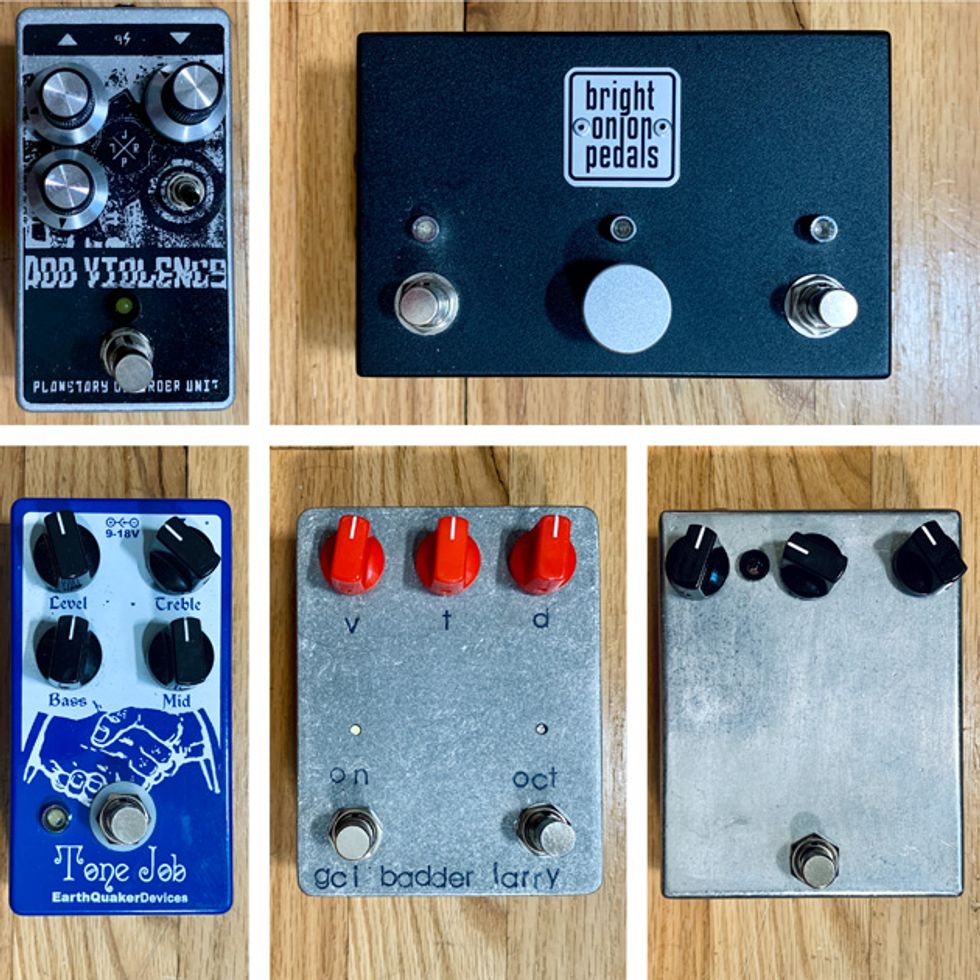 Here are the five stomps that add filth and mystique to her guitar-and-bass tsunami. (Clockwise from top left) JPTR FX Add Violence Planetary Disorder Unit (a Univox Super Fuzz spin-off she runs with the synth), custom-built Bright Onion Pedals switcher (allows her to independently toggle her separate effects loops in/out for guitar and bass), God City Brutalist Jr. (she built the pedal around the circuit board sold by Kurt Ballou and digs its "darker, characterful gain"), GCI Badder Larry (another Ballou invention) was instrumental on Ex Voto for guitar distortion, and the EarthQuaker Devices Tone Job is set for a clean boost that equalizes the volume/tone differences between the Craftsman and SG.
---
Click below to listen wherever you get your podcasts:
---
D'Addario XT Strings:https://www.daddario.com/XTRR