Rig Rundown: Jason Isbell and the 400 Unit [2019]
Bursts, Benders, and Js, oh my! A pioneer of the new Nashville sound spends a whopping 90 minutes showing off the gear his crew has amassed since our last get-together.
Back in the fall of 2015 PG traveled south to the Tivoli Theatre in Chattanooga, Tennessee, to catch up with Jason Isbell, guitarist Sadler Vaden, and bassist Jimbo Hart. At the time, the band gave us so much time and so much gusto about their piles of gear, the resulting Rundown became the longest ever at 65 minutes.
Fast forward four years and now Perry Bean finds himself onstage, surrounded by even more gear, at the historic Ryman Auditorium in the middle of Isbell's annual October run. This year saw the Alabama native and his bandmates sell out seven consecutive shows at the Mother Church. And before the 4th night, we basically filmed a feature film spotlighting all the new inspiring additions to their arsenal and how it all further propels the 400 Unit's sonic quest.
While Jason Isbell has a treasure trove of calendar-worthy guitars, we have to start with this 1959 Gibson Les Paul. The showstopper earned its nickname "Redeye" for the original red-mark finish near the pickup selector being preserved by the guitar's price tag hanging down in a music store's front window protecting it from the UV rays. The 'burst was owned and played for many years by Lynyrd Skynyrd guitarist/bassist (and creator of the "Sweet Home Alabama" riff) Ed King. After King's passing in August 2018, his family put a few of his classic guitars, including this iconic instrument, up for sale at Carter Vintage in Nashville.
At the request of the Carters', Isbell was asked to come into the store to demo the guitars to help generate interest in the sale of Ed King's collection. As Isbell retells the fateful meeting between he and Redeye, he felt "tricked" because they had left Jason alone with the 'burst, so of course he had to play. And after playing it … he had to have it.
He left Carter Vintage daydreaming about the Les Paul. He lost sleep that night fixated on how it sounded and played. So, the next day he called his accountant and she said you can't have that guitar. Next, he called his management team, and he jokingly told them he would play any weird birthday parties as long as they weren't for terrorists or bad people just so he could afford the guitar.
Isbell swapped out the tuners (although still functioning great) and upgraded with a period-correct set to preserve the sanctity of the instrument by saving the originals from harm. The tailpiece has been subbed out for a new Joe Glaser model that allows Isbell to top wrap the strings without worry of dinging the top. And the last notable change is that King had a partial refret up to the 12th position.
Under the metal covers rest a double-white humbucker (bridge) and zebra (neck). Isbell believes the zebra is overwound about 600 turns, but over the last 60 years, it's lost some of its magnetism making it more balanced and creating an impeccable middle-position tone.
All of Jason's guitars take Ernie Ball Slinkys gauged .010–.046, he hammers away with Dunlop Tortex 1.14 mm picks, and gets slippery with MagSlide Magnesium Guitar Slides.
"There's more difference in the price than there is in the tone," says Jason Isbell, when referring to this "Redeye" copy recently built by the Gibson Custom Shop.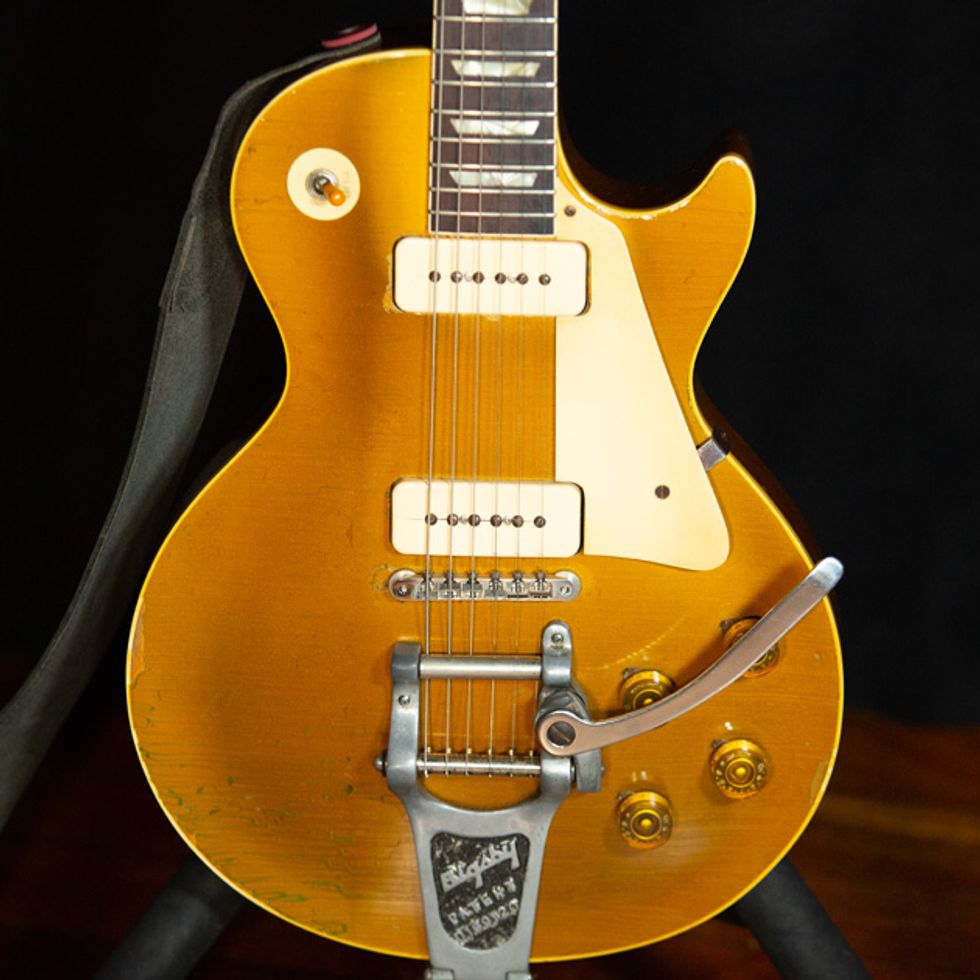 "For about a week, this was my coolest Les Paul," says Jason Isbell about his 1953 Gibson goldtop. The aforementioned Ed King-owned 'burst would overshadow any guitar in most collections, but this gem actually had the Bigsby and tailpiece put on by longtime Neil Young tech Larry Cragg. He bought the guitar around last Christmas from TR Crandall Guitars.
Since our last Rundown, Isbell has been lucky enough to receive a signature Martin D-18. The goal for this collaboration was to make the loudest-possible dreadnought. The model boasts a pre-aged Vintage Tone System (VTS) Adirondack spruce top, mahogany back and sides, and rear-shifted scalloped bracing which produce more natural volume and a clear powerful tone. It uses hide glue for a stronger resonance and it comes with the pickguard in the case because Martin's Fred Greene discovered that it could decrease the guitar's volume by 5 dB. His flattops take Martin SP Medium (.013–056) strings.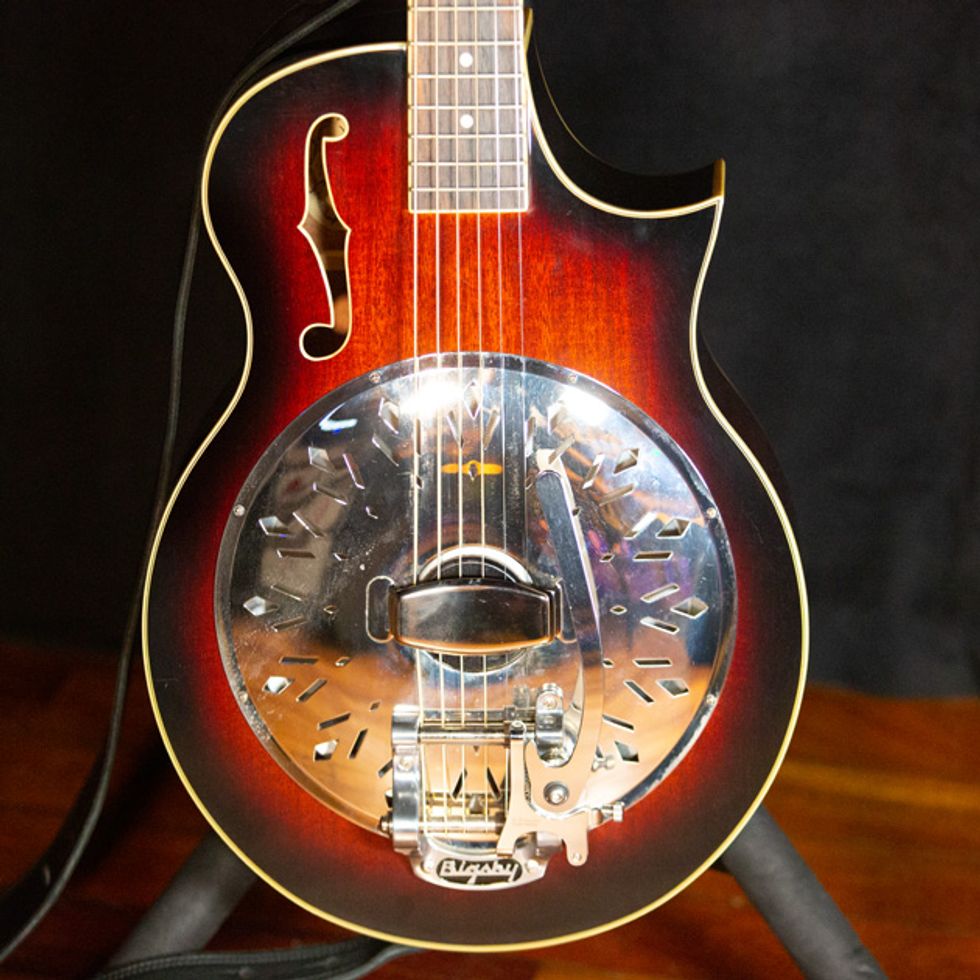 If you see the Castle Creek Guitars Dobrato come out, get your handkerchief out because it's time for "If We Were Vampires." The Colorado-based company claims the Dobrato to be the world's first acoustic-electric, round-neck resophonic guitar to include the unique B-bender vibrato. With their proprietary vibrato arm, you can pull it sideways to move the B string to a C#. It has high-quality cones, biscuit, and a Fishman PRO-RES-BIS pickup system.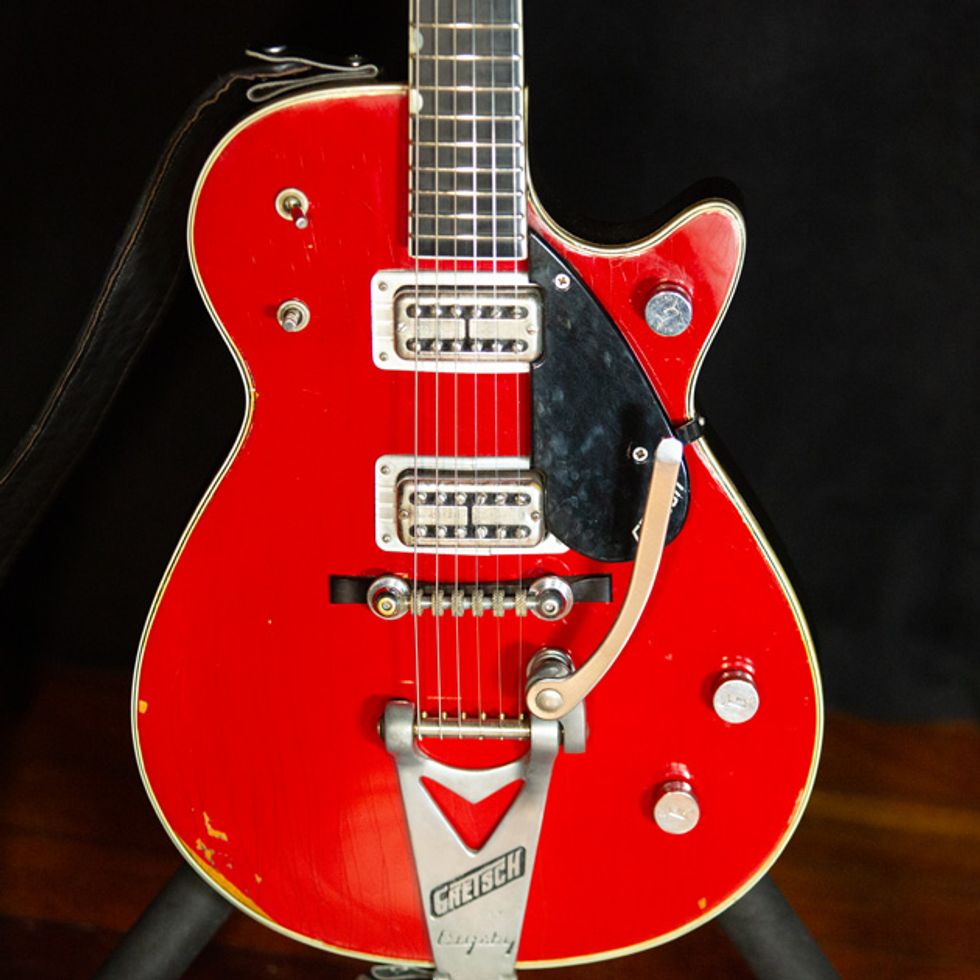 If you watched our Rundown with Nashville producer Dave Cobb (Isbell, Chris Stapleton, Sturgill Simpson), you may recognize this 1959 Gretsch Jet Firebird. In that episode, Cobb says that Isbell bonded so much with this Jet during the recording of Southeastern and Something More Than Free that he was the rightful owner of it because of how he made it sound. Then Cobb jokes that he told Isbell he would give him the guitar if he sold "x" amount of records. And now while Jason doesn't confirm or deny if that number was hit, this is the same '59 Jet that once belonged to Cobb.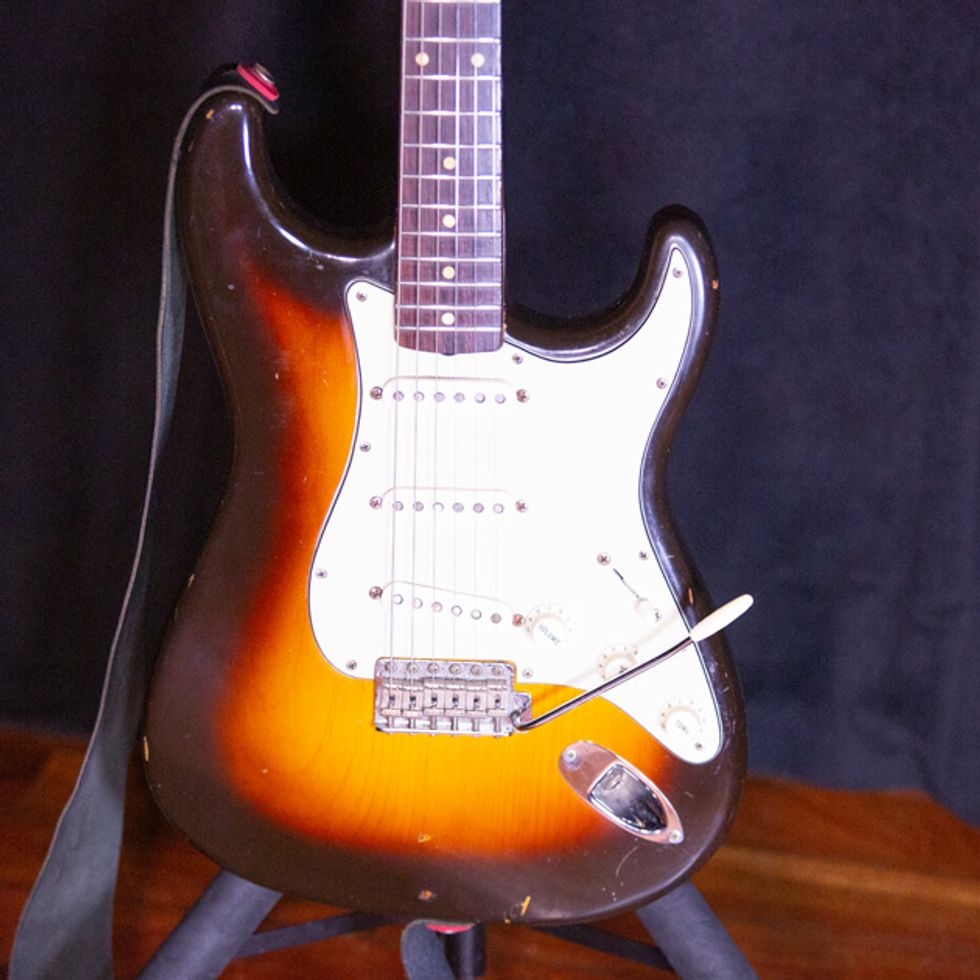 Here's Jason Isbell's sunburst 1960 Fender Strat. That night at the show he used it quite a bit including during the old 400 Unit tune "Overseas."
This candy-apple red Tele came out of the Fender factory in April 1965. To Jason's knowledge, because it's a transition instrument, the only thing that isn't a true '64 on the guitar is the pearloid inlays as opposed to clay.
Isbell tweaked this 2014 Fender Custom Shop '60 Tele Custom (which was built by Master Builder Paul Waller) by adding a black pickguard and a Twisted Tele pickup in the neck position. This and the next two slides (the 1961 ES-335 and the Tom Stadler-built "Cooder-caster") are the only guitars leftover from the 2015 episode.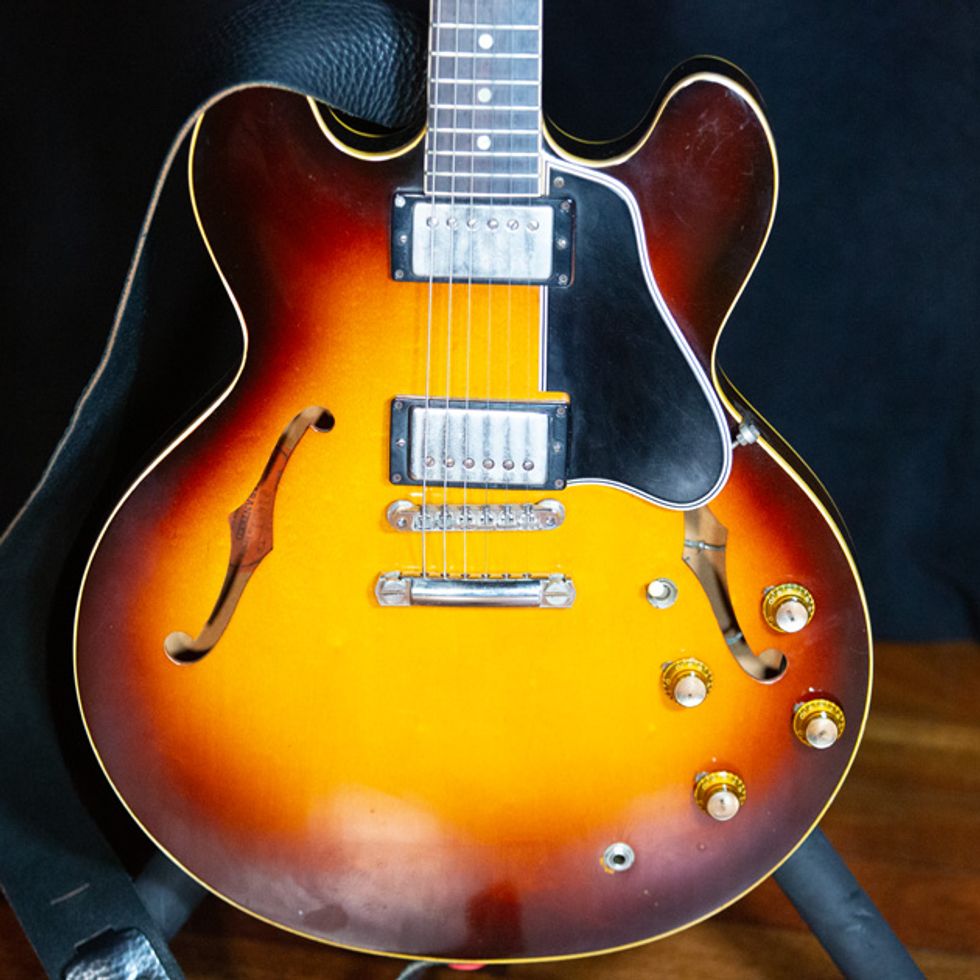 This 1961 Gibson ES-335 is the first really old and really awesome guitar that Isbell obtained and is mostly original with a few key upgrades. Isbell had famed Nashville luthier Joe Glaser give the guitar a refret and install a TonePros tailpiece along with new tuners because after years of use the originals started to look like "a dead man's toe."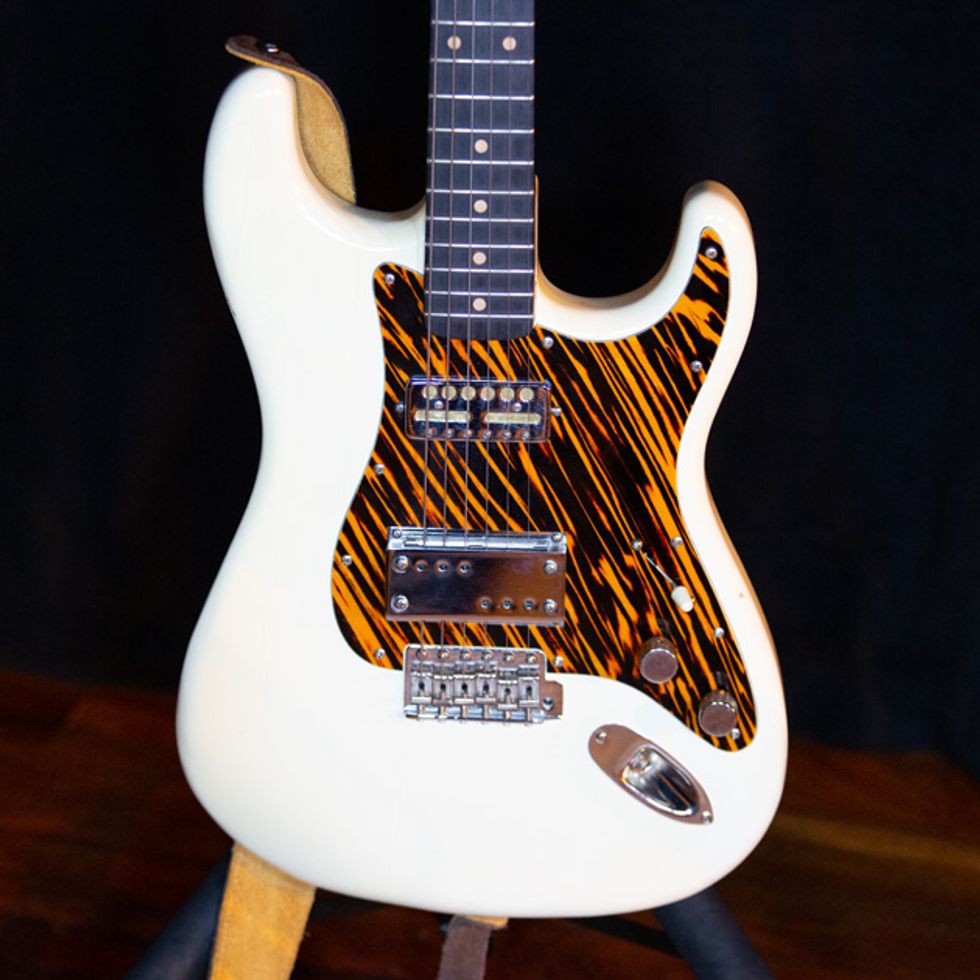 "This guitar will actually get me gigs," says Isbell. It's a "Cooder-caster" that was built by Nashville luthier Tom Stadler from Carter Vintage Guitars. The idea behind the guitar came from legendary slide guru Ry Cooder's main guitar. Stadler salvaged the "gold foil" neck pickup from an old Teisco guitar and held onto to for about a year before Isbell's wife commissioned the guitar for his birthday. Stadler also installed a Lollar lap steel pickup that's based on an old Supro model in the bridge position. Based on a recommendation from Blake Mills, Isbell strings this guitar up with flatwound strings.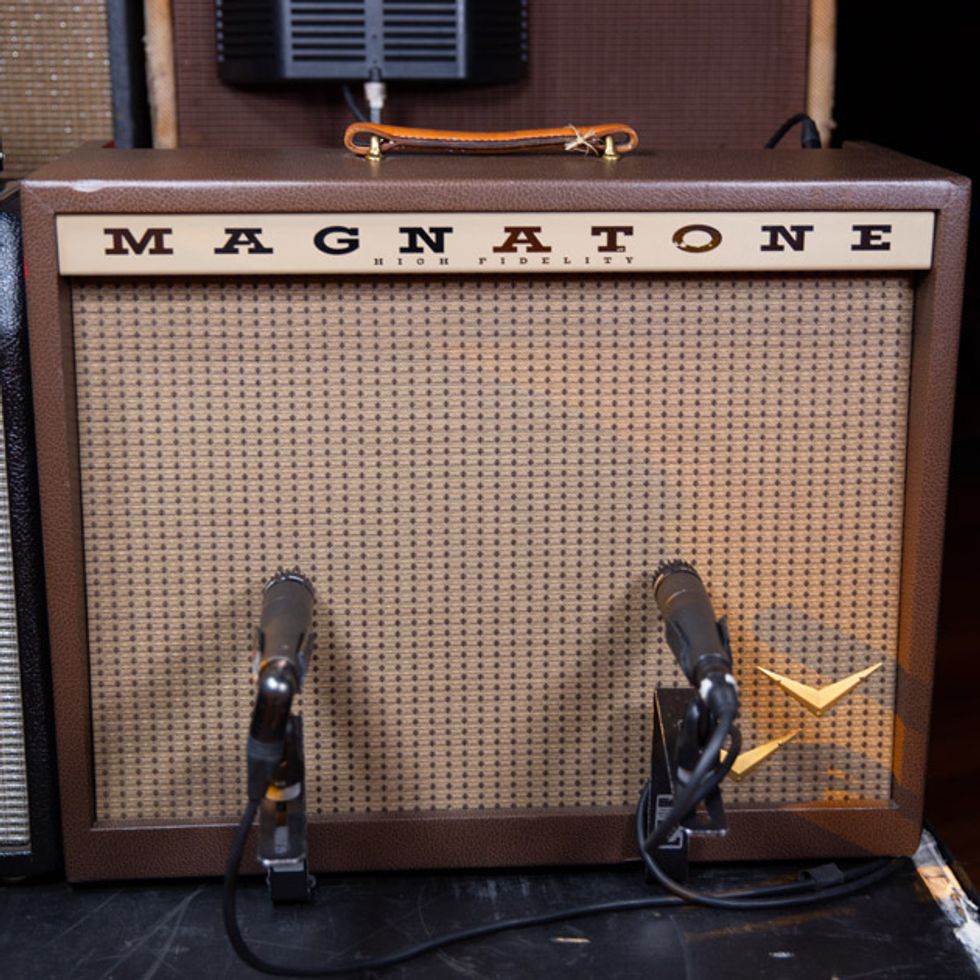 In the last Rundown, Jason was running two amps (Magnatone Super Fifty-Nine and Sommatone Roaring 40), and now his setup has doubled to include four combos. The first one is this Magnatone Panoramic Stereo 2x10 with pitch-shifting vibrato. It's loaded with the company's ceramic speakers.
Next up in his stable of amps is the Fender '64 Custom Deluxe Reverb handwired reissue. He took out the Jensen C12Q speaker and replaced it with a Weber Ferromax.
To keep power consistent and volume manageable (without sacrificing tone), Isbell employs a Weber MiniMass 50-watt Attenuator for each amp. The Magnatone gets two because it has two power amps for the stereo output.
The top pair that work together starts with this '64 Fender Vibroverb that has been given the "Diaz" mod (named SRV's tech Cesar Diaz), which means they pulled the preamp tube in the vibrato channel. (For what it's worth, this mod can be done to the normal channel, too. You just need to pull the V1 preamp instead.) The impact of the mod is summarized best by new PG columnist Jens Mosbergvik ("Silver and Black") on his Fenderguru site: "the other channel's tube will be hotter biased and offers more gain. The amp will play louder than before given the same volume knob setting. The stronger signal will push the second gain stage (V4 tube) harder and give you increased sustain, compression and harmonics." It has a 15" JBL speaker and was a Christmas gift from wife Amanda Shires.
The last of the combos is this 1958 Fender Bassman that Isbell bought at Rudy's in NYC. He believes it was owned or was in the shop of George Alessandro for years, so it's in tip-top shape and purrs real nice.
The top shelf of Jason's rack includes a trio of Fishman Aura units and a J. Rockett Audio Blue Note OD that is used as an EQ pedal for Jason's neck humbuckers so they are a little more trebly. These are all juiced up by the Voodoo Lab Pedal Power Digital brick.
Next row is home to a silverface Klon Centuar, Origin Effects SlideRIG, and a trio of Analog Man stomps—a King of Tone, Sun Lion (gift from Marc Ford), and a modded Analog Man Small CompROSSor (with an added mix knob). These are brought to life by the Voodoo Lab Pedal Power Iso-5.
And in the last drawer we have an Analog Man ARDX20 Dual Analog Delay, Electro-Harmonix Micro POG, and a quad of Chase Bliss digital powerhouses—Condor, Gravitas, Tonal Recall, and Dark World. All of these pedals are powered by the Voodoo Lab Pedal Power 4x4.
Lastly for Isbell is this Ibanez DML10 Modulation Delay II. The delay function is dialed out and is used as a comb filter with very subtle modulation that mimics a flanger.
Here is the brain behind Isbell's entire setup that enables him to make several changes with one kick of a button thanks to the RJM Mastermind GT. Other goodies out front include a TC Electronic PolyTune 2 Noir, Chase Bliss Condor, and a Mission Engineering EP-1 Expression Pedal.
A new addition to Sadler Vaden's vault is this buttescotch, blackguard Tele built by the Fender Custom Shop last year. It's based on a '51 Nocaster with a '60s-style neck profile and Twisted Tele pickups (suggested by Jason).
This is a 1981 Tokai Breezysound T-style outfitted with a classic B-bender.
Here is Sadler Vaden's 1999 Fender Tele Custom '72 reissue (MIM) that was upgraded with a Lindy Fralin Split-blade in the bridge and a Fralin P-92 in the neck.
400 Unit guitarist Sadler Vaden has been using this '05 Gibson SG Standard as his main ride. It's loaded with a Seymour Duncan Pearly Gates humbucker in the bridge, a '59 in the neck, and is strung with Ernie Ball Regular Slinky strings.
This eye-catching Les Paul VOS is a 2015 model from the Gibson Custom Shop that now has OX4 humbuckers that were custom-wound to approximate those found in Pagey's No. 1.
This 2015 Fender Custom Shop Strat was Sadler's newest guitar in the 2015 episode. It's now used for electric material like "Last of My Kind" and always rolls with a Thalia capo in the 4th position.
On the last Rundown Sadler was using a 12-string Dano, but now he's got a fireglo 360/12 Rickenbacker for the job.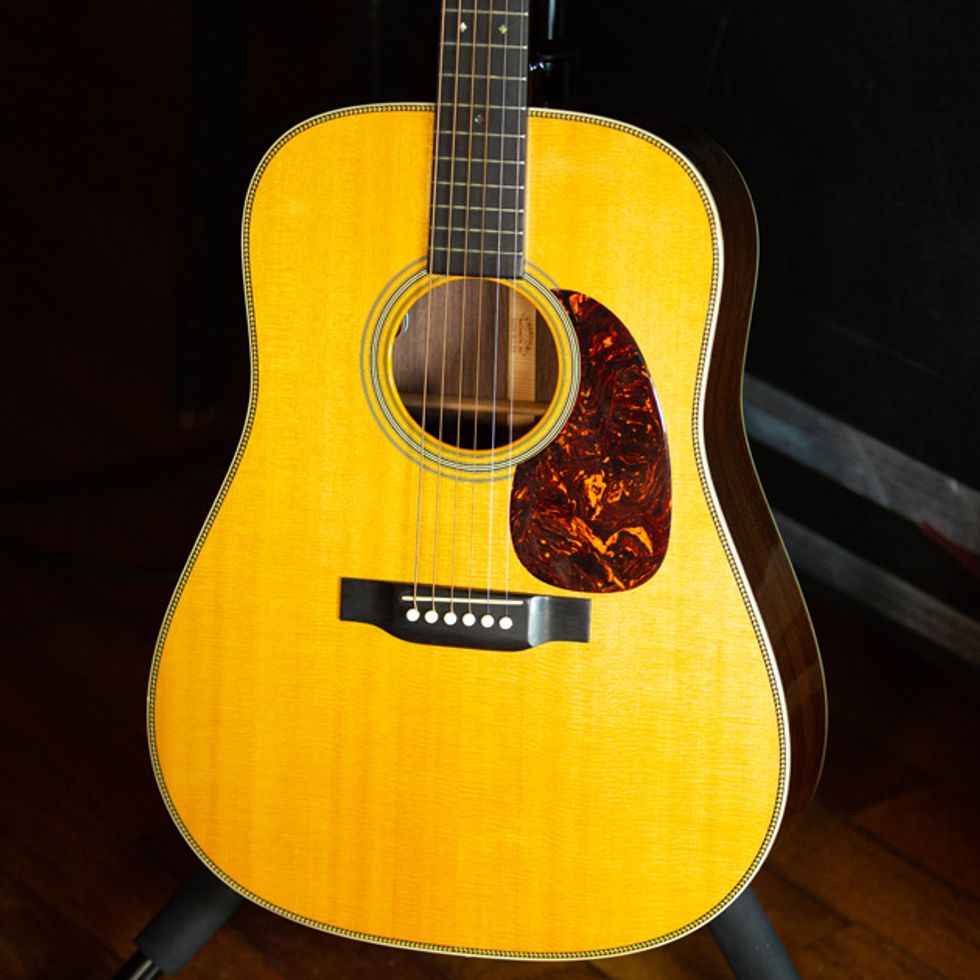 If you're following along at home, you'll recognize this from the last Rundown when it was Isbell's go-to acoustic. Now, this D-18 Authentic 1939 belongs to Sadler and still sees the stage each night.
Sadler's only semi-hollow 6-string is this 2007 Gibson ES-335 "block" reissue—and at the behest of Isbell (its former owner), Vaden dropped in OX4 PAF-style pickups, a Duesenberg Tremolo system, and is strung with Ernie Ball Regular Slinky strings, too.
Here is Sadler's newest guitar—a Gibson Acoustic SJ-200 Deluxe.
Like last time, Sadler is still running his 3rd Power British Dream.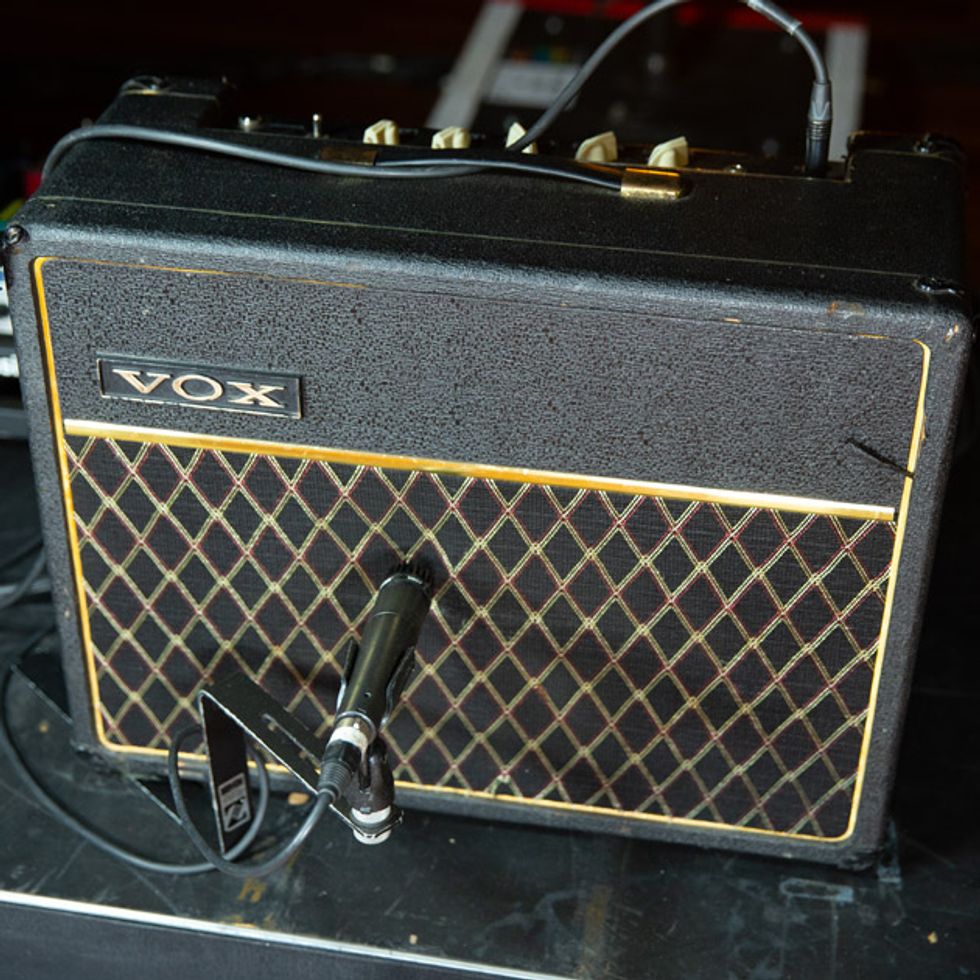 And while he's still using a Vox (last time was a handwired AC30 reissue), he's now rocking through an all-tube 1965 Pacemaker he bought at Emerald City Guitars.
Sadler's stomp station has grown and tidied up since our last visit. Now he's going with an Eventide H9, Line 6 MM4, Strymon BlueSky, Analog Man ARDX20 Dual Analog Delay, Mad Professor Forest Green Compressor, Greer Amps Lightspeed, Analog Man King of Tone, Walrus Audio 385 drive, and a pair of Dunlop foot pedals—535Q Cry Baby and a Dunlop DVP3 Volume Pedal. A Korg Pitchblack tuner keeps everything in check, a 3rd Power A/B box controls the amps, and a Walrus Audio Transit 5 wrangles all the pedals.
And for acoustic purposes, Sadler is using a Fishman Platinum Pro EQ and a Radial ToneBone BigShot I/O.
An unlikely pairing of bassists would be the 400 Unit's Jimbo Hart and former-Metallica thumper Jason Newsted. However, as odd as this low-end duo may seem, they've actually become fast friends after Newsted attended and introduced himself following an Isbell show in Oakland, California. The friendship has blossomed in such a way that Newsted gifted Hart this Sadowsky Will Lee Bass 4-string that is decked out with a flame-maple top and fretboard with abalone inlays, and a Hipshot D Extender that quickly goes down a whole step.
While this head-turning blue bomber is an onstage backup, Hart loves that this Sadowsky Vintage PJ "always works in the studio" so it still consistently feels the love.
Hart is running two Ashdown tube heads that can feel like a herd of oncoming buffalo. He normally prefers to run the 300-watt Classic Tube Magnifier (bottom) but will go for the 100-watt model (top) for a brighter sound.
The Hart and soul of his rig lies in this small box—a handwired Noble DI preamp listed as No. 19.
This Xotic X-Blender sits in the rack and allows Jimbo to intricately control the wet/dry blend in his setup from a night-to-night, room-to-room basis. (You can also see that he's no longer using wooden picks and now plunks away with some custom plectrums from Dunlop.)
Jimbo's pedal playground includes a Peterson Strobostomp Classic, a Dunlop DVP3 Volume, a Greer Amps Soma, a Malekko Spring, Walrus Audio Voyager and Janus, an Ampeg Classic Analog Bass Preamp, EBS OctaBass, and everything is controlled by a Walrus Audio Transit 5.
---
Click below to listen wherever you get your podcasts:
---
D'Addario XT Strings:https://www.daddario.com/XTRR
---