This heavyweight digital solution packs a mighty punch. How does it stand up to the competition?
Excellent amp models. Neural Captures are really cool. Smartly designed footswitch knobs. Excellent mobile app.
Unable to run Neural's native plug-ins at press time. Some lackluster effects.
4.5
5
4
4.5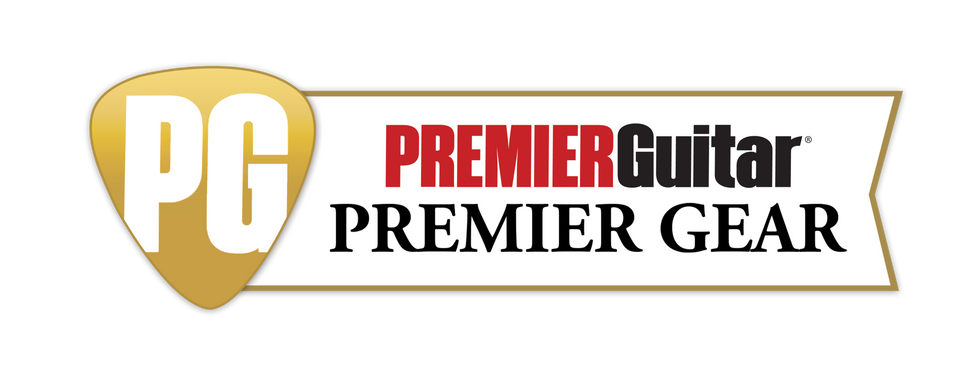 Neural DSP built its reputation on producing high-quality plug-ins. But packing great sounds into an all-in-one floor unit is a very different design challenge than creating a plug-in. In the form of the Quad Cortex, however, Neural succeeds at creating an intuitive interface and adding interesting features that even seasoned fans of digital setups will find intriguing.
---
Like a Rock
The Quad Cortex feels solid. Eleven dual-purpose foot switches and an oversized master volume control are situated around a 7-inch full-color touch display. Around back are a wealth of different I/O options including multiple XLR and 1/4" inputs, independent XLR and 1/4" outputs, headphone jack, dedicated Neural Capture output, MIDI, two effects loops, and support for 8-in/8-out USB audio. You'd be hard pressed to find morerouting options on a comparable unit.
Recorded with a Fender Stratocaster directly into Logic Pro X from the Quad Cortex.

The foot switches not only feel sturdy, but double as rotary knobs that adjust various parameters depending on the function you have selected. For those hesitant to go digital because they miss manual level adjustments, this might be a game changer.
On the Grid
Whether you pull up a preset or start from scratch, the Quad Cortex displays a grid that illustrates almost any signal flow you can imagine. I started simple and loaded up a Fender-style amp impulse response from a Bassman 4x10 with Jensens, and a Myth Drive (Neural's Klon emulation). I monitored through a set of headphones and a powered Electro-Voice EKX 12-" speaker. The warmth and presence in the amp models is easy to hear, and the midrange and low end have a particularly authentic feel. Just to confirm what my ears were hearing, I tried similar patches on an HX Stomp and Kemper Stage. The Quad Cortex easily held its own.
Within about 20 minutes I had a fully functioning stereo setup that sounded great and was easy to tweak.
My next rig was more complicated: Two amps, effects in pre- and post-amp positions, plus an expression pedal. Using Vox-and Hiwatt-style emulations together allowed me to test the unit's wide-ranging "gig" functionality. Here you can use one of three different modes: scenes, presets, or stomps. These functions allow you to assign effects blocks to foot switches (stomp), move between different settings in a single rig (scene), or change rigs entirely (preset). Depending on how you set them up, these three modes offer nearly limitless options. I was able to move between amps, high- and low-dwell reverb settings, and a wacky Whammy-style effect that I operated via an expression pedal (not included). The programming wasn't without a bit of trial and error, but within about 20 minutes I had a fully functioning stereo setup that sounded great and was easy to tweak. With units like these I find that ease of use is nearly as important as sound quality. The Neural excels on this count.
With over 70 effects, Quad Cortex hits all the bases. There are faithful emulations of classic overdrives, compressors, filters, and pitch shifters alongside Neural's proprietary effects. I hope for more modulation effects in future updates, though. Having just one type of chorus, flanger, and phaser underutilizes the Neural's impressive power.
The Neural Cloud system definitely merits mention. It's the most streamlined method for sharing and discovering presets I've encountered. Once you connect your Quad Cortex to wi-fi and download the free mobile app, you can access thousands of user- and artist-sourced presets, captures, and IRs. In minutes I had the exact setup that Rabea Massaad used with Stormzy. Wild! It's a great way to reverse-engineer your own presets, too.

Capture It!
Neural Capture enables you to create a snapshot of an amp or pedal at a specific setting. The function works for amps, cabs, and overdrive pedals. (At press time, Neural mentions that higher-gain drives like fuzz pedals aren't compatible). I hooked up a Wampler Brent Mason Hot Wired following the instructions in the handy on-screen guide. (When capturing a pedal, you don't need to hook it up through an amp and speaker.) The Quad Cortex went through its process and out popped a fresh capture. Neural includes a handy preset template that allows you to A/B the capture and the original pedal. After a few tweaks I was able to mimic the sound without much discernible difference in tone.
Capturing an amp means capturing the properties of the entire signal chain including the speaker and mic. I set up my Revv D20 with an Avatar 1x12 cab and miked it up with a Shure SM57. The capture process is similar to a pedal, except there are more audible artifacts from the analog chain. After a few stops and starts I ended up with a fairly accurate capture of the amp. To my ears, the pedal capture was a bit more accurate. However, you can visit the online version of this review to hear the results for yourself.
The Verdict
The Quad Cortex is an immensely powerful unit. The complete array of features, tones, and expandability via Neural Capture make it a worthy peer to similar units. The grid system is a great way to organize complex routing options. It isn't perfect, and you'll want to consult the manual to optimize the deep functionality. But if you're interested in a more open digital ecosystem and recreating rigs that would occupy a whole rehearsal room in the analog world, the Quad Cortex is a truly impressive way to achieve those aims.
Neural Quad Cortex Demo - First Look
Rhett and Zach unpack the big news for secondhand guitar sellers and buyers: Sweetwater has launched their new Gear Exchange. How does it compare to Reverb, Craigslist, and Marketplace? To find out, Zach takes the site for a spin and buys a pedal. He calls the process both "very easy" and "normal." They discuss the pros and cons of the various used-gear outlets and share tips for not getting got when buying gear. Plus, Zach grew a mustache, Mythos Pedals is moving, and he talks about his forthcoming line of Strat pickups inspired by Hendrix's reverse-stagger setup.
Sweetwater vs. Reverb

To celebrate its 20th anniversary, Xotic Effects unveils an updated version of their classic boost pedal.
Xotic's RC Booster pedal is back to celebrate its 20th anniversary. The RC Booster's original design was a customer favorite due to its versatile clean boost, active treble, bass, gain and volume controls. This classic reissue will join their regular pedal lineup permanently.
Features
• Transparent boost pedal for electric guitar
• Up to 20dB of boost for adding volume or sending your amp into overdrive
• Treble and bass EQ controls with +/-15dB range for fine-tuning your sound
• True bypass switching removes the effect from your signal path when disengaged
• Powered via 9-volt battery or optional AC adapter (sold separately)
• 9-18 volts
The first 1000 pedals will contain a special limited edition packaging with special items and actual guitar picks from Andy Timmons, Paul Jackson Jr, Dean Brown, Kirk Fletcher, Allen Hinds, Chris Duarte, Scott Henderson, Oz Noy, Michael Thompson, Yuya Komoguchi, Toshi Yanagi.
RC Booster with limited edition packaging street price is $172.00. More info: xotic.us.
Expanding on the innovations of Cort's original 8-string multiscale, the KX508 Multi-Scale II features an updated okoume body and a specially designed Fishman Fluence Modern Humbucker.
The KX508 Multi-Scale II is the second iteration of the eight-string KX508, Cort's first multi-scale 8-string guitar introduced in 2020. Like its predecessor, the KX508 Multi-Scale II has a visually stunning poplar burl top in a Mariana Blue Burst finish. Beyond its visual appeal, the poplar burl is an ideal tonal complement to Cort's newly introduced okoume body. Okoume is known for its light weight and ability to improve tonal clarity. It has a tight low-end and highly articulate high-end, which matches the overall sonic characteristics of the KX508 Multi-Scale II. The multi-scale, measuring 26.5 to 28 inches, offers a punchy low end while maintaining a familiar feel and tension on the treble strings, which allows for speedy runs and string-bending. Players have unhindered access to the high frets thanks to the low-scooped heel.

The 5-piece maple and purple heart neck not only provides strength and stability, aided by a spoke nut hotrod truss rod, but a strong and focused sound. The Macassar ebony fingerboard (15.75-inch radius) offers smooth playability along the 24 frets with teardrop inlays. Macassar is an ideal tonewood for high-gain applications because of its ability to cut through a dense mix. At the top of the neck, the 2 7/32-inch nut width (56.5 mm) is surprisingly comfortable for an 8-string guitar and is even suitable for players with smaller hands. The individual hardtail bridge with string-thru-body design results in greatly improved sustain, superb string separation for enhanced articulation, and precise intonation. Deluxe locking machine heads offer reliable tuning as well as easier and quicker string changes.

The Cort Sessions | KX508 Multi Scale II Electric Guitar
MSRP $1699.99 USD

MAP $1199.99 USD
For more information, please visit cortguitars.com.
The Tour Collection is defined by a minimalistic, vintage-inspired aesthetic, top-of-the-line components, and a simplified electronics configuration featuring new, custom pickups by Supro.
Available in the collection is the 16-inch-wide double-cutaway DC, the 15-inch-wide single-cutaway SS, and a 14-inch-wide Mini DC. Each model comes in three finishes: Slate Blue, Solid Wine, and Solid Black.

Every detail of the Tour Collection was chosen to achieve retro minimalism. Small diamond fingerboard inlays match 1930s-style diamond f-holes, and an undersized Throwback Scroll-style headstock achieves excellent head-to-body balance. The collection also features satin nickel hardware and custom Vintage Deluxe Grover tuners with a 15:1 gear ratio. Each model also features a simplified two-knob electronics configuration with 50s-style wiring to retain top-end clarity upon rolling off the volume knob. The neck shape in the Tour Collection is similar to the slim C-shape found throughout the D'Angelico line, but with more thickness in the shoulder to allow for snug hand fit as well as extra sustain. Medium Jumbo fret wire and a 12-inch fingerboard radius allow for quick navigation of the fingerboard while also prioritizing comfort for both rhythm and lead playing.
In 2020, Supro and D'Angelico became part of the same family of brands under Bond Audio. At that time, EVP of Product Ryan Kershaw and CTO Dave Koltai began designing custom pickups under the Supro name for the Tour Collection project.
"Supro Bolt Bucker pickups were designed to offer the tone of the most sought-after vintage "PAF" pickups from the late 1950's. Scatter wound, just like the originals, Supro Bolt Buckers utilize 42-gauge enamel wire along with a mixture of Alnico II (neck) and Alnico V (bridge) magnets to provide the perfect balance of warmth and clarity with unrivaled articulation and note bloom." - Dave Koltai, Chief Technology Officer at Bond Audio.
Introducing the Excel Series Tour Collection | D'Angelico Guitars
All models are available for pre-order and will be in stock this holiday season. US MAP $1499. For more information, please visit dangelicoguitars.com.