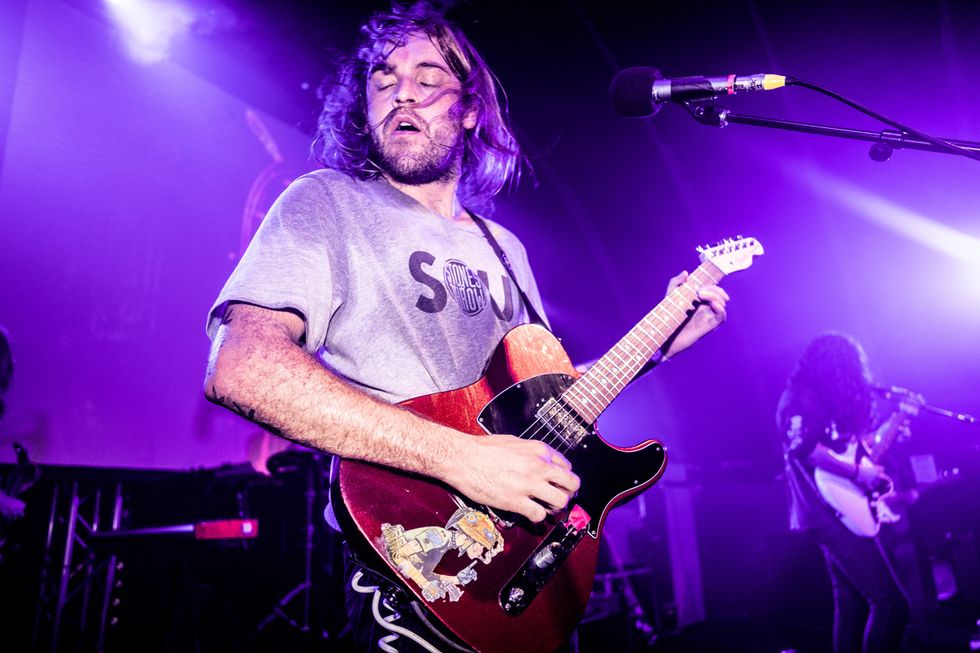 Psychedelic Porn Crumpets' lead guitarist Luke Parish is currently playing a new Fender Tele with a humbucker at live shows, but his favorite guitar is a 1969 competition-stripe Mustang that he now relegates to studio use only. Photo by William Johnstone
How do you guys balance each other as players?
McEwan: Luke taught me everything I know about amps and pedals. Before we started this band, I was using a Line 6 amp and he turned me onto valve amps when I had no idea. As players, instinctively I always go lower, as a former bass player, and he goes higher as a proper lead guitarist. It just works perfectly for our music. When we jam on riffs, we instinctively know what the other is going to do and it just works really well.
Parish: We naturally took two very different directions for our tones, so live we're not competing for the same sonic space. We have our own frequency ranges that work well with each other. Jack goes for that dirtier Vox AC30 thing with a bit more crunch and I like a cleaner sound like I get from my Deluxe Reverb, so you end up with slightly different tones that work against each other well. As far as playing, we've always played really tight together, ever since the beginning. We've always been able to hang with each other's playing and there really is a lot of intuition. We were never waiting on the other to learn parts or playing catch up. We just lock in quickly and it's always been that way.
Luke, can you give me an example of where we hear your work the loudest on the new album?
Parish: Definitely in the more ambient guitar tones and also the stuff that brings out the grittier, heavier side. I lean towards real amps and pedals and Jack tends to work with DI'd guitars, though I DI my guitar often. I feel like I often add the glue between those DI guitars, as they can lack either the smoothness or the rawness of a real amp … that organic element.
Which guitarists have influenced you guys?
McEwan: The biggest one these days is Ruban Nielson from Unknown Mortal Orchestra. When I was just starting out, loads of Black Sabbath and Led Zeppelin— the greats—but as I got older, stuff like Foals really changed my landscape by playing the guitar in a way that I hadn't heard before that doesn't always sound like a guitar. When you're 25 and you think you've heard everything and something refreshing like Unknown Mortal Orchestra hits you and blows your mind, it's a big deal. Stuff like, "Why does he only play two notes at a time?" or "How does he make it sound so full through compressors and recording techniques?" So now when I pick up a guitar, I ask myself if it really needs so many notes or what's the biggest effect I can get with the most minimal approach, which took a lot after years of listening to Tool and Mars Volta. I needed to learn more about space and negative space, and Ruban's playing did that for me.
"It comes back to us being fans of the Allman Brothers. There are some harmonies that clash in a way that makes you slightly uncomfortable, but it's because you have to have sour to better recognize the sweet." —Luke Parish
Parish: I came from playing in old jazz big bands, and then blues music and all of those old blues legends. I really like guitarists like Django Reinhardt, and then for rock and blues, Jimmy Page and the real '70s rock legends, and then I got into Radiohead and Blur, and that really changed my approach. Graham Coxon showed me how experimental you can get with guitar and all of these new effects pedals being released now. And with companies stepping up their game, my inner nerd has definitely come out through the world of technology and effects. Obviously you've always got to be focused on your playing first, but guys like Jonny Greenwood are prime examples of good players that tastefully use the tech available to make something new.
I really dig the fuzz sounds on the album—particularly the wooly tones on "Keen for Kick Ons?" What did you use to cop those sounds and did you use any unique studio techniques to track fuzz?
McEwan: Live, I use a Way Huge Swollen Pickle and a Boss Blues Driver, and I just crank the amp until it's good and warm and punch it with those. For the album, it's kind of a cheat, but a lot of that is DI'd into Guitar Rig. I have a go-to technique where I take off all the amp sims and use the compressor plug-in straight up and really crank it until it sounds like your speakers are about to explode. I can't afford a lot of gear, so a big part of our records involve having to learn tricks, like with direct recording. There are so many incredible plug-ins these days, it's so much more accessible.
I know it's very difficult and very expensive to get quality guitar gear and especially vintage stuff in Australia.
McEwan: There is nothing really here. When we go to England or America and we go to music shops, sometimes it's just to have a look at what these things really are! It's like, "Oh my God! You can actually buy this?!" In Australia, it's pretty much brand-new stuff or you find off-kilter gems, but it's tough.

Guitars
1969 Fender Mustang
1970s Greco Speedway
Fender Telecaster
Amps
1968 Fender Deluxe Reverb
1960s Silvertone 1484 Twin Twelve with 2x12 cab (Jensen speakers)
Effects
Strymon BigSky
Electro-Harmonix Deluxe Memory Boy
Analog Man Prince of Tone
Xotic EP Booster
Boss volume pedal
Unbranded tremolo pedal
Fuzzhugger Algal Bloom
Strings and Picks
Ernie Ball Slinky strings (.010–.042)
Dunlop Jazz III picks

Parish: You really just have to be ready to pay for shipping. I found my Silvertone on eBay maybe 12 years ago and it was only $500 or something, but I paid the same amount to get it shipped over as I paid for the amp and it still needed its electronics gone through. But if you really want the gear, you just have to do it and it's all part of the deal. Try to find a bargain and once it's over here and you've had it fixed up, the value is going to be much higher because it's all so sought after because the gear just isn't floating around the way it is in America and England and whatnot. I haven't bought that much stuff because once I had those amps and my '60s Fender Mustang, I felt like I had what I needed.
Jack, what made you favor Fender Jazzmasters?
McEwan: I've been playing Jazzmasters since the beginning of this band, and before that I was a bass player. It was funny to transition from that, so I use really heavy strings on the Jazzmaster, but I keep it in standard tuning. I like how well it holds its tuning and the tone it gets set up like that. It feels a little more like a bass. That's probably why the stuff I write is a bit more riffy than it is chord-based. I like a Jazzmaster through anything that's raw sounding, like a Vox AC30. That was the first amp I got, and it was broken when I got it, but I had no idea. I was just like, "This sounds amazing!" because it was so distorted and cool sounding. I didn't like it anymore after I got it serviced, but luckily I managed to record some music with it while it was dying. Nowadays, I use a Fender Hot Rod DeVille live because it's got its own warm drive sound built-in. I love the idea of just working with what you've got. The way the band has been writing lately honestly may have had something to do with heavy psych-rock sounding so good through that broken amp. It accentuates that sound, and the gear can tailor your sound sometimes.
Luke, tell me about your Mustang.
Parish: It's a 1969 competition-stripe model and the neck on it is amazing. It's a nice, nice guitar, and I don't take it anywhere because I'm too paranoid something will happen to it. I tracked most of the record with it. I also have a guitar called a Greco Speedway, which is this '70s walnut solidbody with a through-body neck, and that guitar is really good. Live, I've switched back to Fenders and I'm using a newer Tele with a humbucker in it.
What's the trick to getting those big guitar sounds in a home-recording situation?
McEwan: Almost all of it was DI on my end. I live with housemates and the minute you turn the amp on, they kind of get upset, so I got used to recording with a really minimal and quiet setup. I started with a $10 microphone and some iPhone earbuds, but I've worked my way up to some proper monitors. Effects were all in the box, but you can do quite a few things with that! I started tweaking things through transposing, detuning, and pitching the guitars in weird ways and then adding reverbs to make sounds I wanted to hear. We use Ableton and between its pitch shifters, bit crushers, and delays, I can make a guitar sound like almost anything. I started getting really into messing around with post-production to see what I can get out of a guitar. Things like reversing guitars and playing the reverse line backwards made a cool thing, and when you're home and recording off-the-clock, experimenting is a lot easier and more fun.
---