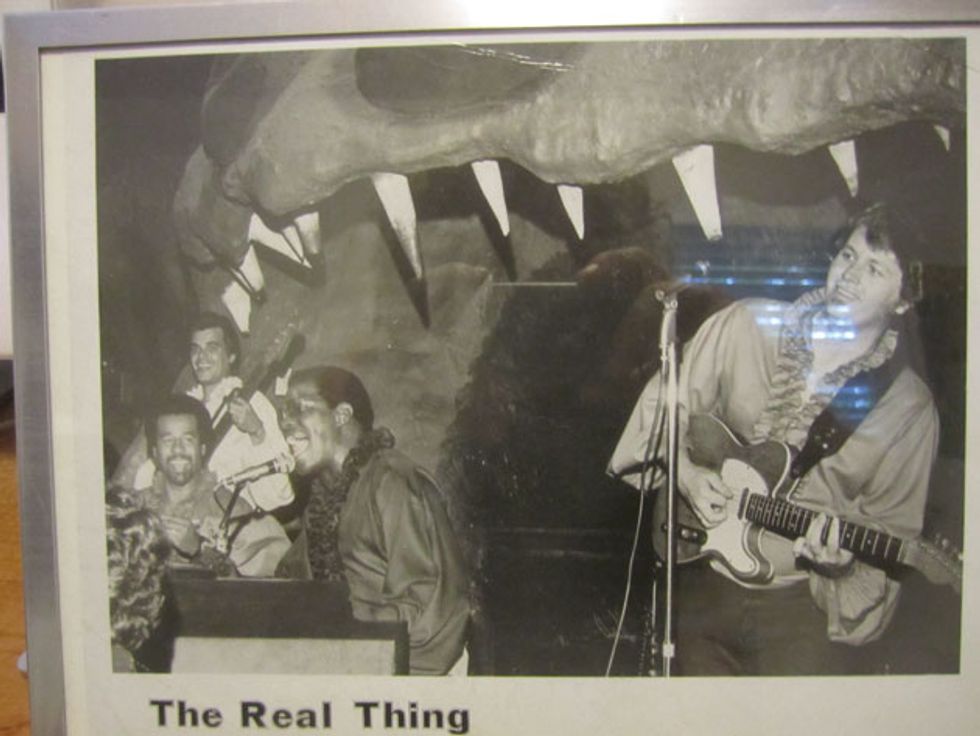 How come they don't make stages like that anymore? The Real Thing captured live at Hollywood's Haunted House club in 1970. (Left to right: Kent Sprague, Ray Hosino, Stu Gardner, Denny Walley.)
Return to Zappa
Following Beefheart, Walley went back to working with Zappa, joining his touring band and working with him in the studio. Walley appears on Joe's Garage, Zappa's satirical rock opera in three acts. "All the background singing is just Ike [Willis] and me, doubling and tripling our parts." Walley appears on many other Zappa albums, both studio compositions and live recordings.
"Frank recorded every concert with his own guys on his own gear," says Walley. He recorded rehearsals as well. Whole songs, sections, and solos might be taken from live recordings and inserted into other songs or incorporated into albums. A musician's work could end up on a Zappa album at any time, even years later. "Frank was the master of compilations," says Walley. "As a result of that I wound up on about 19 or 20 albums."
Zappa had such flexibility because his band was so well rehearsed, and much of what he recorded was perfect. "It was so accurate," Walley says. "For example, he was able to take a section of music from a song that was recorded in Chicago and use that with a recording from Pennsylvania. The tempo, the EQ—everything would be right. You could put it right in."
"Halfway through, Frank stopped the song and said, 'Anyone with balls enough to play those lows notes has got the job.'"

On tour, the band rehearsed daily during soundchecks, which usually lasted two or three hours. This constant rehearsal kept the band on its toes. "Frank had about 50 hand signals, and each one had a specific purpose. You would get the song and the key—if there was a key change—or if there was a modulation or a crescendo or decrescendo. He read the audience. He saw what kind of reaction he was getting, and he could change the set anytime he wanted because we were already preloaded for that." New material was constantly introduced. "Frank would hear things—or maybe a mistake or something would happen—and he would say, 'Put that in.'"
One song—"Jumbo Go Away," from the album, You Are What You Is—was written on tour about a female stalker obsessed with Walley. "She would show up everywhere, no matter what city. One night as we were rolling into the hotel—Frank was with us—and were waiting for the elevator, and there she was. I turned around and said, 'Jumbo, go away.' The next day at soundcheck, Frank handed me the words to a song he wrote called, 'Jumbo Go Away.' We learned that song at soundcheck and did it that night. Things like that happened all the time."
Post-Zappa
Walley was a fulltime member of Zappa's band until mid 1979. After that, he did session work and gigged around L.A., but didn't join another touring band. "After a while I figured, 'You know what? Maybe I should get a job,'" he says. He worked for a scenery company in Hollywood and then started sculpting and doing projects for amusement parks. He played locally, but didn't tour.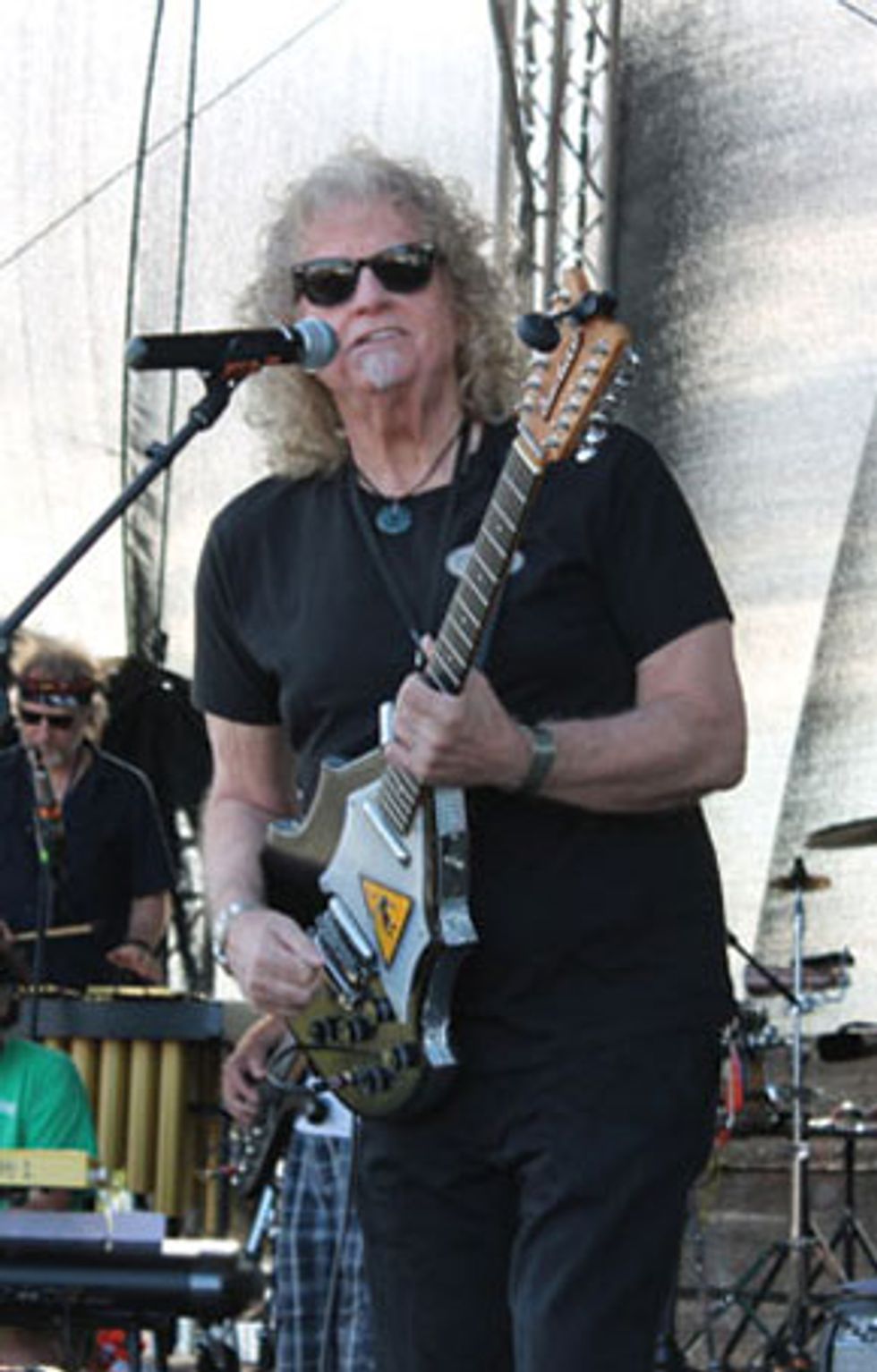 A recent picture of Walley with his favorite slide guitar: a vintage Danelectro Bellzouki. It's a 12-string model,
but Walley uses only six strings.
Eventually, he made his way to New York and built scenery and props for
Saturday Night Live
. "That is the funny part," Walley says of the
SNL
job. He had been in Zappa's band in 1978 when Zappa was both host and musical guest. "I played on the show, then next thing I'm building the props."
Walley's solo recording output is sparse. He released a 45—"Who Do" backed with "Tiny Tattoo"—in the late-'70s with a band that features Zappa bandmates Tommy Mars, Ed Mann, and Vinnie Colaiuta, among others. He recorded a solo album, Spare Parts, in Sweden in 1997. "I did a tour with [Swedish duo] Mats/Morgan," he says. "We were playing blues stuff and originals. At the end of the tour, Morgan [Ågren] asked, 'Why don't you record an album while you're here?' So we recorded the songs we played on the tour."
Despite doing little recording, Walley hasn't stopped playing. These days he's back to making music fulltime. He recently finished a 13-year stint with the reunited Magic Band. He tours with Zappa tribute bands in Europe and the U.S., sits in with Zappa Plays Zappa, leads his own band, and creates new music. "I've been playing Frank's music and Don's music all these years, and I love doing that," he says. "But I love playing. I don't want to wait around for someone to want me to play with them. I want to play with me, too."
Without much fanfare or glory, Walley had a major impact on contemporary guitar. He was a student of the early blues and is a master of the style. His long career with some of his generation's most radical musical thinkers—plus his own innate curiosity and openness—helped redefine how the guitar is played. Walley showed just how far you could expand traditional forms and push the limits of what is considered "listenable." And he did all of that with a foot firmly planted in traditional music and tone.
And he's still doing it. "I'm not going to stop playing," says Walley. "I'm basically playing music for me. But if you enjoy it, all the better!"