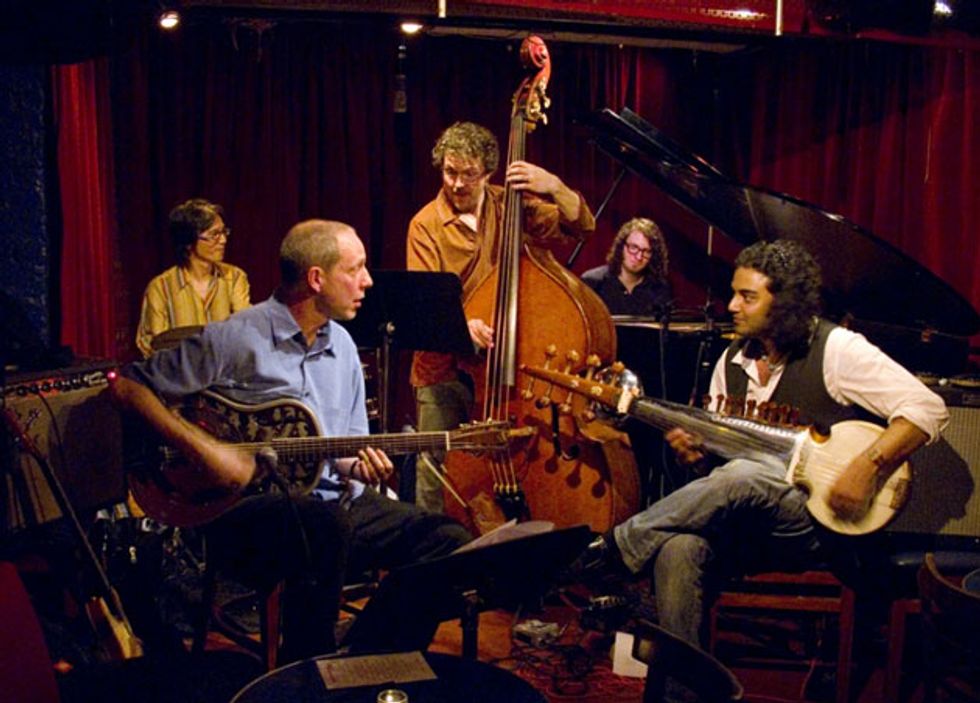 Sarod player Anupam Shobhakar introduced Joel Harrison to the idea of meend (a technique in Indian music that involves how you approach notes while improvising), a concept that Derek Trucks often applies to slide guitar.
Photo by Scott Friedlander.
How did you go about applying these techniques to the guitar?
One example would be that Anupam recorded a series of more basic meends. Those refer to the route one takes when approaching notes and departing from them. [Sings a single A, then the same note with a stream of vocal ornamentation before and after it.] Like I said, this makes for really beautiful ideas for slide-guitar playing. Other things include unusual right-hand picking patterns, stuff I hadn't thought much about since I briefly went to the Ali Akbar College of Music years ago. That and rhythmic ideas—for example using odd groupings like threes, fives, and sevens—to add complexity to 4/4 time.
So did you transcribe the meends?
No, I just put them on iTunes and played along with them, mostly on slide. By the way, one reason I really appreciate Derek Trucks is because he's taken similar ideas and applied them to blues slide.
"As a guitarist I'm often helmsman of the ship in terms of composing, but not much of a featured soloist, so this time I got to trot out a bunch of pieces and showcase them to the best effect."

Talk about the recording process for Multiplicity.
We did it in a day and a half. With five people involved, it was certainly challenging—not to mention getting a good sound on the sarod. An interesting thing about the album is that Anupam recorded some mock vocals, then went home to Bombay and replaced them with vocals from two very different classical Indian singers, Bonnie Chakraborty and Chandrashekhar Vaze.
Was the end result how you imagined it?
I think so. The problem with music that's this stylistically diverse and occasionally complex is that ideally you would have weeks to play it together and develop this innate awareness of it, so that you can nail it in the studio without really thinking about it. The problem for so many of us is to summon the magic and communication right off the bat. I think we were able to capture it on the record.
Joel Harrison's Gear
Guitars
1960 Epiphone Sorrento
1960 Fender Telecaster
1963 Gibson SG
1967 Gibson ES-345
1999 Gibson 40th Anniversary '59 Reissue Les Paul
1998 Martin Mandolin Brothers 25th Anniversary 000-28 Herringbone Commemorative
1930 National Style O
Recent PRS Hollowbody II
Amps
1957 Fender Bassman
1962 Fender Super
1966 Fender Princeton (three)
Effects
Boss Super Overdrive SD-1
Electro-Harmonix Frequency Analyzer
Electro-Harmonix Holy Grail Nano Reverb
Lexicon PCM 41
Menatone Red Snapper
TC Electronic Nova System
Strings and Picks
D'Addario strings (.011 and .010 electric sets, and various steel and nylon acoustic sets)
Fender heavy picks
Dunlop slides
What guitars did you use on Multiplicity?
I played an old National steel guitar on a few tunes, and a PRS [Hollowbody II] I bought a couple of years ago. It's a semi-hollow with humbuckers and a piezo pickup, which is just an amazingly well built engine. It's so easy to play and is similar to one John McLaughlin has been using. For some of the overdriven stuff, I played a 1963 Gibson SG that I've had for 30 years, and I also used a 1960 ES-345 that I've since sold. As for acoustic, in a couple of places I used a Martin 000-28—an early 2000s Mandolin Bros. commemorative edition that has a mandolin inlaid at the 12th fret.
How about amps?
I used the brown 1962 Fender Super that I bought when I was in 11th grade. This guy I knew found it in his closet, neglected. It had been mangled by people who tried to make it sound better by replacing the speakers and changing components. Eventually I had it restored to the original specs, and it's just a very human or vocal-sounding amp. I also played through a 1966 blackface Princeton. I have three of those that I love. Some people feel that's the best amp Fender ever built. On lower volume settings, it's beautifully warm. Turn it up and it's got a wonderful, bluesy bite. It's just a very simple, friendly amp that's so versatile.
What inspired you to return to your roots for Mother Stump?
I had just finished an enormous big-band record—19 musicians [Infinite Possibility]. It was an exhausting album to make. So one evening I was sitting around with some friends, Michael Bates and Ole Matheson, and I said, "Now what? How do I follow such a large project?" One of them said I should just make a trio record and not really think about it. I'd never really wanted to do a trio, and I'm not the person to jump off the cuff into a new situation, but this idea intrigued me, which was kind of the opposite of my usual approach.
I quickly got excited about making my first really guitar-centric record. What would it be like? So I just collected a bunch of tunes and influences—what I really love about guitar—and started to practice. This record was definitely a lot of fun to make.