Origin Effects Deluxe61 Review
A positively luxurious stomp nails the liquid textures of brown-panel Deluxe bias tremolo.
Top-shelf quality. Immersive, liquid, trem' textures that meld seamlessly with guitar and amp tones. Elegantly simple but capable control set.
5
5
4.5
3.5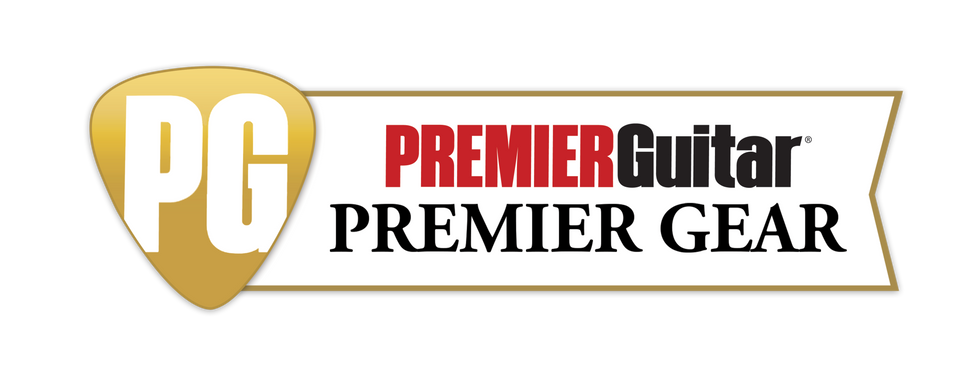 Editor's note: Deluxe61 Amp Tremolo & Drive is the updated name of the Origin Effects pedal that debuted under the name REVIVALTrem.
Some gear nerd debates get pretty pointless. Disputing the merits of different op-amps in two late-model RATs? Maybe that time would be better spent practicing. But tremolo circuits are another matter. The differences between bias, optical, and harmonic tremolo can be audible and profound. Each has its merits and champions. But in terms of soul and musical utility, it's hard to beat bias tremolo's soft, contoured pulses and mellow-to-throbbing range.
---
Origin Effects' all-analog Deluxe61 is based on the power tube bias tremolo from the brown-panel Fender Deluxe—a circuit many players regard as the silkiest ever built. Authentically reproducing such a circuit is no task for the timid. Then again, Origin made its name reproducing the topology and performance of the legendary UREI 1176 studio compressor in stompbox form. So it's no surprise they would tackle an effect so nuanced and full of sonic intangibles. What's impressive is how the Deluxe61 nails those elusive, intoxicating bias tremolo colors.
Wave-Riding Luxury Liner
If you love the sense of craft that goes missing in much modern technology, the Deluxe61 will be a treat. It's built almost absurdly well by stompbox standards. Ever wondered what the Rolls-Royce of pedals looks and feels like? This is certainly a contender.
A two-tiered circuit board accommodates the many high-quality components that make up the modulation and drive circuits. (The latter is derived from the company's excellent Revival Drive.) Soft-relay footswitches and jacks are all chassis-mounted independent of the circuit boards. The enclosure feels close to bulletproof. Clearly, the Deluxe61 was built for heavy touring and meant to be serviced in the unlikely event a component fails.
The control set is smart, logical, and simple in practice. Even the two footswitches, which cleverly enable operation of the drive channel independent of the tremolo, are thoughtfully situated toward the outboard reaches of the enclosure—reducing the risk of hitting both switches simultaneously.
There may be more radical tremolos, but few achieve such musical seamlessness.
Watery Wobbles
In some respects, it's easy to characterize the modulations the Deluxe61 produces. They're exceptionally smooth, liquid, and very dreamy. But they are also beguilingly complex. Some stronger settings subtly suggest pitch shifting and phasing without suffering the dynamic penalties those effects can incur—a remarkable bit of sonic trickery. A/B'd against the optical tremolo in a recent-vintage '65 Twin Reverb reissue, the Origin is clearly more complex and watery, its undulations less binary and harsh, and its effects on picking dynamics less intense. Compared to a near-50 year old Vibro Champ that utilizes a preamp-bias tremolo circuit, the Origin nails the very best of the vintage amp's sounds and responsiveness, but sounds richer and offers much more expansive fine-tuning range in the pots.
There are trade-offs for all this intoxicating aqueousness. The Deluxe61's most intense modulations might not be intense enough for players that like the hard pulses of a Vox Repeater circuit or the angular textures of an optical black-panel Fender tremolo. Nor does the Deluxe61 get as woozy as a Magnatone-style circuit (a harmonic tremolo to which brown-panel Deluxe tremolo is often likened). But the payoff is clarity and presence that makes nuanced, complex, and melodic musical passages sound perfectly interwoven with the modulations. There may be more radical tremolos, but few achieve such musical seamlessness.
Then there's the versatility afforded by the extra modulation and drive controls. The 3-position "multi" toggle significantly extends the range of the speed control, enabling super-fast flutters amp trem' can't deliver and giving expressive fodder to experimental tremolo fans. Another toggle activates a harder, almost triangle-shaped wave to generate more intense modulations. The post-drive EQ switch is invaluable for making the effect more subdued or pronounced when switching between dark and bright amps or pickups, but also offers a flatter-response option if you want to route directly to a recording interface or a desk. The drive channel, meanwhile, is delicious—generating sweet and malleable low-to mid-gain drive and body that you may never want to remove from your tone equation, tremolo or not.
The Verdict
The Deluxe61 is expensive at 430 bucks. But the quality is absolutely top shelf and the sounds are, too. What's more, you can enjoy the benefits of bias trem without the extra wear and tear that bias trem circuits inevitably inflict on your tubes. If you're on the fence, perhaps those cost savings can help justify luxuriating in this pedal's priceless tones.
Origin Effects Deluxe61 Tremolo & Drive Demo | First Look
[Updated 10/6/21]