The pandemic has brought guitarists lots more time to tinker with tone toys. Here's what players all over the world have been putting together in their bunkers.
Jim McIntosh: Two Boards are Better than One
My mini board is powered by an InnoGear Guitar Effect Bass Pedalboard Power Supply 10 and the signal chain goes like this:
Kliq TinyTune
JHS Prestige
Dunlop Jimi Hendrix Band of Gypsys Fuzz
Wampler Tumnus
MXR M290 Mini Phase 95
Ibanez Analog Delay
TC Electronic Hall of Fame
Electro-Harmonix 5MM Power Amp
My main pedalboard lives in a custom-built box that looks like a Fender amp. I have a second board that is also a custom build, with a mini pedal theme. My amp is a Fender '68 custom Deluxe Reverb. For power, I use a Donner DP-1 Guitar Pedal Power Supply 10 Isolated DC Output for 9V/12V/18V effects pedals and an Electro-Harmonix 32V dedicated to the Q-Tron+.
Here's my signal chain for the main board:
Ernie Ball MVP Volume Pedal
Xotic SP Compressor
TC Electronic Polytune 2
Cry Baby Wah
JHS Bonsai 9-Way Screamer
Boss GE-7 Graphic Equalizer
Electro-Harmonix Q-Tron+
TC Electronic Flashback
Electro-Harmonix Triangle Big Muff
MXR EVH Phase 90
Boss RV-6 Reverb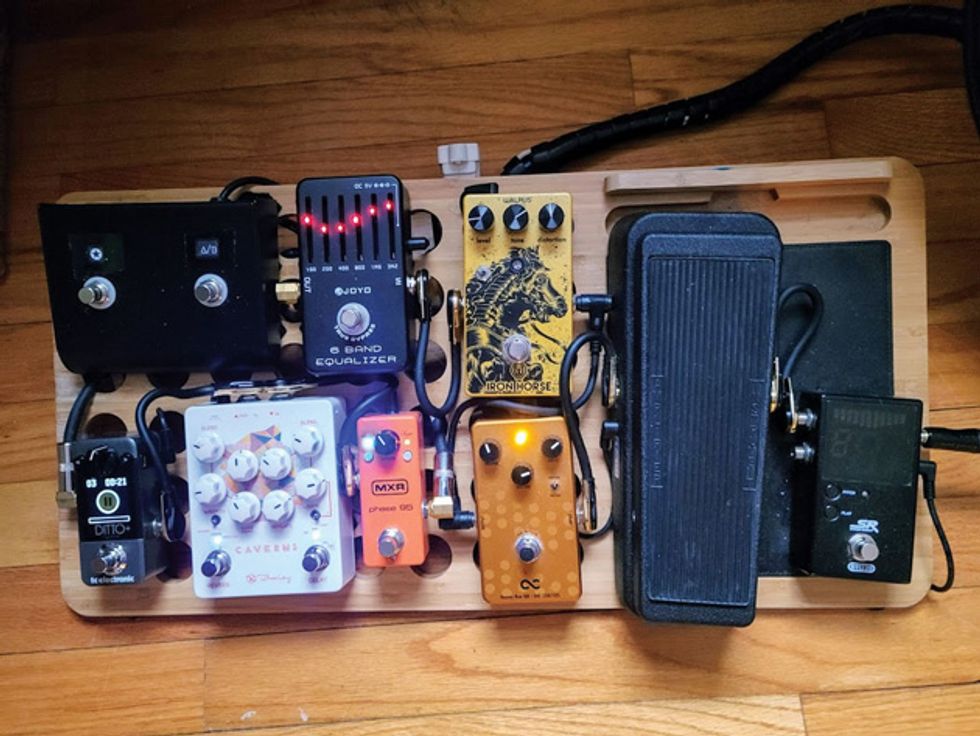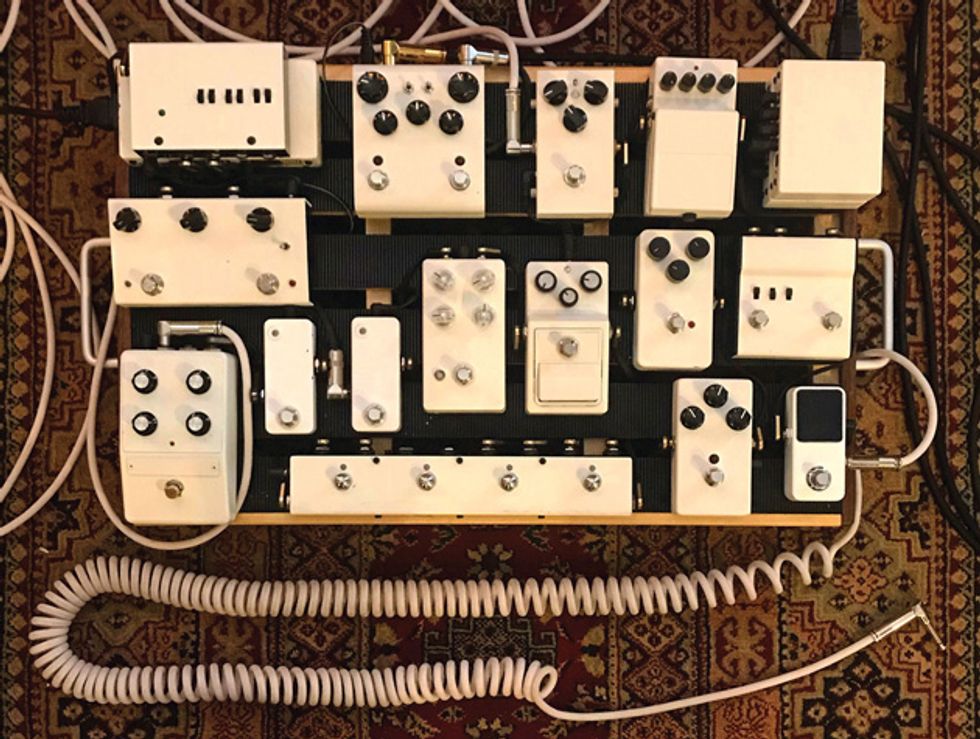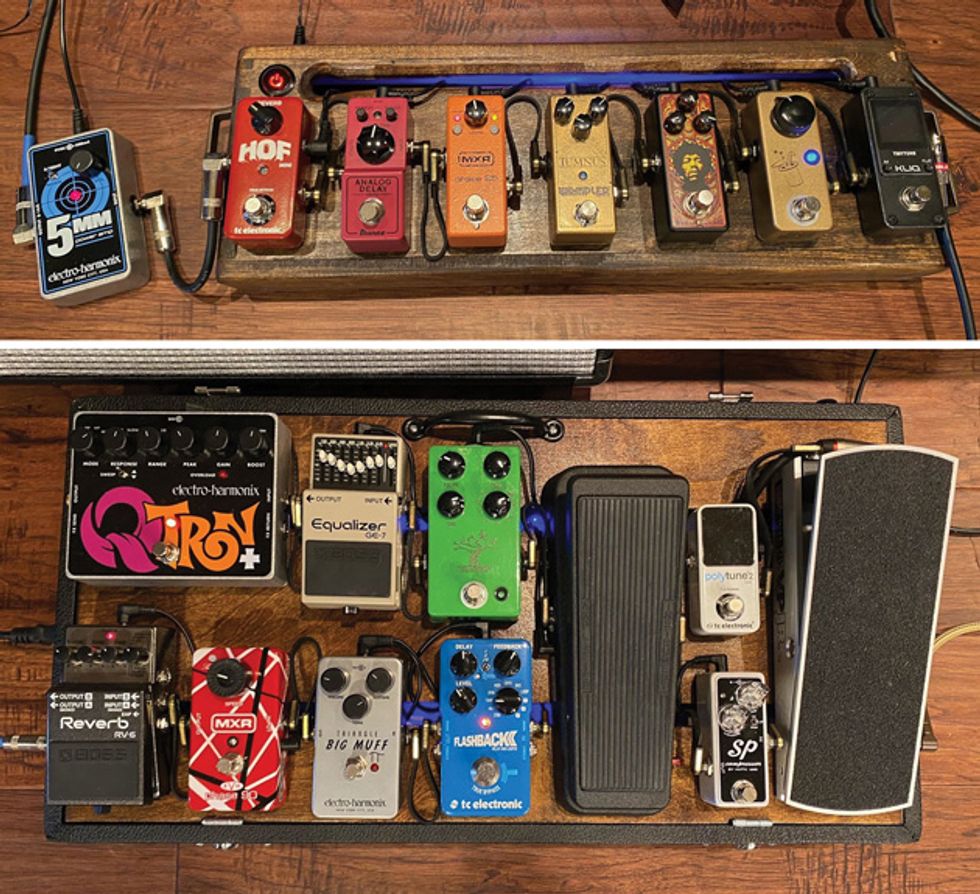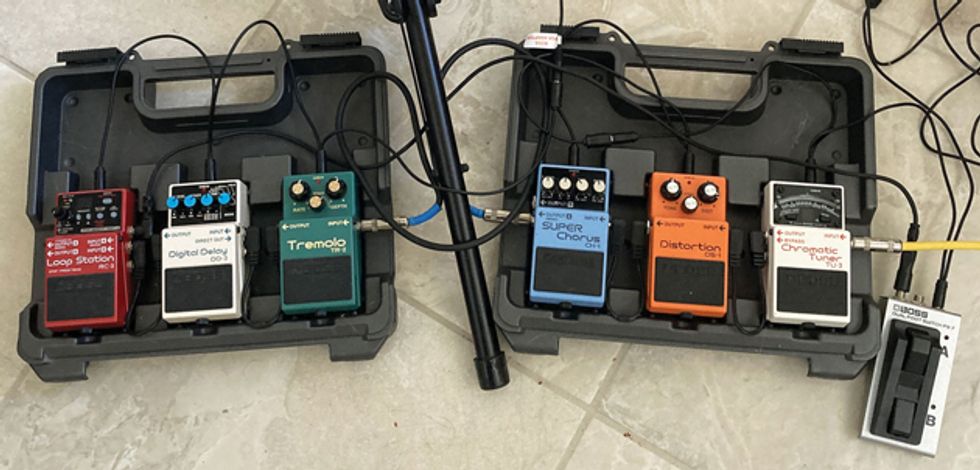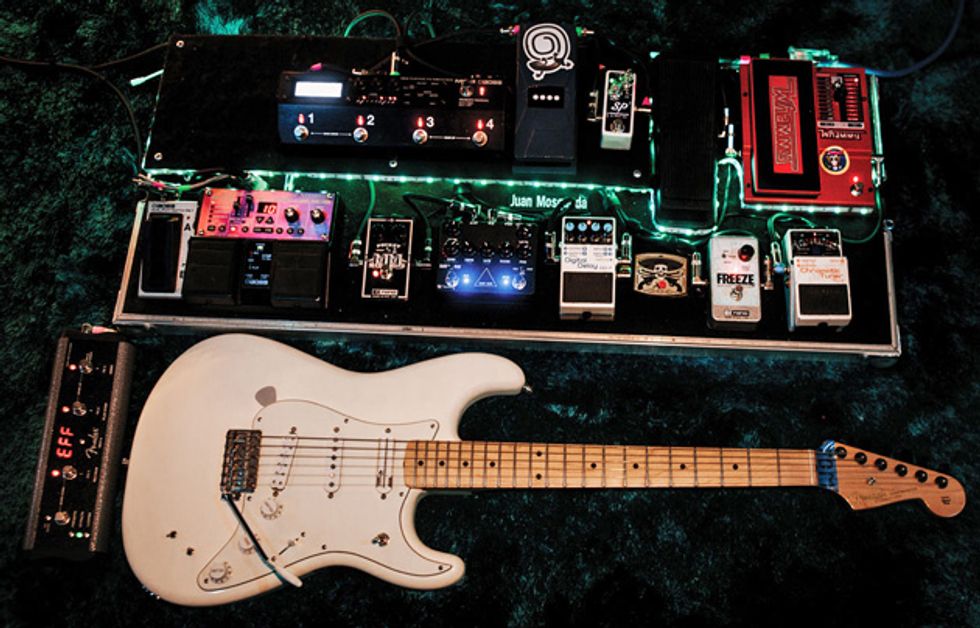 It's that time of year, when Premier Guitar readers get the chance to show their pedalboards, and how they use them to create worlds of sound. There's no wrong way to signal a stomp—the options are virtually endless. Read on to see what players have been cooking up in their COVID guitar bunkers. A few highlights include a completely white-washed mystery pedalboard, a retirement bucket list project from a 62-year-old beginner, an elaborate rackmounted setup made with a goal to streamline pedal-Tetris, and much more. Enjoy!