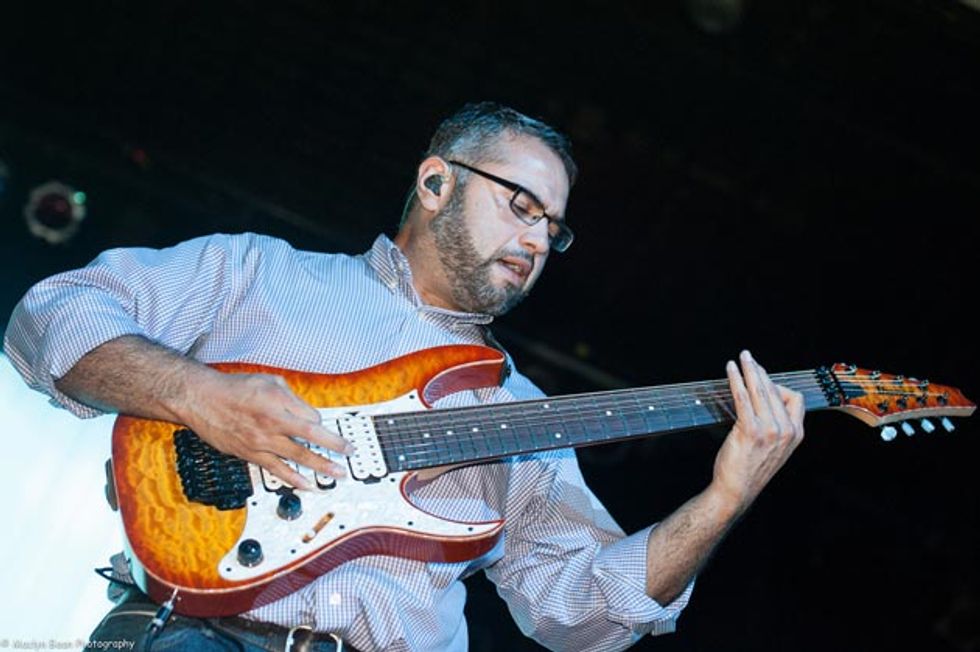 "What people appreciate about us is that we're using all of these influences from outside genres in the context of metal."
—Javier Reyes Photo by Maclyn Bean.
Tosin, even though you're an acclaimed guitar virtuoso, you're always trying to learn more.
Abasi: That stuff is like creative fuel for me. Whenever I'm in a rut, I just go find some classes, and usually I'm able to write music from what I learned. I also ended up subscribing to Tim Miller's online lesson site [members.internetguitarlessons.tv]. He's awesome. When I start to do stuff like that, then I want to sound like Tim Miller. I think my playing is pretty heady. I'm no Tim Miller or Holdsworth, but the tonalities I gravitate to are a bit towards the adventurous side.
Curiously, "Tooth and Claw" has an Yngwie-like, harmonized diminished run. I was surprised to hear that because your harmonic vocabulary seems to move away from the moves popularized by the Shrapnel shredders.
Abasi: We were referencing Bill and Ted's Excellent Adventure, like Wyld Stallyns. [Laughs.] Nolly, who is an amazing guitar player, was like, "Let's try to bring out different elements of your playing." He started playing a lot of Andy Timmons, Stevie Ray Vaughan, and even some John Mayer and Dimebag Darrell. It was like, "Fuck it man, let's just wail a little bit"—just unapologetic electric guitar. The first bends are harmonized and have really wide vibrato. That's something I don't normally do. I rarely bend, just because 7-and 8-string guitars have extended ranges and don't really allow for the same level of control because the tension's greater. There are more strings, the necks are bigger, and you can't really achieve the same finger positions as on a Strat or a Les Paul. Anyway, that diminished run wasn't exactly tongue-in-cheek, but it was like, "This is an electric guitar solo. We're going to harmonize it and pull out some Jason Becker stuff."
Tosin Abasi's Gear
Guitars
Ibanez TAM100
Ibanez TAM10
Strandberg
Rick Toone "Blur"
Amps
Fractal Audio Axe-Fx II
Port City Pearl 100W head
Port City OS Wave 2x12 cab
Effects
Fractal Audio Axe-Fx II
Strings and Picks
D'Addario strings (.009-.074)
Planet Waves Black Ice .55 mm picks
Planet Waves cables
Javier Reyes' Gear
Guitars
Carvin signature model
Amps
Fractal Audio Axe-Fx II
Port City Pearl 100W head
Port City OS Wave 2x12 cab
Effects
Fractal Audio Axe-Fx II
Strings and Picks
D'Addario strings (.010-.074)
Planet Waves Black Ice .80 mm picks
Monster cables
Tour Supply straps
Planet Waves clip-on straps
Your playing is more blues-based on this album than on previous releases.
Abasi: This was parallel with me discovering certain guitar players who are more blues-based, like Jimmy Herring, or Jairus Mozee, who plays with Prince. I really got into this kid, Isaiah Sharkey, who plays for D'Angelo and Chris Dave. He grew up playing in church, so it's like this gospel, neo-soul thing. If it's not some of the best guitar playing I've ever heard! It knocked me on my ass. He's like 24. He's gonna hurt your feelings really bad. Like, it's not okay. [Laughs.]
That's a whole different bag from what people associate with you.
Abasi: These guys are coming from a whole different angle with the double stops and the major triads. I spent the last year obsessing over these guys, and when it came time to record the solos for this album, my approach to phrasing kind of mutated. I didn't feel like I needed to play a million notes. I was more concerned with the right notes. Not that I wasn't before, but my aesthetic is definitely different, so I think that's one big difference on this album.
Is this just a phase, or will future albums feature more bends and less flash?
Abasi: Probably, because the endgame is just lyrical playing. I want people to hear the solo and not tune out. I want them to tune in. I don't want just guitar players to tune in. Melody is melody. I want to impact people. There are non-guitarists who love Slash's solos. I've seen footage of people singing the guitar solos.
How do you manage to memorize everything flawlessly for the live shows? It seems like there's no room for error at all.
Reyes: You're absolutely right.
Abasi: No margin for error. Not even an eighth-note. Our songs are actually not very complex. There's a good deal of repetition. A lot of instrumental bands have very sweeping compositions with lots of dense parts. We've done maybe 50 to 75 shows with Between the Buried and Me, and there are still parts of their material where I don't even know how they remember it. Everyone's mind works differently. I never strived to make something super-dense as far as composition was concerned. There are a lot of layers, but our songs on The Joy of Motion are all under six minutes.
What happens if you screw up a run live?
Abasi: We don't mess up! [Laughs.] I'm not perfect, and for a lot of the material there's a degree of muscle memory. It's not like you're streaming the improvisational mind. You need to reproduce something that's been recorded—perfectly. You need to be consistent. For the most part, shit works out.
Reyes: It happens all the time. There's little brain fart where for some reason, I'm thinking about something like where I left my car keys. If it's one of us, we can all look at each other and say like, "You're a little ahead or behind." When you open your eyes wider, that means you fu*ked up. [Laughs.]
Do you play to a click track live?
Reyes:
It's funny—when Navene was in the band, I never played to a click. When Matt joined the band, he was way more into the deep displacement. I was like, "I can't keep up with this guy!" And the first tour we did with him was with Meshuggah, so it was like, "I need to have this click in my ear!" We did one show in Europe without the click, and it was horrendous. We got through it, but there were definitely some sections where we were like, "Oh, god." All of us. The way Matt ends "CAFO" now is intense. He's moving the beat and doing all sorts of crazy stuff, so we need that click in there.