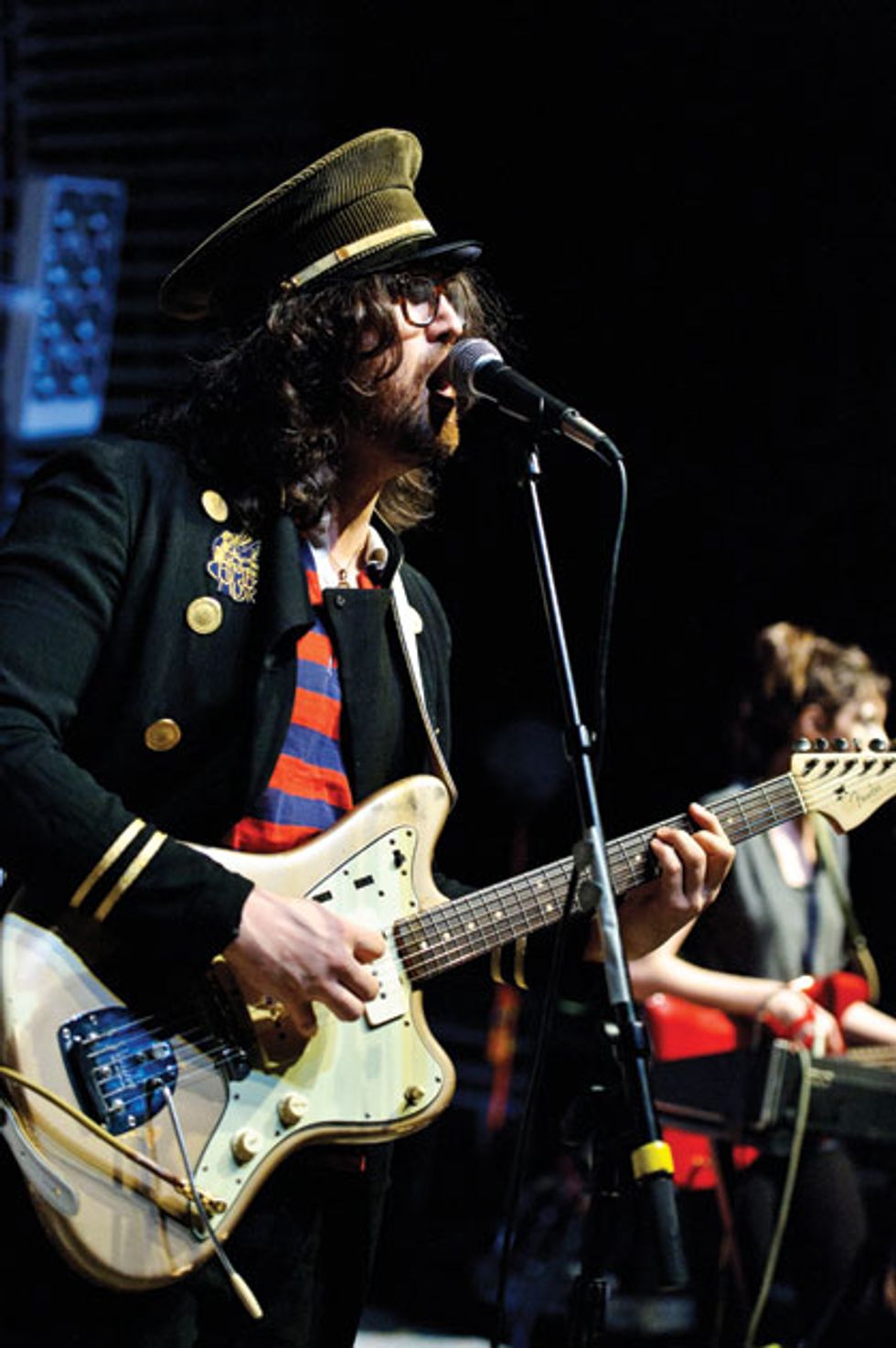 Sean Lennon shows off his trusty Jazzmaster (and a sweet hat) at a July 2014 show at the DeVos Performance Hall in Grand Rapids, Michigan. He says he prefers the tone of a Jazzmaster to any other guitar: "Their pickups are very special and have a full, beautiful, rich tone that is the best I've ever heard." Photo by Chris Schwegler / Atlas Icons
One look around Sean Lennon's home studio explains why Midnight Sun, the new record by the Ghost Of A Saber Tooth Tiger (aka "the GOASTT"), is a veritable lesson in sonics. Modern preamps sit next to classic UREI 1176 compressors. New Moog synths occupy the same space as old Norlin-era Moog rack effects. A digital Memotron sits in the shadow of an actual Mellotron M400. A bag of new Electro-Harmonix products sits only feet from his dad's old Electro-Harmonix Mini Synthesizer. The floor is littered with classic effects, new boutique noisemakers built to replicate them, and assorted cheap stompboxes.
Nowhere in the room are you more than a few inches from a guitar, be it a classic Fender Jaguar or an aluminum-neck Wandre from the '60s. It's more of a mad scientist's lab than museum though—everything is being used regularly to make music, except maybe the stuffed toy monkey hanging from the chandelier.
Even though Sean is the son of Yoko Ono and John Lennon, it wasn't a foregone conclusion that he'd enter the family business. He appeared on his mother's album, Season of Glass, at age five and co-wrote a song with Lenny Kravitz at 16. But the commitment to a life in rock only came at age 21, when he joined the art-pop band Cibo Matto on bass. A year later he released his debut, Into the Sun, on the Beastie Boys' Grand Royal label. Many collaborations and a second solo record followed, culminating in the formation of the GOASTT with his longtime girlfriend, multi-instrumentalist Charlotte Kemp Muhl. What seemingly started as a Francophilic acoustic pop duo has become a full-blown psychedelic juggernaut, delivering headphone candy production and top-notch riffs. On the eve of a Japanese mini-tour, Lennon sat down with Premier Guitar to explain how it all came together, and why it's finally okay for him to have a good guitar.
"Everyone was shredding and tapping, and I was just like, 'Eh, I'm just over here writing songs!'"

I've seen you play other guitars, but you seem to favor Fenders these days.
I've played guitar most of my life, but for the longest time I had this sort of guilt [about owning expensive guitars] and felt I didn't need a great one. I was really interested in Silvertones, Danelectros, and weird, cheap Italian guitars. I don't own a good Strat. I don't have a fancy Les Paul. I bought my first Jazzmaster, because the Strats, Teles, and Gibsons were just ridiculously expensive. I missed the market on those guitars. At first I was collecting different Guilds, like the S100, which is great. I got into those because friends of mine were buying them. [Soundgarden's] Kim Thayil played one.
Then finally I found the Jazzmaster. I played it and thought, "Wow, this is just incredible." I can get so many different sounds out of it, and it's so lush. It feels like I'm driving a Rolls Royce rather than a Pontiac or something. Jazzmasters were fairly cheap at that time, but they aren't anymore. I remember thinking, "Wow, I can get a Fender guitar from the '60s for that price? Are you sure?" It felt like I was getting away with something. Jaguars had already gone up in price because of Kurt Cobain, so I bought some Jazzmasters and that was it—I never looked back. In the studio, obviously, I like to switch between guitars for different sounds, whether it's a 12-string Rickenbacker, or whatever. But live, I feel most comfortable with the Jazzmaster—the only fancy guitar that didn't make me feel guilty.

The guitarists of Television and Sonic Youth tell a similar story about how Fender offsets were even cheaper in the late '70s. They were $75 to $150. I guess you probably came in when they were still under $500.
I was lucky enough to get my first one for so little money. It was a '64 that was really beat up. That was my introduction, and I stuck with it. Now I have a slightly better one that Nels [Cline] recommended I get. It's a '61. You're right, though, Thurston [Moore] was always playing Jazzmasters. Lee Ranaldo has this purple Jazzmaster that I've always wanted to buy from him. I've never seen him play it onstage, but it's always in the rack! We used to tour together, and I'd be like, "Dude, are you sure you don't want to sell that?" Now that I know Nels, who is a Jazzmaster aficionado, I took his advice, and made my guitars even better, with things like the Mastery Bridge and tremolo system that Woody [John Woodland] is making in Minneapolis. That's changed everything.
Now that I'm older, I feel I'm accepting myself as a professional guitar player, and it's okay to have cool pedals and guitars. When I was younger, I was more interested in recording, songwriting, playing drums and bass. A cheapo just seemed right, because I didn't think guitar was my thing. I mean, the people around me when I was growing up were so good at guitar. Everyone was shredding and tapping, and I was just like, "Eh, I'm just over here writing songs!"